'Urbanized' screening at PennDesign Thursday 4/12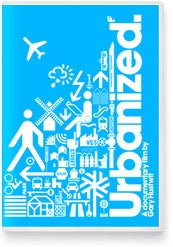 Director Gary Hustwit is back in town for a screening of his newest design documentary, Urbanized at PennDesign on Thursday.
Urbanized is a globetrotting tour of urban design projects around the globe, featuring interviews with some of the world's foremost designers and thinkers (including Jan Gehl, Amanda Burden, Rem Koolhaas, James Corner, Enrique Peñalosa, Sir Norman Foster, and Bruce Katz) as well as citizens who have driven urban change in their own cities.
PennDesign's Chair of Landscape Architecture James Corner is also featured in Urbanized discussing the High Line, one of his design firm's projects. After the screening Corner will join Hustwit and Ricky Burdett, NYU Professor of Urban Studies and editor of the The Endless City, in conversation.
Urbanized will screen at 6pm on Thursday, April 12, at PennDesign (Meyerson Hall, 210 S. 34th Street), and will be followed by a panel discussion starting at 7:30pm and reception at 8:15pm. The event is free, but advanced registration is recommended.