People experiencing mental illness, addiction, and/or homelessness have gathered at a daytime art-oriented refuge in downtown Wilmington for nine years.
The Creative Vision Factory is a place to draw, paint, sculpt, work on mosaic pieces, engage in other artistic endeavors, or just hang out and recharge. It has fashioned tile mosaics for schools and nonprofits, and members and staff created a huge mural for the Kalmar Nyckel shipyard.
Yet even as the small, but bustling center continues to thrive and serve as a therapeutic haven, it's feeling the development pressure on its neighborhood. The Creative Vision Factory is at Sixth and Shipley streets — one block off the main downtown artery, Market Street.
The factory's lease was just renewed for a year by its landlord, Colonial Parking Inc. But earlier this year, a major high-end apartment building opened two blocks away. And that project's developer, the Buccini/Pollin Group, hopes to break ground come winter on a similar project on the lot next door. The company has renovated dozens of buildings for housing, offices, dining, and entertainment downtown and at Wilmington's riverfront.
"So we have a bunch of building that is taking place around us," said Michael Kalmbach, director of the Creative Vision Factory. "Is this building single-use occupancy for people who are experiencing homelessness? No. Are these buildings for single mothers who are trying to get their kids back in their lives? No."
Even though the center is feeling squeezed, Mayor Mike Purzycki said it contributes to a "more vibrant Wilmington."
Purzycki said he appreciates "all efforts to improve our city through additional properties for creativity and expression are always welcome and appreciated."
He said the studio "is part of the excitement of city living. People have an opportunity to explore their talents, overcome challenges and give of themselves to their city and community."
Mike Hare, a former city councilman who oversees development for Buccini/Pollin, said he sees no problems coexisting with Creative Vision Factory. He noted that a Salvation Army shelter is nearby. So is a church-based homeless shelter.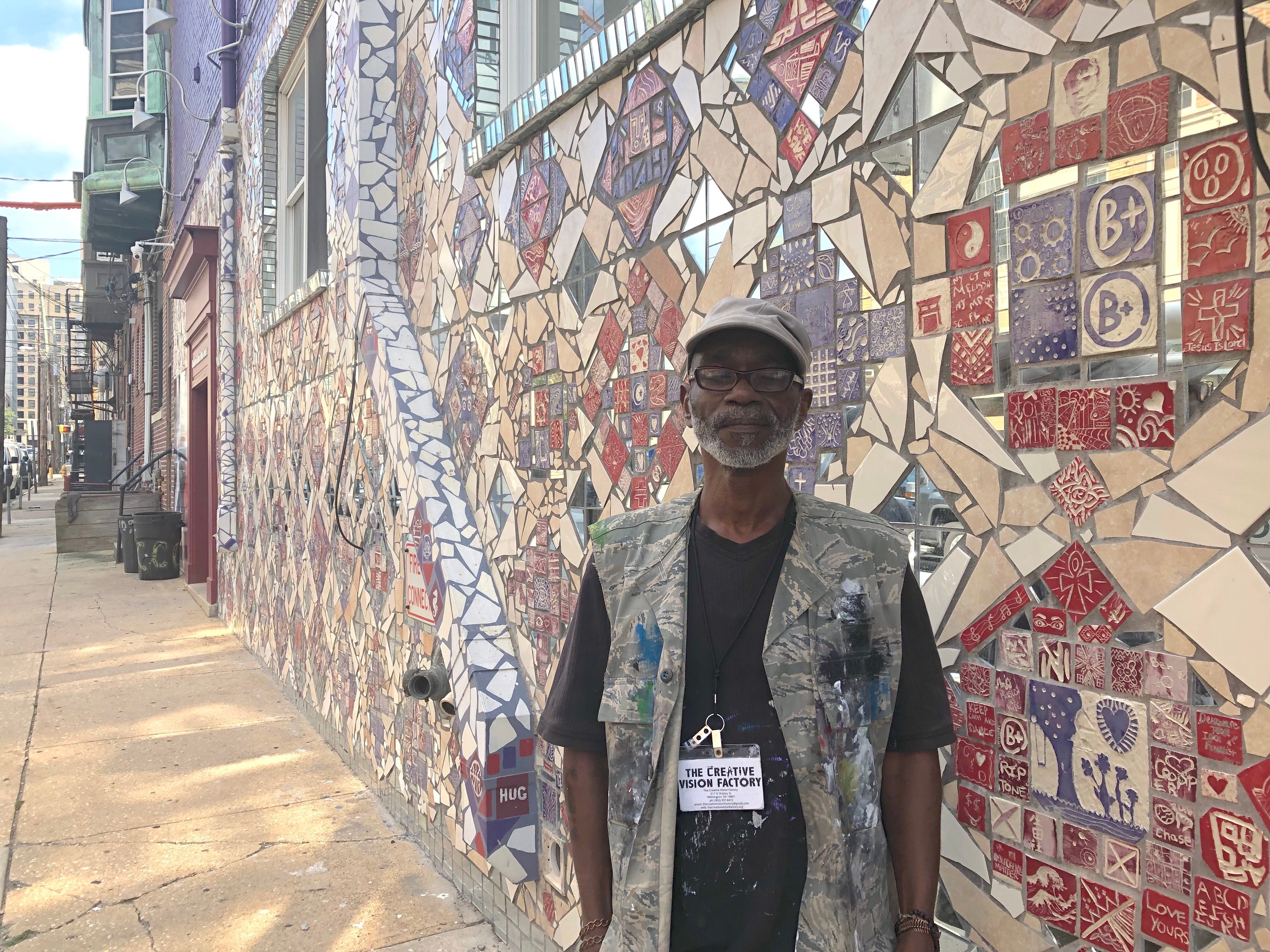 "As a company, we don't like to move anyone from where they are," Hare said. "We think that people who are interested in moving to the city love and expect and have a feel for the diverse fabric the city has."
Hare also had kind words for the studio: "I think they do a great thing using art as therapy. Most of what I'm aware of is the visual arts. I've seen murals. I've heard of their clients participating in art shows, so I think it's fulfilling a need."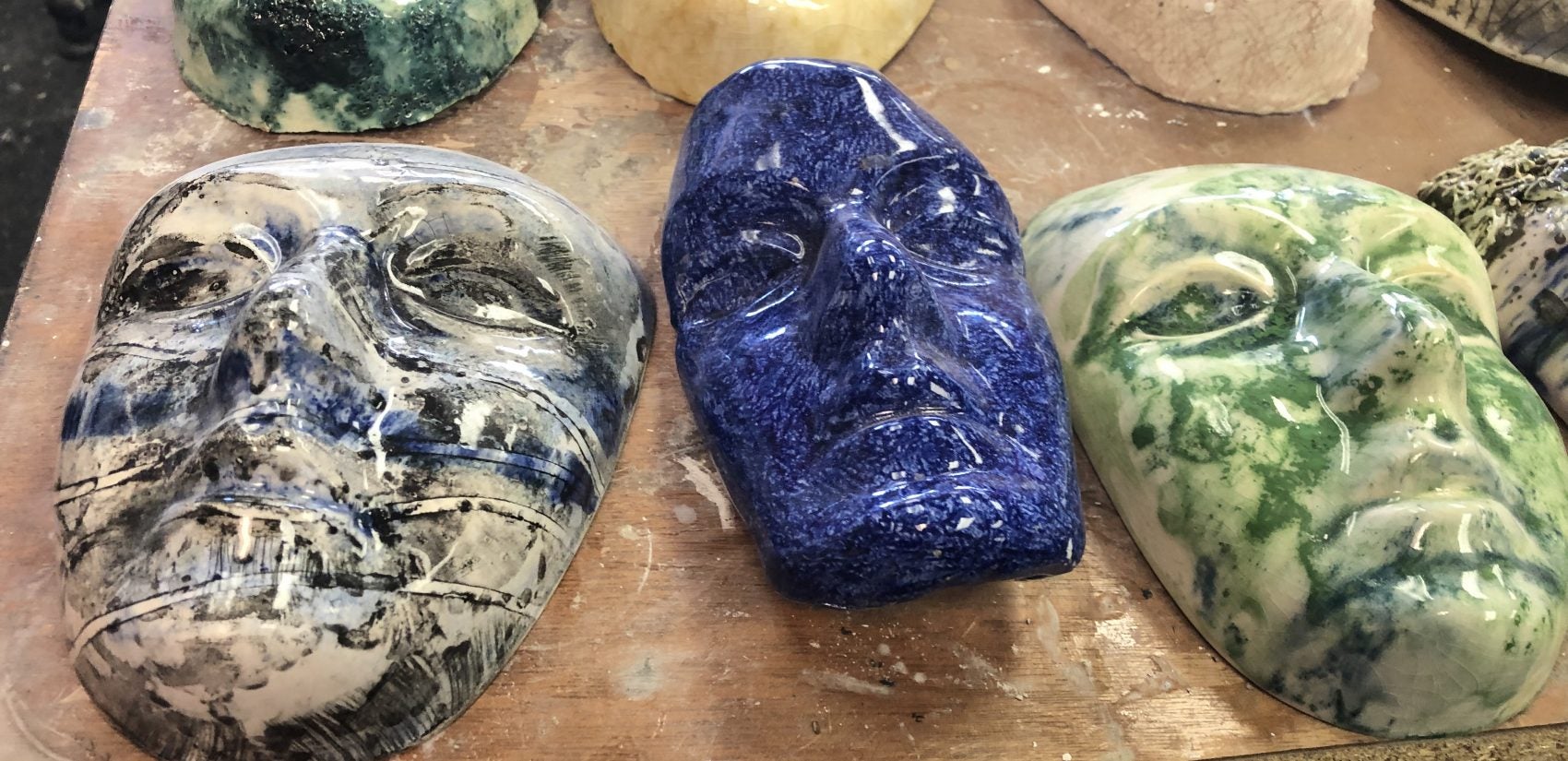 'A place to come and there are no expectations'
Creative Vision Factory was created by the state Division of Substance Abuse and Mental Health as a peer-run drop-in center, part of a settlement after federal officials accused Delaware of violating the civil rights of people with mental illness.
The center was one element of having people with serious mental illness living in the community, rather than being committed to the Delaware Psychiatric Center or other facilities.
Kalmbach stressed that though, by design, there are no "professional counselors,'' everyone on the staff "has lived experience."
"I've gotten frustrated over the years because people were like, 'Where are the professionals?'" he said with a chuckle. "There's so many gaps in services, so many gaps in treatment, that the whole peer movement is built off of people doing the things that the current systems are not doing for themselves, but also advocating for some of the needs."
Art made by members adorns the walls of the Creative Vision Factory. (Cris Barrish/WHYY)

Art made by members adorns the walls of the Creative Vision Factory. (Cris Barrish/WHYY)

Michael Kalmbach, who runs the Creative Vision Factory, says everyone on staff "has lived experience." (Cris Barrish/WHYY)

Eric Carpenter says the Creative Vision Factory is a community full of "positive energy." (Cris Barrish/WHYY)

Kenneth Segal was once a member and now is on staff. He sells many of his paintings. (Cris Barrish/WHYY)
Like helping people express themselves through visual art, or journaling or poetry. Or being a place to grab a cup of coffee or soup and interact with others who understand issues like finding housing or gathering paperwork to apply for food stamps or a job
Perhaps even to surf the web, like one man who was watching NBA slam-dunk highlights when WHYY visited. Or to watch the latest Dave Chappelle Netflix special on a projection screen.
"The difference of what we're trying to do is actually take the time to talk with people, give them some space, kind of develop some other tools,'' Kalmbach said. "Learning how to de-escalate conflict, learning something that you can utilize when you are in a cramped space, where it's real busy and you can't control it. Having a place to come and there are no expectations of you for that day."
The center is open weekdays. One staple is the daily "check-in session."
Raymond Aborn addressed about a dozen members and staffers one recent morning.
"I went to my meeting this morning, so I'm happy with that. And I'm still clean for 11 years!" Aborn exclaimed.
"All right!" members responded, with claps and cheers.
"I'm trying to push 12 years now,'' Aborn added, to more applause.
Praised one man: "My brother, congratulations. Keep doing what you're doing."
Said another: "And don't stop."
Warm laughter filled the room.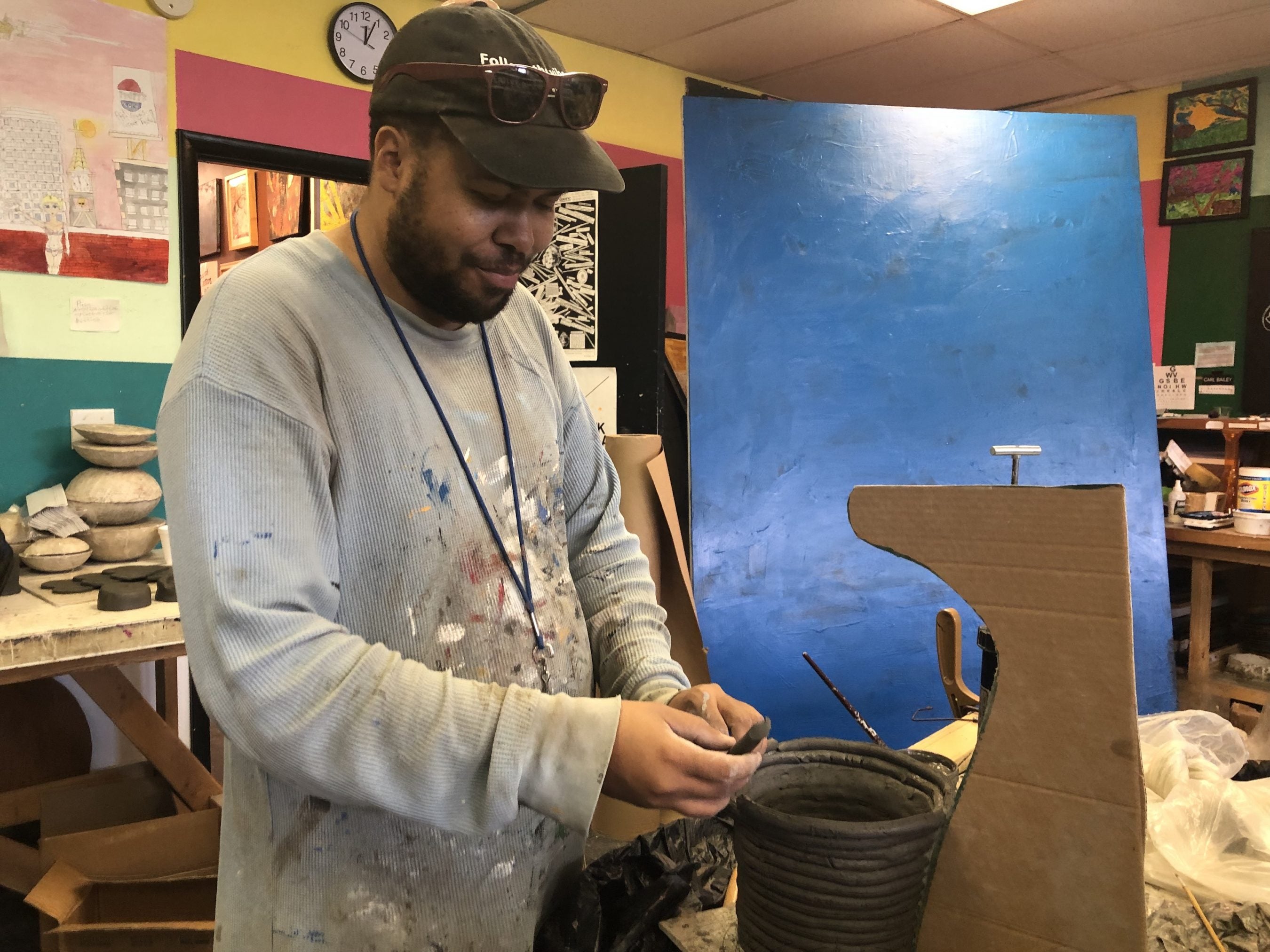 Beyond his battle with substance abuse, Aborn struggles with bipolar disorder and hyperactivity. He lives with his mother but is trying to find his own housing.
At the factory, he finds joy in a boyhood passion — creating ceramic pieces that he loves showing off.
"Right now, I'm working on this flower pot. I got different flower pots. And here, I got a couple of angel bowls and angels cups there,'' he said. "I like art, so that helps me bring my side out, my other creative side, and it's nice here. People just calm and nice. They respect you."
Creative Vision Factory members and employees concurred.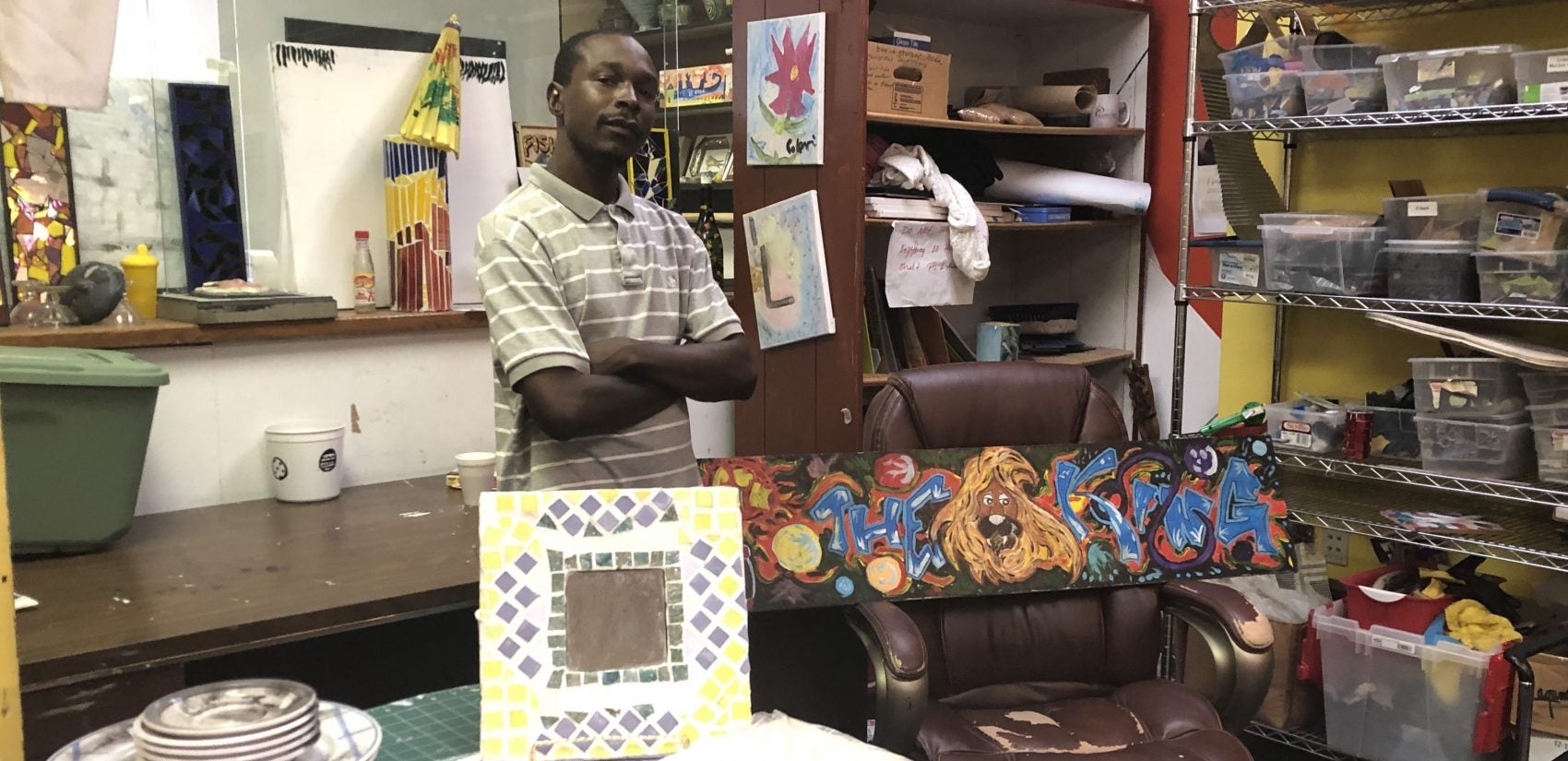 Eric Carpenter, who calls himself "Mr. Freeze," said those who see members congregating outside to smoke, or even arguing, would appreciate the magic happening inside and what it means to people like him.
"It helps me escape the world … in my mind, how I think. What I draw is based on my livelihood. I grew up on graffiti, cartooning,'' he said. "Everything I grew up on, I try to bring into the community, which is the Creative Vision Factory, a family and a body of people that think alike, same feeling, same energy, good energy that's nothing negative. All positive energy.
Reva Ruffin was attaching mosaic tiles to a flower pot.
"I come here for the variety of art, and sometimes a listening ear,'' Ruffin said. "I started coming here about a year ago. I do sketching and drawing, and it was someplace to drop in and just relax."
For Kalmbach, the factory will  — as long as it exists — be a place for those looking for a creative outlet and an emotional home.
"I always describe it as the high school art room, ripped out of the school system and just put out on the streets," he said. "But then, too, it's also a consistent safe reprieve for folks that tend not to be welcomed any other place."
WHYY is your source for fact-based, in-depth journalism and information. As a nonprofit organization, we rely on financial support from readers like you. Please give today.