Univ. of Delaware teams with California firm on electric car battery tech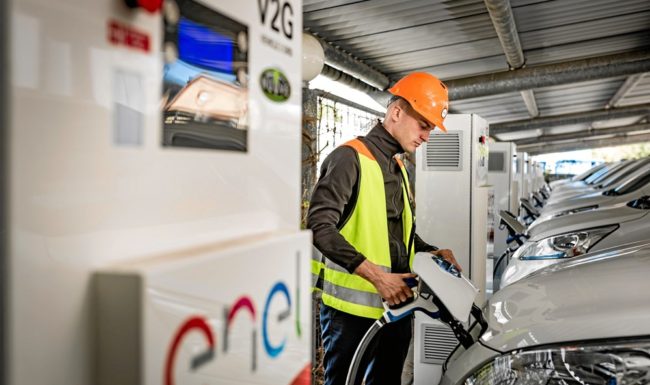 The collaborative effort with Nuvve Corp. includes a research and development center to expand vehicle-to-grid technology pioneered at the University of Delaware's Newark campus.
San Diego-based Nuvve licensed the vehicle-to-grid (V2G) technology from UD in 2016. The technology allows electric vehicles that are plugged into a charging station, equipped with UD's Grid Integrated Vehicle software, to charge the vehicle or discharge its batteries back to the grid if needed. It's that ability to store power in a car's battery and then return it to the grid that makes the technology valuable for electricity operators.
According to UD, "The software aggregates all vehicles plugged into the system so that they perform as a single power plant, helping to balance the grid's supply of electricity with demand — on a second-to-second basis."
The software coordinates all cars plugged into the system to work in unison to balance the supply of energy on the power grid. That stable balance is especially helpful as more variable forms of energy like wind and solar are installed.
The rights to the technology had previously been split between NRG Energy in the U.S. and Nuvve, which had rights to the tech outside of the U.S. The new deal gives Nuvve the patents to the V2G technology, while UD gets an equity share in the company. UD will also establish an R&D center to expand its work in developing the technology.
"You have a lot of momentum in electric vehicles that will come to market around 2019, 2020," said Gregory Poilasne, CEO of Nuvve. "So what it does for us right now between now and 2020, it gives us the opportunity to make sure that in each country where we are establishing ourselves, we are able to adjust to the regulatory barriers … so that when all those vehicles are coming available we have a strong position and it becomes a no-brainer for people to sign up for our services."
"A major transition is underway in the world, and the University of Delaware is right at the forefront," said David Weir, director of UD's Office of Economic Innovation and Partnerships. "The technology pioneered here at UD will further accelerate the disruption that's taking place and shake up the transportation marketplace."
The R&D center will be funded by Nuvve with at least $400,000 a year for the next seven years.
The V2G technology was developed more than 20 years ago at the University of Delaware by a team led by Willett Kempton, research director of UD's Center for Carbon-free Power Integration. "It's rewarding to see an idea I dreamed up, that our team has strived to make work reliably in practice, being implemented commercially across many countries," Kempton said. Kempton is also a co-founder and chief technology officer at Nuvve.
Poilasne said while electric vehicles make up less than two percent of the global vehicle market, that's expected to change drastically in the next five years. "UD faculty and students are at the epicenter of it all," Poilasne said. "We are keeping very strong ties with the university, we have a long plan of supporting the technology development at the university through partnerships and also the financial support."