Two Lawncrest banks robbed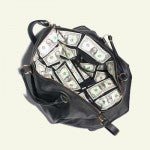 Two Lawncrest banks, both on Rising Sun Avenue, were robbed in as many days.
On Monday, a man robbed the PNC Bank at 6705 Rising Sun Ave. around 12:30 p.m. The same man robbed the Bank of America at 6425 Rising Sun Ave. – a mere three blocks away – at 1:45 p.m. Tuesday.
In both cases, the man presented a threatening note to the tellers, then made off on foot with undisclosed amounts of money. He is described as a black man in his mid to late 4's, approximately six feet tall, medium build, with a salt-and-pepper trimmed beard. On both days he was wearing a white baseball cap, a dark-colored or brown waist-length jacket, tan pants and brown boots. During Monday's robbery, he also carried a black backpack.
If you see this man, police warn, he is considered armed and dangerous. Anyone with tips is encouraged to call the FBI at 215-418-4000.