Trump's press-bashing bluster is pure Shakespeare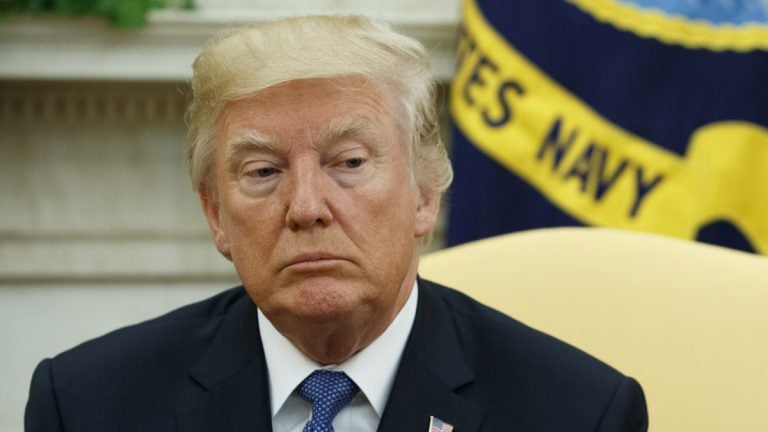 Oh, how desperately Trump must pine for the distant days when he could marinate in self-regard by manipulating the New York tabloid press, doling out tidbits that inflated his tender ego, calling up reporters in the guise of "John Barron," a fake PR man who dispensed fake scoops about how the purported babe magnet was on the cusp of dating hot chicks like Carla Bruni.
It's truly a different world now for the man-child who finds himself in the White House stewing over press coverage that he is powerless to control. The concept of accountability journalism is totally alien to a guy whose understanding of the U.S. Constitution is thinner than a strip of dental floss, as evidenced by yesterday's fine whine: "It's frankly disgusting the way the press is able to write whatever they want to write, and people should look into it."
People should look into it … Last I heard, freedom of the press was embedded in the First Amendment. Last I heard, it said that Congress "shall make no law" to curb it. Some political observers are freaked that Trump is talking this way (as he did last week, when he said the Senate Intelligence Committee should investigate the press instead of his Russia scandal), and they're upset that yesterday he thumbed two tweets threatening legal action against NBC News. Agitated by the network's recent reporting, he said he might "challenge their License."
Yeah, sure. Trump will take on NBC's "License" after he makes good on his 2016 threat to sue his sexual harassment accusers, his 2016 threats to sue The Washington Post and the Associated Press, and his 2015 threats to sue John Kasich, the National Hispanic Media Coalition, the Club for Growth, Jeb Bush donor Mike Fernandez … it's a long list. You see my point. The only silver living about this poser is that his bottomless appetite for empty bluster far exceeds his ability to make good on his authoritarian instincts.
And even his bluster reeks of ignorance. Trump can't challenge NBC's "License" even if he wanted to, because NBC doesn't have a license to challenge. As the Federal Communications Commission clearly states on its website, "We license only individual broadcast stations. We do not license TV or radio networks such as CBS, NBC, ABC, or Fox…"
NBC does own a few of individual stations (the vast majority are affiliates owned by other companies), but even if Trump truly targeted NBC's stations, he'd quickly discover something he doesn't know: The legal basis for a challenge is extremely narrow. He'd have to prove that an individual station repeatedly flouted FCC rules and lacked the "character" to keep the license — like in the '70s case of a New York station that lost its license because management was convicted of bribery. Rest assured, the parent network's airing of news Trump doesn't like is no basis for revoking an NBC-owned station's license.
Besides, most of the NBC reports that Trump finds objectionable — like the well-sourced revelation that the Secretary of State thinks he's a bleeping "moron" — gets posted on the network's news site. If Trump had run his fingers across the FCC provisions before he ran his mouth, he would have discovered this passage: "We also do not regulate information provided over the Internet."
Granted, his new rants about the press (they've been coming more frequently, as his bunker mentality worsens) damage our democracy and pollute the discourse, even if he's too low-energy to follow through on his threats. It's sickening to hear a so-called president disgorge rhetoric that's usually heard in banana republics, Putin's Russia, and Erdogan's Turkey. And, of course, it stokes Trump's remaining acolytes, the same credulous souls whose heads would have detonated if Barack Obama had ever threatened to go after Fox News' "License."
I would actually love to see him fulfill his threat and move against NBC News, on the grounds that the press should be barred from writing what it wants to write. Because if he did, bingo, we'd have an impeachable offense. He took an oath to "preserve, protect, and defend the Constitution of the United States." An FCC or court attempt to muzzle the press, like a tinpot Putin, would by definition violate the Constitution and breach the oath of office. So please do it. Please.
But will he? I doubt it. This guy is all mouth. He brings to mind some wise words from Shakespeare, about the "poor player" who "struts and frets his hour upon the stage … It is a tale told by an idiot, full of sound and fury, signifying nothing."