Trump's new tax: 'The biggest policy blunder of his presidency'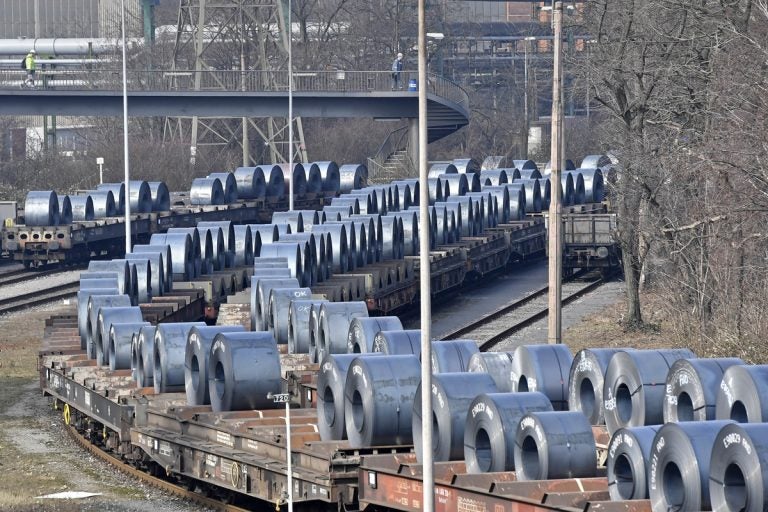 The editorial board of the Wall Street Journal — you know, the "liberal" media — says it far better than I can. Trump's unilateral decision yesterday to impose hefty tariffs on foreign steel and aluminum is a "self-inflicted folly" that "will punish American workers … hurt the economy and his voters," and is therefore "the biggest policy blunder of his presidency."
The biggest blunder of his disastrous pseudo-reign? Wow, that's a high bar. But Trump hurdled it with ease, triggering fire and fury among Republicans, who warned yesterday that the very stable genius they've aided and abetted has basically slapped a new tax on the average American. The Journal editorial writers even call it "the Trump tax." The guy's con lives on.
Virtually all of Trump's courtiers, starting with top economic adviser Gary Cohn, had long peppered him with evidence that any attempt to shield the U.S. steel and aluminum industries from foreign competition would backfire badly, that any attempt to practice reactionary protectionism in a free-trade world would prompt other nations — including allies — to retaliate in kind, thus raising consumer prices here at home. But like a baby jonesing for a binky, Trump wants what he wants; as he reportedly railed to his staff last August, "I want tariffs! Bring me tariffs!"
As one conservative columnist points out, Trump's pro-tariff 'tude "reflects his willful ignorance and the utter failure of those around him to curb his grave defects. There are virtually no respectable economists, certainly not conservative ones, who think tariffs are anything but an economic disaster." Wall Street investors know it, which is why the Dow plummeted yesterday as soon as Trump opened his mouth. It fell sharply again this morning, which means we won't be seeing the usual Trump tweets that claim credit for a bull market.
On the contrary, it's manifestly obvious that his doltish decision will "be very harmful to the economy at a time when it's really taking off." That's a quote from John Thune, the Senate's third-ranking Republican. It's manifestly obvious that the tariffs are essentially "a tax hike the American people don't need and can't afford." That's from Orrin Hatch, the Senate's Finance Committee chairman.
Like most of their Republican brethren, they know what will happen after the tariffs are finalized next week. We still need foreign steel and aluminum (especially sheet aluminum, which isn't made in America), so slapping them with higher levies (25 percent on steel, 10 percent on aluminum) will ultimately result in higher prices for consumers, on everything from automobiles and appliances to beer in aluminum cans.
That's why the National Retail Federation warned yesterday that Trump's move is "a tax on American families." That's why conservative economic analyst Larry Kudlow said yesterday that it's nuts to protect the domestic steel industry while screwing most domestic consumers: "You will wind up hurting millions of people to help 140,000 people in the steel industry. You will be hurting car buyers. Is that really what you want to do?" If car buyers seriously balk, the ripple effect could spark layoffs in the automotive sector.
And by starting a trade war, Trump is inviting other nations to retaliate. If we're going to build a wall against their products, why wouldn't they build a wall against ours? The foreign minister of Canada already says, "Should restrictions be imposed on Canadian steel and aluminum products, Canada will take responsive measures," such as reducing its purchase of American exports. (Leave it to Trump to tick off nice Canada, of all places.) That's precisely the danger. Foreign retaliation will hurt the American industries and agricultural interests that earn big money from the products they export; if they earn less, they might lay people off.
Jerry Moran, a Republican senator from agricultural Kansas, lamented yesterday that Trump's tariffs basically cancel the GOP's newly enacted tax cuts: "You will significantly damage or you'll significantly reduce the benefits that come from any tax bill if you undermine the ability to earn a living. Tax cuts are only helpful to people who are earning a living, who have income. And trade is how we gain income." (Did Trump give him, and other agricultural-state senators, any advance warning? Of course not. Moran said, "I would have been delighted to have been briefed on the decision.")
And leave it to Trump to take yet another stance in opposition to the American mainstream. On the same day he announced his tariffs, Gallup released new polling stats: "A strong majority of U.S. adults (70 percent) see foreign trade as an opportunity for U.S. economic growth through increased exports, rather than a threat to the economy from foreign imports (25 percent)." That pro-trade sentiment has actually spiked since the Trump occupation began.
But, alas, his tariff decision is a fitting finish to another horrific week. But one big question is: Why now? Why did Trump deem it necessary to act at this particular time? One press report, having harvested the latest inside info from this historically leaky White House, gives us the best answer: "People familiar with the issue said the president … had already made up his mind to move forward, especially in the aftermath of a barrage of negative news about his staff that infuriated Trump."
There you have it. Stung by all the stories about Hope Hicks and Jared Kushner and staffers in chaos, Trump was determined to seize the narrative by changing the subject. And so his brilliant solution was to sabotage the economy and slap a de facto tax on consumers. Buckle your seat belts, folks. We have yet to suffer the full brunt of his wretched desperation.