Does Trump's health emergency declaration do enough to address the opioid crisis?
Listen
2:02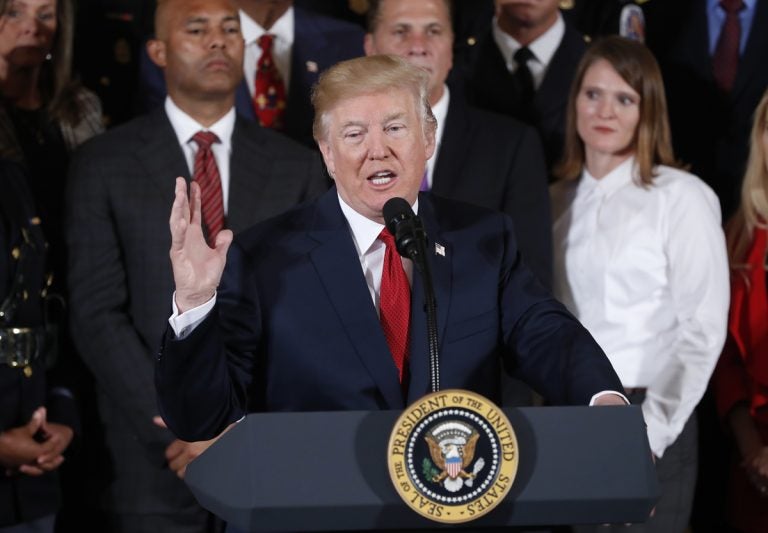 President Trump announced today that he's declaring the opioid epidemic a national public health emergency.
For people like Jacqui Redner of Levittown, Pa., the news has personal significance. Redner's son, Joshua, died in September, after a 10-year battle with opioids.
"Losing my son to heroin overdose probably could have been prevented if there was different types of treatment, or more treatment," Redner said.
Joshua Redner, who was 28 when he died, tried his first pain pill while he was still a student at Bucks County's Pennsbury High School.  
Overdose deaths in Bucks County are up 65 percent so far this year, according to a recent report in the Philadelphia Inquirer. In Philadelphia, officials are expecting as many as 1,200 to die of overdoses this year, eclipsing last year's count of 907.
Jacqui Redner said she's happy to see some action from President Trump, but that the declaration of a public health emergency doesn't go far enough. The president could have, instead, made a different kind of emergency declaration that would have immediately made money available through federal funds reserved for natural disasters, such as hurricanes or floods.
"You're losing more Americans daily through this crisis than you are through a hurricane," Redner said.
Trump's public health emergency will allow the federal government to spend from a public health emergency fund, but that fund currently stands at a paltry $57,000. Additional monies would have to be authorized by Congress.
Philadelphia's top official for behavioral health and addiction services agreed with Redner's view that the President should have declared a national health emergency that could have diverted more plentiful funding immediately from the Federal Emergency Management Agency's Disaster Relief Fund.
"While we certainly will take what we can get, I think the declaration of a public health emergency falls a bit short," said David T. Jones, the commissioner of the Department of Behavioral Health and Intellectual Disability Services.
But some critics say that any emergency declaration is meaningless without focusing on expanding health care coverage for people who need addiction treatment.
"What we need is a strong health care system, whether the current Affordable Care Act or some sensibly rebuilt version," said Scott Burris, who directs the Public Health Law Center at Temple University.  "We need drug treatment as part of that health care system and we need funds for drug treatment. We're not getting that, this won't get us that."
Burris noted that the President and Congress already have the power to shore up coverage for addiction treatment in the health care system, with or without an emergency declaration.