Top Pa. judges 'clearly, plainly, palpably' junk the rigged Republican map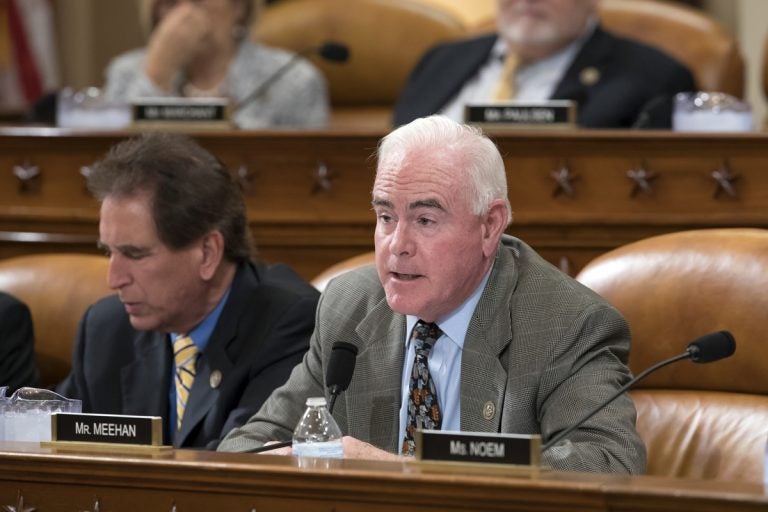 I wouldn't be shocked if Republican congressman Pat Meehan announces early this year that he's giving up his suburban Philadelphia seat in order to spend more time with his family. This guy has had a very bad week.
First came the revelation that Meehan used taxpayer money to secretly settle a case brought against him by a former aide who said he made unwanted advances and grew "hostile" when he was rebuked. In the current "Me Too" climate, that news alone could be politically deadly, especially in a district where suburban women are a key demographic and primed to punish anyone affiliated with groper-in-chief Trump. Especially when the incumbent has been thrown off the House Ethics Committee.
And now comes the news, via yesterday's Pennsylvania Supreme Court ruling, that Meehan's comfy 7th District — gerrymandered by Republicans in Harrisburg to maximize Republican voters and ensure perpetual Republican victories — may well be wiped off the map. Meehan was probably facing a tough re-election even with a rigged district. Could he possibly survive in a redrawn district that's fair to all voters?
In fact, the state's highest court junked the entire GOP-authored congressional map, which, during the past three election cycles, has miraculously awarded 13 of the 18 seats to Republicans (72 percent), even when they've drawn as little as 49 percent of the statewide House votes. Pennsylvania is known for being one of the most gerrymandered states in America, based on its wild geographic contortions, and the judges concluded — rightly so, as you'll see in a moment — that the rigged map blatantly violated the fair-election requirement embedded in the Pennsylvania constitution.
Meehan's district, in particular, has been a classic scam that minimizes the number of likely Democratic voters by meandering hither and yon, with its boundary literally snaking through a King of Prussia parking lot so that habitual Republican voters on one side could be joined with habitual Republican voters on the other.
The state document is supposed to guarantee that "elections be free and equal; and no power, civil or military, shall at any time interfere to prevent the free exercise of the right to suffrage." When Democrats get 50 percent of the House votes statewide, and wind up with only 28 percent of the seats, that doesn't sound like the elections are "equal." Indeed, even the high court's chief justice, Republican Thomas Saylor, admitted yesterday in his dissenting opinion, that a string of recent federal rulings "raise substantial concerns as to the constitutional viability of Pennsylvania's current congressional districts."
Nobody knows what will happen next — the high court wants the Republican-controlled Harrisburg legislature to draw a new map free of geographic contortions, "composed of compact and contiguous territory," and to do it by Feb. 15, or else the court will draw its own map — although it's a good bet that the state Republicans will seek help from the U.S. Supreme Court. But federal courts don't review state rulings that are based solely on state constitutional issues. Presumably that's still the standard, even in the norm-destroying Trump era, and even though a fairer Pennsylvania map could yield as many as four Democratic-leaning districts in a year when Democrats need only 24 seats to retake the House.
What we do know is that chaos may soon ensure. The Pennsylvania high court wants to have a new map in place before the spring congressional primaries; until then, incumbents and challengers aren't likely to know which parts of their districts will remain intact, which voters are staying in or heading out. But all told, this is good news for the Democrats. At minimum, Pat Meehan's district, even if it not redrawn, is prime pickup turf (today he hilariously claimed that his emotional reaction to his "soul mate" aide was caused by the pressure of the GOP's Obamacare repeal effort). And Republican Charlie Dent, the incumbent in the salamander-shaped 15th District that snakes from the eastern border all the way to the outskirts of Harrisburg, is so fed up with Trump that he's bailing.
Meanwhile, we have the big picture: State or federal courts have also ruled against Republican gerrymandering scams in Wisconsin, North Carolina, Texas, Florida, Alabama, and Virginia. The underlying principle is that voters should be free to choose their representatives, not the other way around. And increasingly, voters are paying attention. Our democracy is not dead yet.
—
Hey, the federal government is open again! Senate Democrats basically agreed to provide enough votes to make it happen, in exchange for getting six years of financing for children's health insurance (which the GOP had held hostage for months), and a promise (or "promise") from Mitch McConnell that the dreamer immigration issue will be taken up in a few weeks. If McConnell reneges, Democrats can start the shutdown clock again.
But in November, will voters care or remember which party won or lost these maneuverings? If the congressional districts are redrawn, that will be a much bigger story.