The Woodlands charts new course built on old assets, broad appeal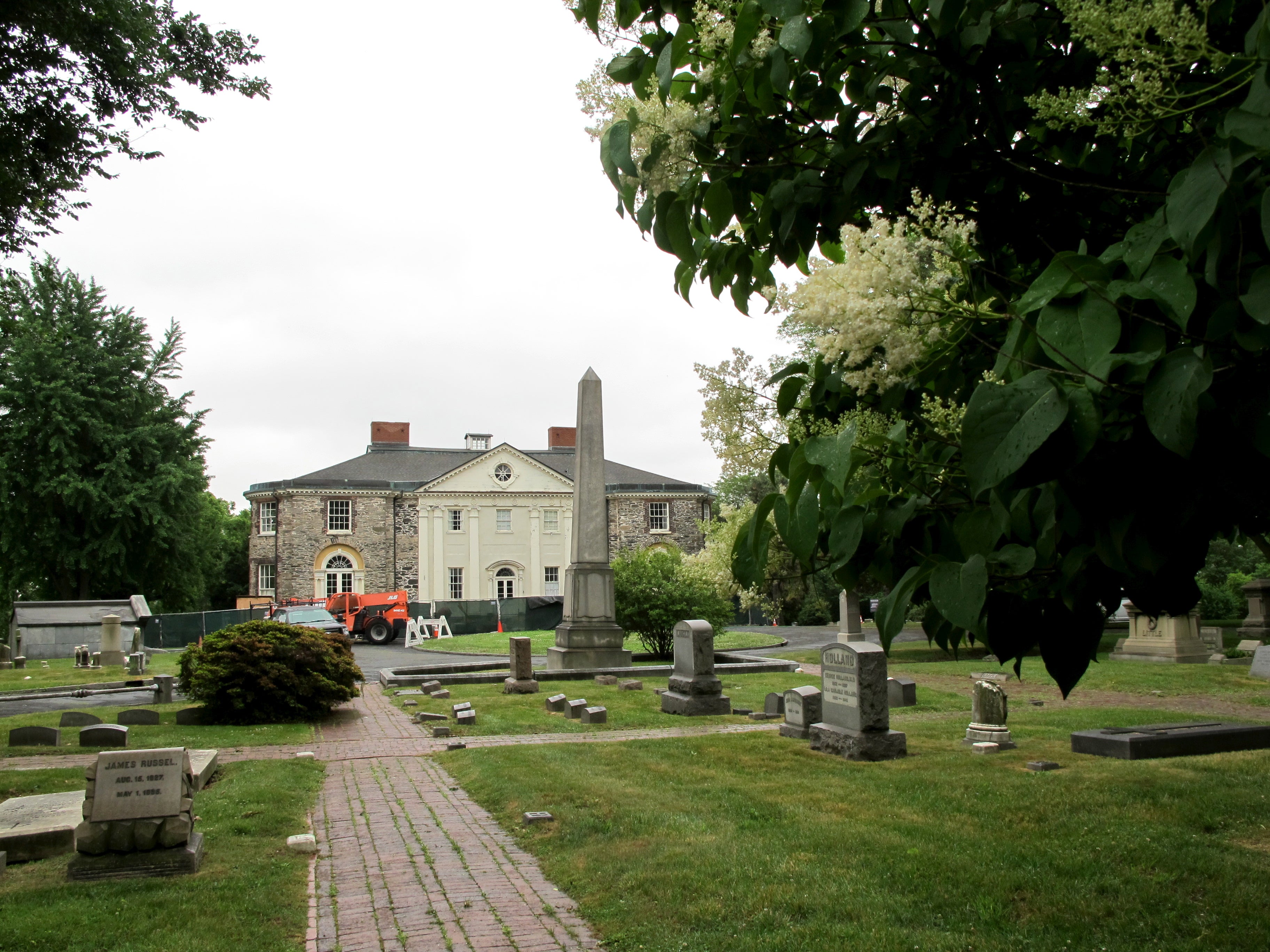 That historic site is so relevant, said hardly anyone ever. But that's just what The Woodlands has become.
The more common narrative in the world of house museums and standalone historic places is closer to existential crisis. Too many (and we may have too many) are adrift, struggling to find community connections, contemporary resonance, and financial support. That bleak backdrop makes signs of revival at The Woodlands in West Philadelphia all the more remarkable.
The Woodlands, an 18th century estate-turned-rural cemetery and designated National Historic Landmark District, limped along in near obscurity for large parts of the 20th century. But lately it has turned a corner, aiming to balance its high historic values with contemporary uses, matching stewardship with approachability and creativity. It is as though a breath of fresh air has swept through.
So what's The Woodlands doing right?
In the last few years The Woodlands changed leadership, commissioned and began implementing master plans for the organization and site, worked to stabilize and repair its historic buildings, experimented with public programming to invite in new audiences, and attracted significant grant funding and community contributions. Last year nearly 30,000 visitors were drawn through the gates. Not bad for a once sleepy cemetery better known as a hidden haven of green.
The Woodlands, 2015

Paul Cret's gates to The Woodlands along Woodland Avenue
The Woodlands, originally a 600-acre estate, is now is a verdant 54-acre ramble tucked behind Paul Cret's refined gates on Woodland Avenue just opposite the 40th Street Trolley Portal. Enter and the noise of the city gives way to birdsong and a meandering setting for specimen trees, winding carriageways, soft brick paths, and gorgeous sculptural monuments. At the heart of the former estate is William Hamilton's historic stone mansion, which reveals itself almost like a folly in a rolling English landscape. The house is a fine, if somewhat underappreciated, specimen in its own right.
"This building is considered the first Federal architecture in North America, yet people that live three blocks away didn't even know it was here and tons of people in the city don't know it's here," said Jessica Baumert, The Woodlands' executive director.
While design buffs appreciate this "architectural underdog," history and design are not the site's only draws. Dog walkers, runners, and nature-lovers have long seen The Woodlands as a vast, leafy treasure tucked away on the edge of University City. Its impressive collection of trees, including a grove of historic English elms, and its lush plantings support wildlife and give room to roam in a dense neighborhood.
"The whole story of this place is so amazing but no one knows it. In some ways that works to our benefit because every time someone comes here and sees it they feel like they've discovered this amazing thing. They feel a special connection to it and they tell their friends about it," Baumert said. But, she added, "I think the thing that was the most shocking to me when I started was how many people didn't know that they could come in the gates."
The Woodlands' rolling landscape invites roaming, and leashed dogs are welcome visitors.

Giant and historic English elms stand tall above monuments in The Woodlands
That tingly feeling of discovery can fuse a bond for those who know The Woodlands, but staying a secret is no way to grow your audience or welcome your visitors.
When Baumert was hired in 2011 she and her board set out to improve communications, both visual (clear signage, inviting plantings) and virtual (a new website and social media accounts). The Woodlands also quickly secured funding to embark on planning processes for both the organization and the site. These plans enabled The Woodlands to take a clear-eyed look at their assets and audience, and chart a new course.
As a result the focus has turned from the hereafter to an emphasis on the here and now. A 2012 strategic plan enabled The Woodlands to pivot from its old school focus on burial plot sales (a literally dying industry) and toward other means to sustain operations. That was followed by the development of a master plan for the site informed by a survey of users, which confirmed diverse connections to the site, and historic features to inform the future.
The master plan, funded by the William Penn Foundation, has three goals – to increase visibility and access, restoration of the historic buildings and landscape features, and finding new opportunities for revenue generation. The plan uses historic site features to guide future growth, envisions different circulation patterns throughout the site, identifies ways to create more welcoming and improved points of connectivity to the site, a cremation garden that will enable burials to continue but not dominate future land uses, and enabling mansion and carriage shed spaces to be used for private events. The Woodlands board is expected to adopt the plan, which was recently completed, soon.
In many ways the plans have enabled The Woodlands to open itself up to different kinds of uses – from organized bird watching to booking weddings – to invite in new visitors, introduce programming partnerships, and find new revenue possibilities.
History has long been an emphasis at The Woodlands, but community-oriented programming, particularly events focused on nature – like an upcoming firefly night or stargazing – have helped make The Woodlands more approachable, at more hours of the day, to audiences who might not have ever set foot on the property.
Most of the community events are low-cost (or free) and fairly low-stakes, simply geared at exposure, inclusion, and tapping into a spirit of urban exploration. And none of that happens at the expense of the site's more traditional visitors.
To Baumert too many historic sites "don't realize how thirsty especially young people are to go to new places."
This spring alone The Woodlands threw down against Bartram's Garden downriver in a birding smackdown, hosted an "InstaMeet" for a few hundred local Instagrammers, and hosted thousands at Go West Craft Fest. By their counts events like these introduce huge numbers of first-time visitors of all ages to The Woodlands, and that's the idea.
For a site with as rich a cultural pedigree as The Woodlands it might sound silly to focus on bird watching or twee crafts, but it's about creating casual opportunities to build a broader and more diverse community around the site.
North terrace and cryptoporticus reconstruction underway at The Woodlands, Spring 2015

The Woodlands mansion, during terrace and cryptoporticus reconstruction

The Woodlands' stable will be repaired and its electrical upgraded thanks to a challenge grant and community fundraising.
The Woodlands has found the site's multiple values have proven a boon for fundraising to support both the organization and the site's historic and natural assets. The site has drawn new foundation, public, and community support for projects and plans in recent years.
A state grant has enabled a million dollar project to deconstruct and rebuild the cryptoporticus (a subterranean service pathway) and the north terrace above it. That project is expected to finish this summer.
This year The Woodlands successfully won a challenge grant from the William B. Dietrich Foundation: If The Woodlands could raise $218,000 toward restoring the stable, the Dietrich Foundation offered a grant of $612,000 to restoration work on the exterior of the mansion – to a point. (The mansion exterior will not be polished to sterling perfection, but show its age. Layers of time and building chronology will still be visible.)
The Woodlands hit their goal in six months. Yes, there were a few five-figure contributions, but there were more than a few five-dollar donations too.
"We got a lot of community support," through the fundraising campaign said Baumert. "It did more that just raise money."
These are the last repairs necessary to stabilize The Woodlands historic buildings. That's a huge contrast from whole decades in the 20th century when Baumert said it was hard to keep the lawn mowed much less maintain the mansion.
All of this is something to toast as The Woodlands hosts its fourth annual benefit to support its operations on Thursday evening.
WHYY is your source for fact-based, in-depth journalism and information. As a nonprofit organization, we rely on financial support from readers like you. Please give today.