The key to creativity in another man's shirt
To produce a book representing his work, a Kensington artist turns to the physical leftovers of an illicit lover.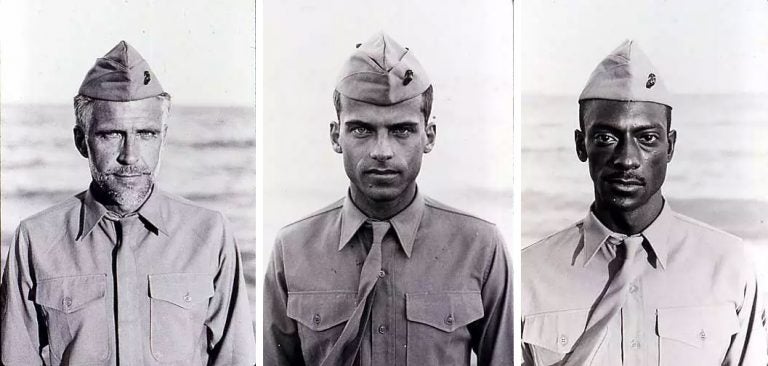 Philadelphia favorite son and Grammy Award-winner Questlove has published "Creative Quest," a collection of inspirational stories and lessons about living one's best creative life. In this spirit, Speak Easy has asked Philadelphia artists to share stories of their own creative quests.
—
In September, I gladly accepted an invitation to produce a book with STH Editions as part of their "Pictures and Words" series. I had already done an art print edition with STH founder Billy Miller. He's a fan of my work and has taken it to shows in Berlin, Los Angeles, and New York.
Each edition of "Pictures and Words" was meant to be a calling card for an artist's work, a broad overview that I could give to collectors and potential reps. I had until the second week of January to finish the collection.
Upon returning to my Kensington home and studio, located in rapidly redeveloping North Philadelphia, I eagerly set to laying out my book. I tried several incarnations. Start with "Marine Corps Uniform – c. 1970," I told myself.
But can I show this work? It's more than 10 years old. Maybe put it last, at the back of the book. Oh, I don't know, maybe first. Maybe not at all.
My brain was fighting with me. So, I called my friend Fred.
"Fred," I said, "can I show 'Marine Corps Uniform' in my new book?"
As he is one of my oldest, ahem, and dearest friends, he was familiar with my work and with the success of this Miami Beach-inspired photo project.
"Of course, you can, darling," Fred replied. "No one ever asks Barbra Streisand not to sing 'Memories.' "
He was right. If this was going to be a calling card, I should definitely include my most popular hits. I printed out 5- by 7-inch ink jets of the black-and-white photographs, and I lay them across the studio floor.
Looking good.
I had recently amped up my Instagram and Twitter accounts with a series of almost daily epitaphs of "Joe's how I see the world vomit" and was having some success with likes and engagements. I decided that my new text work should be included in the book, as well.
Oh, the dopamine.
— Joe Ovelman (@JoeOvelman) November 3, 2017
I printed some of these text drawings out and lay them on the floor with the portraits of men wearing my father's Marine Corp uniform. I didn't like it.
I tried adding some of the female athlete drawings I had been making, which I love, and which I showed in Gowanus in Brooklyn this past September. Well, that didn't work either.
Dang it. I love this work, why am I having such a hard time liking them together?
I didn't know it at the time, but I was preparing to do something that I had always wanted to do, but hadn't.
I went away for the holidays in December, still unsatisfied with how the book project was going. My sister and I talked at length about what I consume and what I produce. "Is there a way for you to make heavy work that also includes and exudes your sense of humor?" she asked.
Maybe.
On Jan. 6, days before my deadline, my artist friend Danny came through. We stared down at the studio floor together.
"I hate it," I said, spouting and whined. "I should just write a book." But about what?
Danny smiled, reading my mind. He said, "You have a good story about an affair with a married man I've heard you tell, Joe."
He was right. It's the sweet, sad, funny account of an illicit tryst. A love story. I sent Danny on his way and got right to work. I worked from 6 p.m. until 3:30 a.m. writing and drawing. That morning, a Sunday, I went to visit my grandmom and had lunch with my mom.
Back in my studio around 4 p.m., I had trouble dismissing all the day's events and getting back to the tasks of writing and drawing. I went upstairs to my bedroom and found the shirt that belonged to the married guy. He had left it there after our last meeting. I could still smell his cologne.
I made a tea that he had brought over one day, when I had been sick: lemon ginger. I wore his shirt and drank his tea and finished the story of our affair in the early hours of Monday, Jan. 8. On Wednesday, I finished scanning all 106 handwritten texts and illustrations and sent them off to the publisher. It was published on Feb. 1. It's great.
—
Joe Ovelman is an artist living and working in Kensington, Philadelphia.
WHYY is your source for fact-based, in-depth journalism and information. As a nonprofit organization, we rely on financial support from readers like you. Please give today.