The Circuit unifies regional trail planning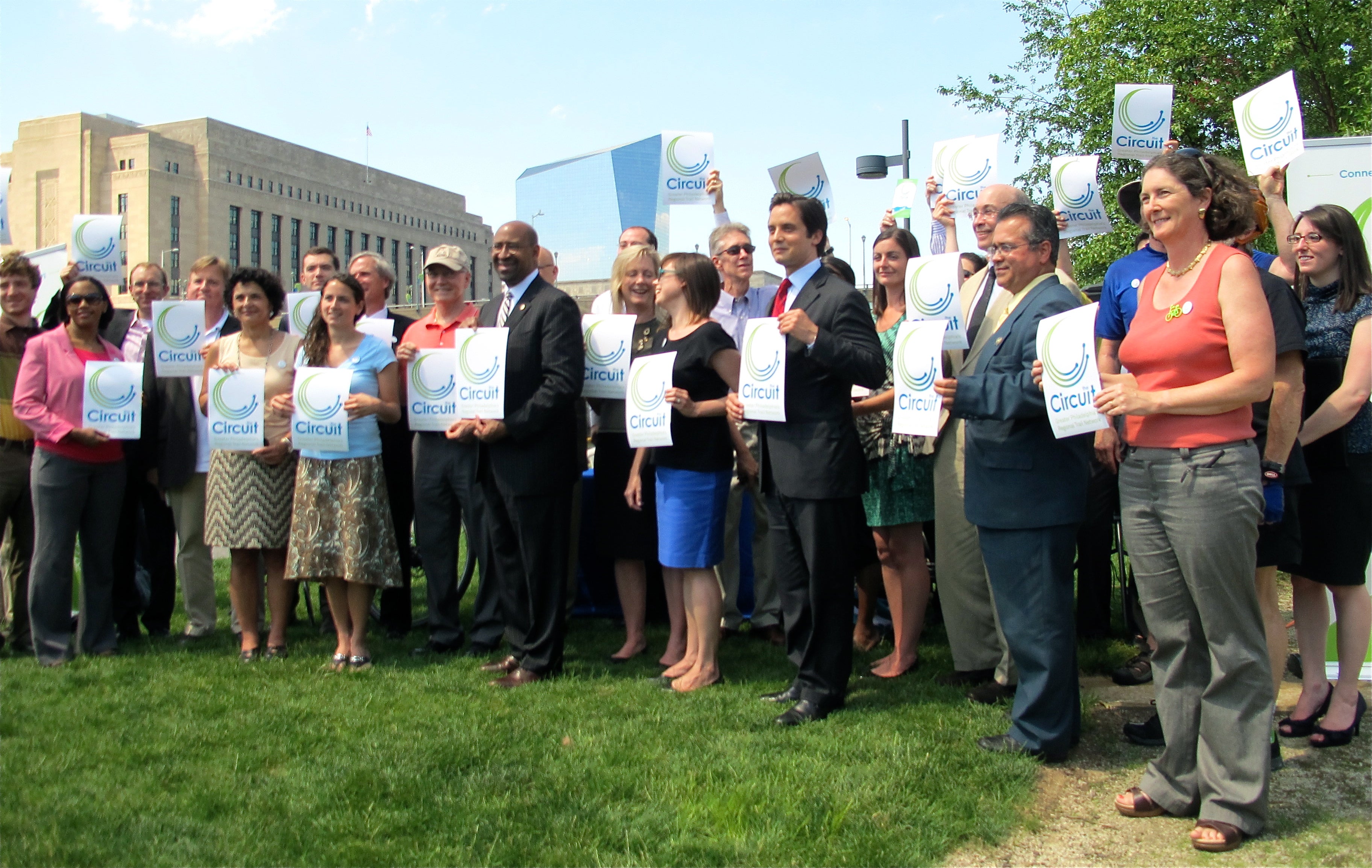 Advocates for Greater Philadelphia's recreational trail network gathered on the Schuylkill Banks Thursday to announce the network's new identity – The Circuit – and a big-tent campaign to complete 750 miles of interconnected recreational trails over the next 25 years.
The "Connect the Circuit" campaign is a collaborative effort among more than 20 partners, including the Bicycle Coalition of Greater Philadelphia and the Delaware Valley Regional Planning Commission (DVRPC), to build key trail segments connecting communities across nine counties. Trail supporters of every stripe – planners, advocates, funders, and politicians – attended Thursday's announcement.
Our trail network "creates opportunities for public life and civic engagement, it connects citizens to their natural environment, it gives them their rivers and their parks back… it creates wonderful opportunities for economic growth," said Jeremy Nowak, president of the William Penn Foundation, a major Circuit funder. Over the last 20 years, the William Penn Foundation has invested more than $30 million in trails; including a recent $10 million grant to DVRPC for trail projects. No new funding was announced for The Circuit, but Nowak reaffirmed the foundation's support for trail work.
To State Sen. Anthony Williams, trails are rare, democratizing public spaces."I've witnessed people passing each other in peace and fellowship [on our trails] in ways that I've never seen in Philadelphia," he said.
A slick new website* for The Circuit was also unveiled on Thursday, featuring an interactive map of the existing 250-mile trail network, along with 50 more under construction. The site, developed by the Bicycle Coalition with William Penn Foundation funding, will help users plan trips on existing trails, and inform people about trail segments to come. There's even a link for folks to donate to the cause, or in Circuit parlance, pay their trail tolls.
As previously reported on Eyes on the Street, the network's new name was the result of a contest held by DVRPC late last year. David D'Alba, of Urban Engineers, came up with the winning entry.
"It really is a name that fits because it speaks to the connections among our communities," said Mayor Nutter. "Every time a new segment of trail is completed the lights of economic and civic activity shine a little brighter in this city and this region."
———
* Small world disclosure: The website ConnectTheCircuit.org was built by P'unk Ave, the designers who are also creating a refreshed version of PlanPhilly, with funding from the William Penn Foundation, which also supports PlanPhilly.