Super PAC airs first TV ad of Philly mayor's race
The first ad in the Philadelphia mayor's race comes from a labor-backed super PAC supporting Mayor Jim Kenney's re-election bid.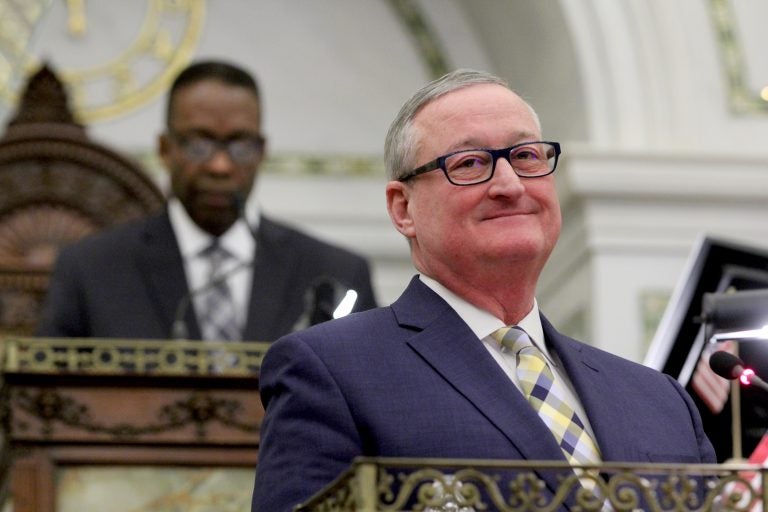 The first TV ad of the 2019 Philadelphia mayoral race is on the air, but it doesn't come from any of the candidates. The 30-second spot is produced by an independent group supporting Mayor Jim Kenney.
Philadelphia has strict limits on campaign contributions. The only legal way to spend a lot of money to help a candidate is by forming a super PAC, a special kind of political committee permitted under the Supreme Court's Citizens United ruling which must act independently of the candidate it supports and can accept checks of any size.
The new ad (see below) comes from Philly 2019, a super PAC funded primarily by Kenney's allies in the building trades unions.
"He's taken on some of the city's toughest problems," an announcer says of Kenney in the ad, who then lists a series of accomplishments, including restoring local control of city schools, signing a law granting a $15 minimum wage for city contract workers, signing a pay equity bill, and establishing pre-K programs.
The ad doesn't mention that the pre-K programs are funded by a controversial sweetened beverage tax.
The name not mentioned
There's an awkward association here.
The business manager of the Building Trades Council is International Brotherhood of Electrical Workers Local 98 leader and big Kenney supporter John Dougherty, who's currently under federal indictment for allegedly stealing from his union.
This PAC is funded by not by the Building Trades Council but by individual unions. The committee's chairman is Anthony Gallagher, business manager for Steamfitters Local 430.
Philly 2019 spokesman Jordan Marks said at this point Dougherty's union, Local 98 is not a contributor.
"If they choose to contribute, that's up to them," he said in a phone interview.
The committee will eventually disclose all of its donors in required campaign finance reports.
Local 98 was Kenney's biggest single Philadelphia supporter in his successful 2015 campaign. The union contributed more than $500,000 to a different super PAC, the Building a Better Pennsylvania Fund, which was formed to back Kenney's mayoral bid.
Marks said Philly 2019 represents "tens of thousands of hard-working Philadelphians."
"Working people in this city and this state don't have enough champions," Marks said. "Big corporations and private developers have an unlimited ability to sway policy and politics in the state."
The Philly 2019 ad doesn't mention Kenney's rivals in the Democratic primary, former City Controller Alan Butkovitz and State Senator Anthony Williams. Neither has yet run TV ads in the race.
WHYY is your source for fact-based, in-depth journalism and information. As a nonprofit organization, we rely on financial support from readers like you. Please give today.