Street Dreams: How regular citizens beat bureaucracy to reshape Philadelphia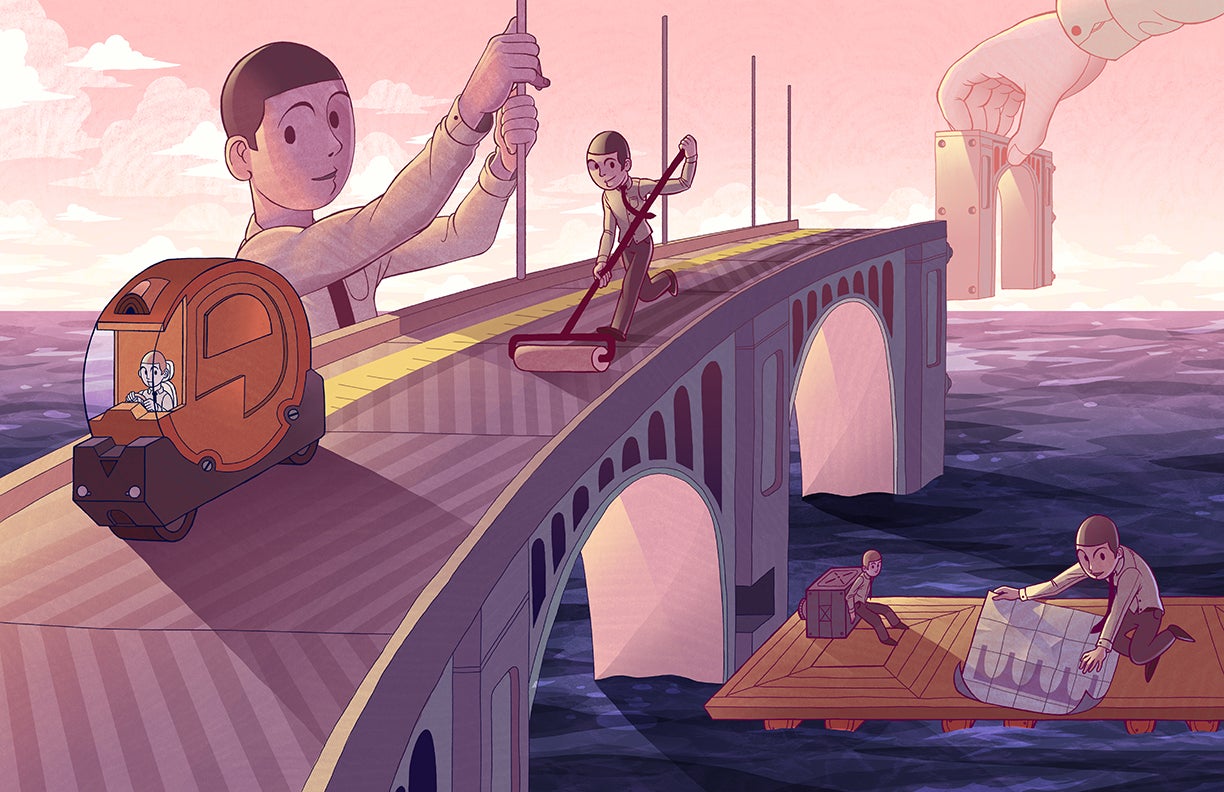 In Philadelphia, many of the pedestrian, bicycle, and recreational amenities we appreciate were born from resident-driven ideas. In this feature PlanPhilly and SPOKE explore what it takes for citizen-driven projects to succeed, what still frustrates these projects in Philly compared to our peer cities, and lessons in advancing change.
John Randolph was paddling a canoe on the lower Schuylkill when inspiration struck. There really ought to be a riverside park, he thought, one that would link his Fitler Square neighborhood to the river next door. It was the late '80s and the riverbank was lined with an overgrown tangles of vines and weed trees, cut off from the rest of the city by a freight railroad line. It looked nothing like it does today.
Like Randolph, we all daydream from time to time about some of the little things we'd like to see in Philadelphia — a new bike lane on a scary road, say, or a cute pocket park on a tiny, empty lot.
Most times, that's all they remain: dreams. And like dreams, you might tell some friends about them, maybe even tweet or blog about them. But on that sublime day on the Schuylkill, long before blogs or tweets were a thing, Randolph decided to do something to turn this particular reverie into reality.
Realizing a dream for a new neighborhood park or streetscape improvement can be especially difficult in Philadelphia, where small-town politics collide with big-city problems. Even the smallest proposed community amenity can be interpreted as an attack against a sitting politician or turned into a referendum on gentrification. So how can members of the public advance change?
For Randolph, actually doing something meant recruiting a small army of supporters, raising money (first thousands, then millions), creating a non-profit, lobbying public officials, negotiating with corporations, knocking on doors, and picking up trash. All told, Randolph spent more than a decade working full time on what might have been just another idle thought on the idyllic river.
Randolph wasn't a power broker or government official, but an architect. Although the idea for a riverside park had been kicked around since at least Ed Bacon's 1960 citywide comprehensive plan, it hadn't advanced. What was new about Randolph's approach was citizen-driven change. Like Randolph, neighbors and advocates have used perseverance, public pressure, and the power of imagination to build coalitions and draw political support, advance their visions for great urban spaces, overcome pinch-points, and move from dream to reality. They have played a long game, by parochial rules, and have slowly changed expectations.
"It just takes a lot of persistence"
Schuylkill River Park was built in 1987 on the site of an abandoned rail yard a few blocks west of Fitler Square. When Randolph first got serious about the idea of building a riverside trail to link the park to Boathouse Row, he thought it might take five years to accomplish. That was 1989. The trail opened in 2004.
He is the first to say he didn't do it alone. He couldn't have. Randolph retired from the non-profit he founded, now known as the Schuylkill River Development Corporation (SRDC), in 2002. Construction was just starting on the Schuylkill River Trail, which years later USA Today would name the best urban trail in America. More fights would be fought and won, and new expansions would be made, thanks to the next generation of trail advocates.
Before the trail could even open, it was threatened. CSX Transportation, which owns the adjacent freight rail line, planned to build fences at Locust and Race streets to stop people from crossing the tracks to access the park. The SRDC had shifted its focus from grassroots lobbying to expanding and improving the trail. Someone else would have to defend at-grade access, and so Free Schuylkill River Park was born.
The group's fight with CSX spanned four years. (The pedestrian bridge over the tracks at Schuylkill River Park wouldn't be built until 2012.) One of its organizers, Sarah Clark Stuart, says the group heard "no" a lot during those years. She and her colleagues learned to ignore it.
"We simply could not accept that it was impossible to find a way to [have] safe at-grade crossings at these two streets," Stuart says.
Getting people to reimagine the smelly, industrial Schuylkill River as a recreational space was the SRDC's biggest challenge. So its members cleared trash, encouraged neighbors to explore the space, and drew up lively renderings to scrub the river's rusty mental associations and plant a new, compelling vision for the riverside. Before they fundraised, before they lobbied, they sparked the public's imagination.
"It just takes a lot of persistence," Randolph says.
The neighbors behind the Grays Ferry Triangle pedestrian plaza took a page from the SRDC's playbook. The low-budget plaza at the intersection of Grays Ferry Avenue, South Street and 23rd Street opened in 2014 as a "temporary" public space — planters, posts and moveable furniture demarcated where the street ended and the park began under an initial six-month permit. That was nine years after the South of South Neighborhood Association (SOSNA) formed an ad hoc committee to improve the triangles created by Grays Ferry Avenue as it cuts through neighborhood intersections.
Like the Schuylkill River Trail's boosters, the triangle committee started by demonstrating the community's commitment to the site, helping others see in it a potentially great public space. Committee members recognized that a broader base of support had to come before approaching their district councilmember or surveying neighbors. So they organized cleanups and held concerts, inviting a new view of the triangle.
The plaza takes up the last 100 feet or so of its eponymous avenue. Before City Councilmember Mark Squilla's 2013 bill formalizing the process of creating pedestrian enhancements — like the plaza or parklets — the only way to take over that space would have been by striking it from the city's street grid. Such a move requires the support of every adjacent neighbor, followed by legislation in City Council. After years of convincing from the committee, most in the neighborhood liked the idea, but there was still an unwavering and vocal minority opposed.
When Brad Dakake joined the ad hoc committee in 2012, he thought this was absurd. "You never get 100 percent of anything," he says. "You can't even get 100 percent of people to agree that puppies or ice cream are great."
Dakake knew the opposition was small, but he didn't know just how small. The committee surveyed everyone in a two-block radius, asking for their support to close the street. Ninety-eight percent said yes. That overwhelming majority was more than enough for City Councilmember Kenyatta Johnson to get on board and support the plaza, which was granted a six-month permit.
By the time the permit ended, Squilla had introduced his pedestrian enhancement legislation. Initially, the bill required unanimous approval from abutting neighbors, making it no less difficult than striking a street. After lobbying from SOSNA, the South Street West Business Association, and others, the bill was amended, allowing the district councilmember to sign off on a project even if some neighbors held out.
Why we can't have nice things
Successful citizen-led streetscape projects have more hurdles to overcome in Philadelphia than in Chicago or New York.
Money, or the lack thereof, is Philadelphia's favorite excuse for why we can't have nice things, or why we need to wait longer than peer cities to get them. There's some truth there: The High Line cost $152 million, of which $108 million were public funds from New York City, moving it from idea to reality in just 10 years. Meanwhile, 13 years after neighbors first organized around the idea, Philly's Viaduct Rail Park has $2.8 million pledged from the City. It's still $4.5 million short of the $9.6 million needed to start construction on just its first phase, although another $3.5 million in state funding should be forthcoming now that Harrisburg's budget stalemate has ended. New York City managed to allocate 10 times more government funding in half the time.
But Philadelphia's relative pauperism doesn't fully explain why streetscape projects move slower here than elsewhere. Chicago, a city that shares many of the same fiscal and social problems as Philly, manages to execute improvements faster. Just compare the Grays Ferry Triangle to Chicago's Woodard Plaza. At first blush, the projects are nearly identical. Like in Philly, Chicago turned a small concrete traffic island into a 1,500-square-foot plaza by removing a small stretch of street that previously served as a slip lane and parking. Unlike Philly, Chicago's project took just three years and was permanent from the start.
And Woodard Plaza faced an added challenge that no project in Philadelphia faces: Thanks to Chicago's disastrous parking meter privatization, the City has to replace or pay for any metered parking spot it removes.
The cities Windy and Brotherly Love share more than a series of woes; the two also have remarkably similar governmental structures. Whereas Philadelphia's councilmembers wield "councilmanic prerogative," in Chicago the aldermen enjoy "aldermanic privilege," which one alderman likened to fiefdoms in a feudal system. Woodard Plaza's local alderman was an early and enthusiastic supporter. Johnson's support for the Grays Ferry Triangle was similarly critical — the project only took off after he assumed office in 2012.
The major reason a project like the Grays Ferry Triangle takes longer in Philadelphia: We have a bureaucratic process that gives groups or individuals more opportunities to veto a project. Philly has 270 Registered Community Organizations (RCOs). Many are well-organized, transparent organizations focused on a single community. Others do their best to exclude outsiders to preserve power for an entitled few, and plenty have large, arbitrarily drawn boundaries.
While RCOs are advisory-only, Philadelphia's councilmembers can avoid taking political risks over an individual project by deferring to them. When RCO boundaries overlap and disagreements emerge, councilmembers often grant a de facto victory to the status quo, changing nothing.
That's what almost happened to the Grays Ferry Triangle. While SOSNA and its committee supported the plaza, the South Street West Civic Association stood opposed. That looked like a hopeless deadlock until SOSNA's survey revealed lopsided support.
In their districts, Chicago's aldermen have princely power over "capital" projects, or projects requiring more substantial construction with larger budgets and more layers of approval. But aldermen are more constrained on "operational" projects, or the kinds of projects built into annual street maintenance programs. Notably, Chicago's aldermen don't have a layer of RCOs to deal with or hide behind.
"In Chicago, we tend to have strong mayors," Streetsblog Chicago editor John Greenfield says. "If they want to get something done, it's generally pretty easy for them to do it. It's less democratic than other cities."
Chicago has added more than 100 miles of buffered bike lanes and 16 miles of protected lanes since 2011. Philadelphia managed to build less than half of that since 2008.
Working with the system
In pursuing streetscape enhancements through operational means, Chicago has emulated New York.
"Under [former New York City Transportation Commissioner] Janette Sadik-Khan… a lot of capital projects became operational projects," Streetsblog NYC editor Ben Fried says. "Before, I think the typical approach was to do everything as a capital project, which is what can really drive up the price of getting things done and add layers of bureaucracy."
As in Chicago and Philadelphia, a capital project in New York can't go forward until the local city council representative takes action to support it — a necessary and unavoidable hurdle. For capital projects in all three cities, political inaction defaults to the status quo.
But for operational proposals in New York and Chicago, political inaction defaults to progress. It's only when the local representative actively fights an operational project that it gets derailed. Absent an overwhelming show of local opposition, the project goes through.
In Philadelphia, the distinction between capital and operational isn't as meaningful. Proposals require active local support regardless of how they are framed. For instance, the well-heeled and politically connected Center City District piloted protected bike lanes on Market Street and JFK Boulevard, winning over Philadelphia Daily News columnist and irascible bike critic Stu Bykofsky in the process. It is feasible, but City Council has failed to introduce legislation allowing for a permanent improvement. In Philly, the default is always the status quo.
Rather than rail against Philadelphia's extra layer of checks and balances, local streetscape enhancement shepherds generally accept the political realities and have learned to work with the system. They are collaborators, not fighters. It may be harder to get political support in Philly, but once it's obtained, city politicians and agencies tend to become a project's most consequential supporters.
To win over elected officials and city agencies, successful local projects demonstrated value early on, promoting a compelling vision through imaginative renderings and on-site activities. They built large coalitions, identifying natural allies — like running and cycling groups for the trail — and soliciting financial support from Philadelphia's philanthropic purses. Perhaps most importantly, they then approached city officials as potential partners.
The SRDC brought almost every noteworthy Philadelphia politician to the nascent Schuylkill River Trail during its formative years: Ed Rendell, John Street, Darrell Clarke, Vince Fumo, Michael Nutter, Arlen Specter. Combined with robust grassroots support, it managed to sell elected officials on what was then a radical idea.
Today, properties fronting the Schuylkill River Trail are some of the city's hottest real estate. Other community-led projects, like the Manayunk Bridge's trail conversion or the successful fight to make the new South Street Bridge more pedestrian and bicycle friendly, have sparked their own building bonanzas. Yesterday's urbanist successes have paved the way for tomorrow's.
There are some signs that Philadelphia's hurdles aren't as high as they once were. The pedestrian enhancement ordinance now only requires 75 percent of abutting neighbors to sign off on a streetscape improvement (and just two out of three neighbors if the enhancement only touches three properties). New regulations may reduce the overall number of RCOs and improve how the remainder operates.
Perhaps more importantly, the value of parks, plazas and streetscape improvements has been concretely demonstrated. When the South Street West Business Association built a parklet in front of Quick Fixx on 15th and South streets, some of the local businesses were hesitant, worried that losing a parking space would hurt sales. But after foot traffic increased thanks to the parklet, they more readily supported installing a bike corral right next to it. When the opportunity to install an Indego bike share station next to that corral presented itself earlier this year, the owner of Sawatdee signed on immediately, even though it would take away the loading zone right in front of his restaurant.
In the early '90s, when John Randolph first started selling his dream of a park along the Schuylkill River, he approached the Philadelphia Industrial Development Corporation (PIDC), a quasi-independent city agency founded in the 1950s to support the local manufacturing sector. Randolph hoped PIDC leaders might allow a small easement for the trail on land the corporation owned along the lower Schuylkill, home to shipyards, oil refineries and chemical plants. They laughed at the idea. Now that trail frames iconic views of the skyline in national publications heralding Philadelphia's public space renaissance.
Last year, PIDC donated that land to build Bartram's Mile, a link between the Schuylkill River Trail and Bartram's Garden. Waterfront trails, bicycle infrastructure and pedestrian amenities are defining features of Philadelphia's most noteworthy developments, including PIDC's own work to remake the Navy Yard.
All because Randolph, and others like him, decided to do something.
This feature was produced in collaboration with SPOKE magazine, a publication dedicated to the bicycling, walking, and mass transit in the Philadelphia region.
All illustrations by Miguel Co Illustration.