Spotted: The Porch gets its swings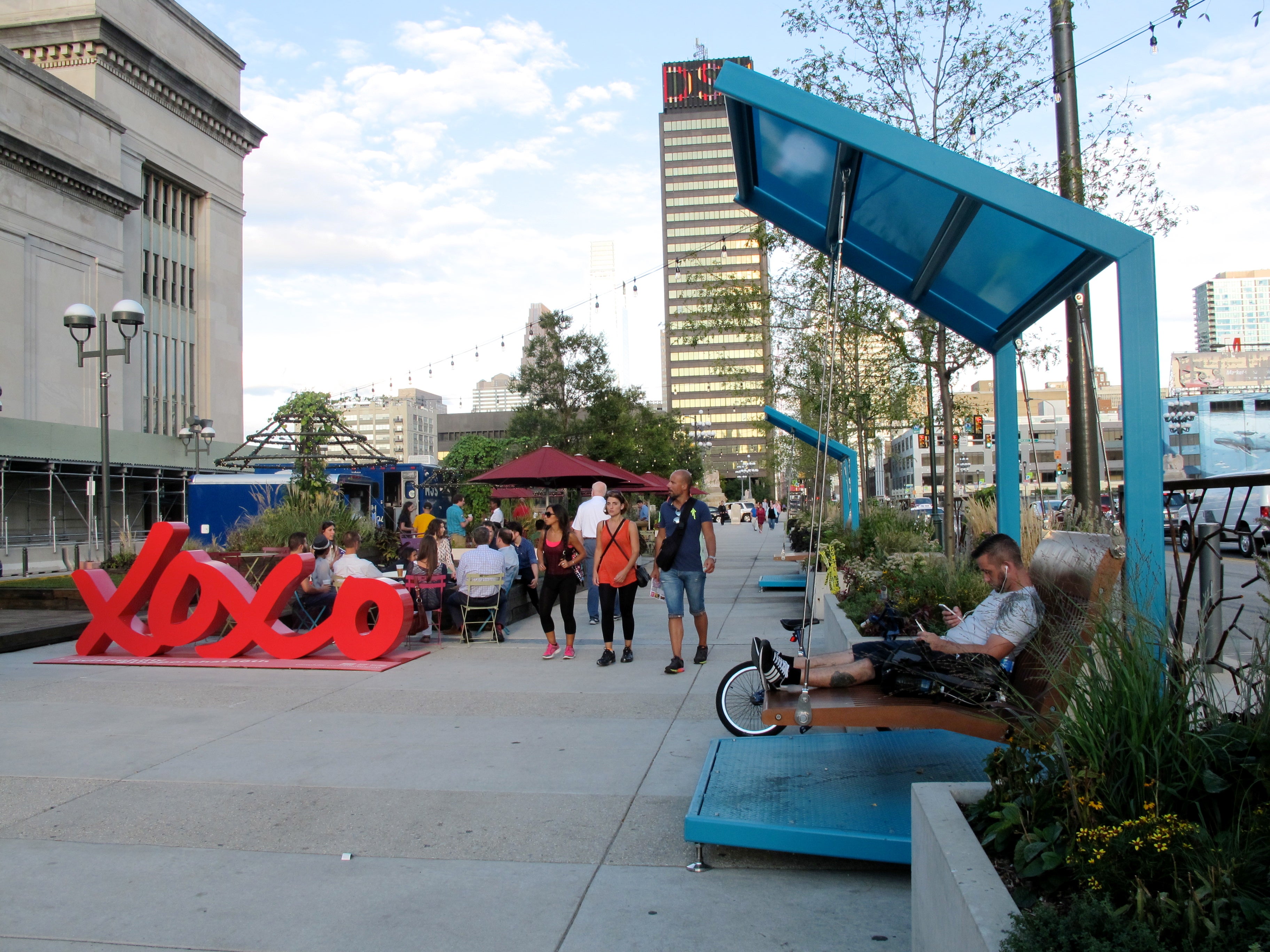 Every great porch should have a swing, and at long last The Porch is getting its very own set.
If you pop by The Porch at 30th Street Station this week you'll notice that University City District (UCD) is currently installing three types of custom swings. They're made of mahogany plywood and suspended from colorful metal frames, peppered throughout the space.
UCD hopes the swings will entice people to make time to lounge and linger longer at The Porch. So consider each of the 14 swings an invitation to glide gently on the breeze and take a breather.
These fanciful swings are the latest piece of The Porch 2.0, a plan we reported on back in May to evolve The Porch into a more fully-realized public space thanks to new permanent seating clusters and lighting, richer plantings, and a single steady food vendor. Where these elements are the meat and potatoes of sound placemaking, the new swings are gravy – an extra dash of delight on top. In addition to enhancing the porch feel, UCD sees the swings as a way to continue softening the space, creating new nodes for seating, while adding something pleasurable for people of all ages.
"Our primary goal in our public space work is to enhance urban quality of life. Here, we thought we'd take it to the next level and make it fun too. We've always wanted The Porch to be a place where people could escape the pressures of the day, even for 5 minutes," said Nate Hommel, UCD's Director of Planning and Design.
By creating a place that is a relief from an otherwise busy urban environment, Hommel says UCD is also deliberately using public space as a way to enhance public well-being.
"Our Porch Swings contrast with the utilitarianism often associated with train stations and travel, instead declaring that urban space can be expressly human, whether for social or solitary purposes," said Daniel Wolf, a planner at UCD. "As people walk by these striking floating seats, we hope that they are caught by surprise and can't help but smile or try them out."
The swings are intended to transport visitors out of the hustle of commuting or a bustling workday even while allowing people to watch the world go by – just like on a real front porch. From a design perspective, the swings are spaced in ways that help make The Porch feel both intimate and alive.
When installation is complete, likely next Friday, we'll be able to enjoy three types of swings: There will be six Porch Swings (a public-space version of what you might find actually on a front porch), four Lounge Swings (a gentle swing that allows people to kick back and softly sway), and four Park Swings (think playground style swings geared at active individual fun).
"All of our social seating is aimed towards reintroducing people to public spaces. Fun seating options bring people to a space, we think the swings are the natural evolution of our social seating experiments," Hommel explained. The swings are the newest step in UCD's placemaking through extensive and varied public seating installations. They were designed by Gehl Studio, fabricated at Bill Curran Design in East Falls, and funded through an ArtPlace grant for functional artwork at The Porch.
Porch Swings made to linger, glide, and people-watch

(Ashley Hahn/PlanPhilly)

(Ashley Hahn/PlanPhilly)

(Ashley Hahn/PlanPhilly)

(Ashley Hahn/PlanPhilly)

New swings at The Porch
WHYY is your source for fact-based, in-depth journalism and information. As a nonprofit organization, we rely on financial support from readers like you. Please give today.