So, how did Philly weather the papal maelstrom?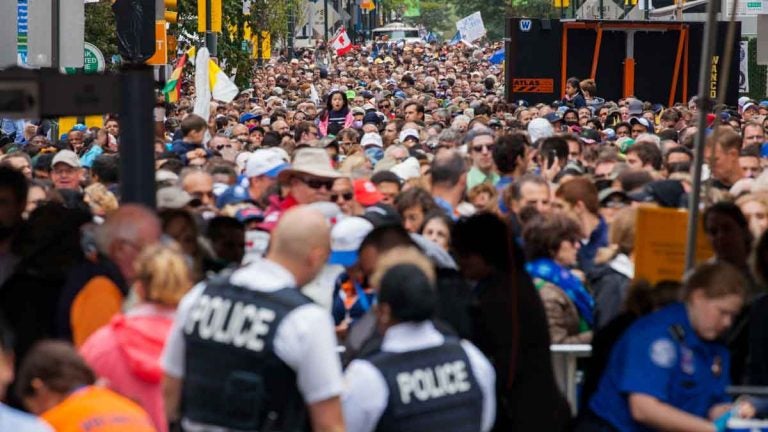 So what was it — an inspiring celebration for the ages, or a nightmare visited upon the city?
Pope Francis' visit to Philadelphia and its sprawling impact on the region are far too big a story to evaluate in a day, and perspectives will vary widely according to our experiences. Having spent two very long days covering pieces of it, I can make a few observations.
In some respects, the papal events themselves were marvelously staged. The Mass on the Benjamin Franklin Parkway began at 4 o'clock on the dot, and it included an efficiently and reverently served Communion to hundreds of thousands of people.
I was among thousands at 17th and Cherry streets who were outside the security-screened area, because we simply couldn't get in. We were more than a mile from the ceremony, but it still worked.
The audio broadcast was clear, the Jumbotron video images sharp, and the production excellent, so the Mass really connected with people. There was a kind of quiet you just never hear in a huge crowd, broken only when this assembly of strangers chanted, sang and prayed together.
And remarkably, priests appeared in numbers to calmly serve Communion to those who wanted it, even though they were in public areas far from the official Mass site.
Other things over the weekend didn't work as well. When I covered the pope's Independence Mall speech, the audio equipment malfunctioned. And worst, an untold number of people who came to the Sunday Mass with tickets spent hours in line at security checkpoints and never got in.
I understand they couldn't predict how many people would come, but it should have been possible to estimate the number of ticketed pilgrims and how long the security screening would take.
Security overload?
Then there's the larger question of whether the heavy restrictions imposed on huge areas of the city, which alternately felt like a stage of siege, and a liberating break from hectic city life, were necessary.
It's worth stating that those of us complaining about the restrictions have no idea what it's like to be responsible for protecting a half a million people or how to do it.
I thought it was silly that the Coast Guard was stopping every vessel coming up the Delaware River, until I remembered the terrorists in that ghastly attack in Mumbai arrived from the sea, docking and unloading heavy weapons and explosives without detection.
But there's a cost to the measures taken in Philadelphia. The disruption of lives and businesses was real, and on the Parkway yesterday I spoke to visitors who said it seemed excessive. "It seems you might have a nice city," one told me. "I'd like to see it some time."
In Sunday's Inquirer, city restaurateurs unloaded on the security restrictions. Stephen Starr said it was "worse than Hurricane Sandy." Cab drivers lost business, street vendors were told to get lost, offices and businesses throughout Center City shut down for hours or days, and Philadelphia school kids lost three days of instruction.
This will all be analyzed and debated for months, but there's one principle in these things to remember: If you put somebody — in this case the Secret Service — in charge of just one thing, security, in a big, complex environment like a city, and they have no responsibility or accountability for anything else, they're going to overdo it.
If security is all you have to be concerned with, not the cost or disruption to others, you'll probably get your job done and harm others.
Sometimes small things tell a larger story.
Naomi Starobin, editor of WHYY's Keystone Crossroads project, set out from home in the Logan Square neighborhood to walk to WHYY studios on Independence Mall. This was Friday morning, two days before the papal Mass. Somewhere along JFK Boulevard, around 19th Street, she reached a security checkpoint, on the other side of which was an area of many square blocks that people could enter freely.
She was screened and searched, and one of the screeners confiscated her banana, explaining that it could be a projectile.
I know. It's just a banana. But it bespeaks a mentality that affects thousands of people in important ways, and ought to be subject to some review.