Should ex-priest who impregnated 16-year-old 30 years ago return to teaching? Question divides N.J. town
Some parents are adamant the former priest shouldn't be teaching in Cinnaminson. But others say he's an excellent teacher who should not be defined by a mistake 30 years ago.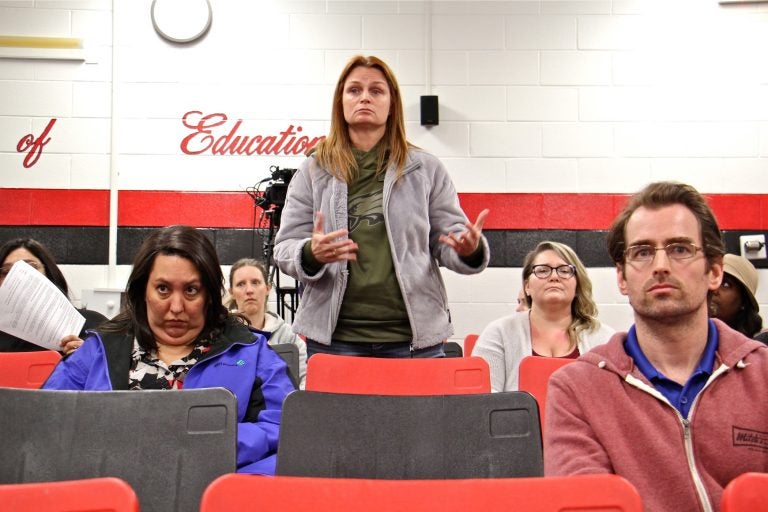 The parents were adamant: A former Catholic priest who had a baby with a 16-year-old girl decades ago should not now be teaching children.
But even as they pleaded with Cinnaminson school officials at a board meeting Tuesday night, other parents and former students defended Joseph DeShan on Facebook as an excellent teacher whose actions 30 years ago should not prevent him from returning to the classroom.
Whether to allow DeShan to resume his career as a sixth-grade reading teacher has become an emotionally charged issue in the Burlington County community of roughly 16,000 residents since details of his past re-emerged last year.
And it has put district officials in a tricky legal position as they try to oust a teacher who has worked in Cinnaminson since 1996.
"Maybe he's the greatest teacher that ever lived, but if that is your history, you should not be teaching children, especially children who are almost the same age as the girl you started having sex with," said Nicole Weick, the parent of a fourth grader in the district, after Tuesday night's board meeting.
The district moved to fire DeShan in December, citing the fact that as a roughly 30-year-old priest in Bridgeport, Connecticut, in the late 1980s, he impregnated a girl half his age.
The Bridgeport diocese includes DeShan on its lists of clergy credibly accused of sexual abuse and those on whose behalf settlements have been paid.
But a state arbitrator ruled last month the district must reinstate DeShan to his teaching post with full back pay. As the arbitrator pointed out, the district first learned about his past in 2002 and let him return to the classroom after a three-week suspension.
It cannot now revisit conduct it's known about for years and which happened before DeShan was a public employee, the arbitrator said.
The district has 45 days from the April 2 ruling to file an appeal, according to MaryAnn Spoto, a spokeswoman for the New Jersey Judiciary. As of Tuesday, it had not done so, she said.
DeShan has been on leave since early in the school year, according to parents with children in the district.
Five parents spoke at Tuesday's board meeting, expressing concerns that DeShan could suddenly show up at school. They pressed board members for more information about his status and whether they could opt their children out of his class if he does return.
"The board is not permitted to address personnel issues in public," board attorney Brett Gorman responded.
Weick, one of the parents, said her fourth grade daughter had been sexually abused by someone else and that she would sooner remove her from the district than let her attend school with DeShan.
"As a parent, it's my job to make sure that she never, ever is taken advantage of in the way that she was before, so I want to prevent her from having any contact — end of story, period — from him," she said.
Timothy Gleason, whose two young daughters will likely attend the Cinnaminson schools in the future, said the current administration shouldn't be prevented from firing DeShan because past leadership made the wrong call.
"Just because a previous generation addressed it poorly with a three-week suspension in 2002 for having a child with a minor while he was in a position of power, to me is extremely alarming," he said. "And now he is still in a position of power, and to me, that's a big problem."
Some support for DeShan
But many people feel differently. Gleason showed a reporter a post he made on a closed Cinnaminson community group on Facebook in which he referred to DeShan as a "pedophile."
The post received more than 300 comments in 12 hours, including many from parents and former students who accused DeShan's critics of dragging his name through the mud.
Those supporters said DeShan has served the district without incident for more than 20 years, describing him as a kind, patient teacher who has helped students become more confident socially and academically.
He should not be defined by a mistake he made as a much younger man, they said in the comments.
Another parent, Nicole Boyle, told board members she and other parents are facing a "backlash" from others for speaking out against DeShan.
"It is horrible out there what's going on with people who support him and people who don't support this man," she said. "Why are we now somehow in the wrong?"
DeShan did not immediately respond to a message seeking comment.
WHYY is your source for fact-based, in-depth journalism and information. As a nonprofit organization, we rely on financial support from readers like you. Please give today.