Second Annual True Vine Church Community Carnival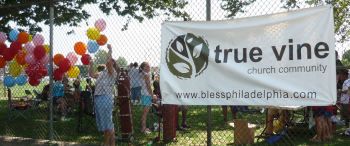 Residents of Wissinoming and Tacony flocked to the American Legion Playground at Torresdale Avenue and Devereaux Street Saturday for the second annual True Vine Church Community Carnival.
The event had a central theme: community.
"It's important because it helps build community," said Luis Sanchez, the Pastoral Intern at True Vine. "Neighbors that don't necessarily talk to each other come out and talk to each other. They see each other. Individual relationships can begin to form. Corporate relationships with the church can also begin to form. That's a beautiful thing."
Lead Pastor Jim Rudd stated that the philosophy at True Vine is merely two words: "Bless Philadelphia."
"With all the events we plan, our goal is to bless people," he said. "So we figured a big free event will bless families, kids, anyone that comes to this. It gives them something to do. We do everything for free. We don't ask for donations or charge admission. We don't even have a donations bucket because we want it to be a blessing, not a fundraiser."
But despite not asking, Rudd said a lot of donations were made. Hatfield provided 1,000 hot dogs, Herr's potato chips donated 1,000 bags of chips and automotive parts manufacturer Cardone Industries donated $500.
Glenview Alliance Church in Glenrock, Pa., donated most of the large attractions like the bounce castle, dunk tank, snow cone machine, popcorn machine and cotton candy machine.
"They have a guy in the church that owns a party rental company," said Rudd of Glenview. Hope Chapel in south New Jersey provided games for the kids. Faith Alliance Church in Sewell, N.J., also provided assorted items. True Vine itself collected 1,000 bottles of water and paid for everything else that needed to be purchased.
It was a good thing they collected those water bottles, as the heat definitely made its presence known. This slightly impacted the number of people who came. "Although we had a few less people this year with 700 visitors plus 75 volunteers, we are very pleased with the result, considering the weather," Rudd said.
Goals
Rudd still wants to help create other neighborhood churches out of True Vine, specifically 10 in Philadelphia. That goal will soon begin to come to fruition due to a partnership. "In 2011 there is going to be a church opening in Manayunk that we are not birthing ourselves, but we are coming alongside it like a sister church," he said. "They're not coming from us from scratch, but it is a start."
In addition to an ongoing food and clothing pantry and A.A. meetings, Rudd said True Vine has opened up a toy drive at Christmas. Last year the church provided toys for 75 kids.
Numbers
Regarding the membership at True Vine, Rudd said it is coming along okay. "On Easter we had 78 people. A couple of weeks after that, we had 81, and those are our highest Sundays," he said. "In the summer, it has gone down, but that's the norm for any church. I would say an average Sunday for us is about 50." Rudd said his goal is to get at least 100 people.
Rudd will not give up, though. "Church planning is a long and arduous process," he said. "There's a church plant in Bridesburg that has been working at it for 11 years and they're just now starting to get some traction. We've only been at it less than a year, so we're going to be patient and just keep doing what we need to do."
Impact
Although Rudd and the True Vine team held the carnival for the community, they have hopes that it will impact their numbers.
"Honestly, we won't know the total impact that this event had for about a month," Rudd said. "We're always asking ourselves, 'Will people remember this? How will our community respond to an event like this? Will anyone that came to the carnival come check out the church?'"
Sanchez had a different perspective on the event's impact. "It is also good because you can see that there are other people that care," he said. "Herr's donated all those chips. Hatfield donated all those hot dogs. Some people that are pessimists in the world will say 'Nobody ever cares,' but this kind of proves otherwise."
You can see more photos from the carnival in our slideshow.