Santa to visit Tacony, Holmesburg and Torresdale library branches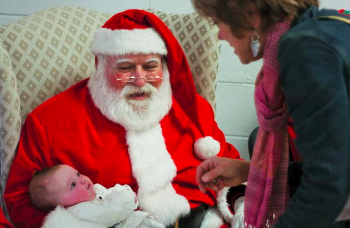 Santa will be spending much of the next week in the Northeast. Aside from appearances in Fox Chase and Mayfair, the big guy will stop at three libraries between this Saturday and next for various celebrations.
The first stop is Saturday's Winterfest in Tacony. From noon to 3 p.m. at the Tacony Library [map], residents can meet Santa, take a trolley tour of the neighborhood and sing carols. There's another special guy coming, too: The Phillie Phanatic will visit from noon to 1 p.m.
Stop No. 1 is the Holmesburg Library [map]. Friends of the Holmesburg Library have invited kids from 4:30 p.m. to 7 p.m. to get pictures with Santa (bring your own camera), make crafts and enjoy holiday cookies. Santa will tell a story at 6 p.m.
Finally, stop by Torresdale Library [map] at 2 p.m. Saturday, Dec. 10 so the kids can have a snack, sing carols and have a visit with St. Nick.