Safe injection sites key to solving Philly's opioid problem, Kenney says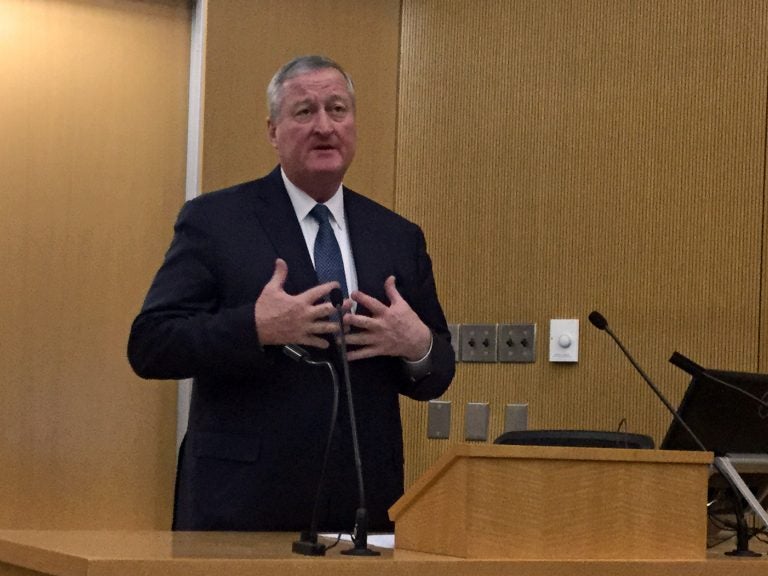 Representatives of the American Pain Association stopped by Temple University's Katz School of Medicine Wednesday as part of a national tour to highlight causes — and solutions — to the opioid epidemic. The association supports using medical marijuana to treat pain instead of opioids.
Philadelphia Mayor Jim Kenney opened the event with a reflection on the city's decades-long struggle with opioid addiction.
"We have always had a heroin problem in Philadelphia," he said. "I remember when I was a kid, there were certain people in the neighborhood that you knew were using heroin."
Kenney noted that the opioid prescription rate tracked with the rise in all drug overdoses, which killed an estimated 1,200 Philadelphians in 2017.
"We believe that the companies who brought us to this point should help us out," he said when describing a lawsuit filed by District Attorney Larry Krasner filed earlier this year against area drug companies, alleging deceptive marketing for opioids.
Kenney, who said he believes medical practice caused the epidemic, added that he sees it as a potential remedy as well — and he defended his administration's plans to create a supervised injection facility for drug users.
"I know it seems counterintuitive to a lot of people — but we're not encouraging drug use," said Kenney. "We're encouraging addiction counseling and treatment, and we can only do that, No. 1, if they're alive. No. 2, we need to engage them in a space where they feel safe and they are safe."
The safe injection sites, which will be funded by private donations and support from nonprofits, are part of a larger plan to reduce incarcerations for drug use.
"When I was in City Council, we were jailing 4,500 people a year on average for marijuana," he said. "I think we're in the 500s now, which is probably 500 too many."
Kenney said his administration is reckoning with lessons learned from the mass imprisonment of so many crack cocaine users during the 1980s and 1990s.
"We regret the lives and families that were affected by incarceration as opposed to addiction counseling and services," he said.
"We're not going down that road again. We're not going to try to lock our way out of this problem. It's an addiction, it's an illness, and it needs to be treated medically," Kenney said.
WHYY is your source for fact-based, in-depth journalism and information. As a nonprofit organization, we rely on financial support from readers like you. Please give today.