Webcomic: Fixing up the Featherstone Inn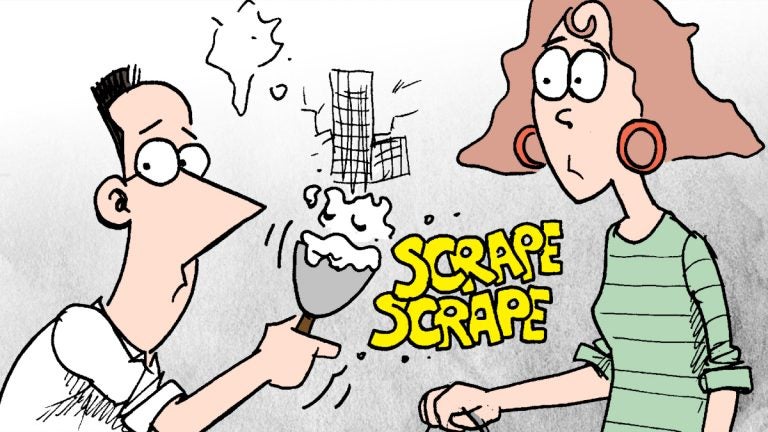 Inquisitive guests of the Featherstone Inn may notice what appears to be a bowling ball lodged into the exterior of the building.
This bowling ball is actually a cannonball, launched at the town of Lower East Bayheightsville by the British frigate "Betty" during the War of 1812. Captain Nigel Humphreys, still upset over a unsatisfactory meal of steak and potatoes at the Peacock Palace, launched a brief and ineffectual bombardment of the town in the waning moments of the war.
While the Featherstone Inn received the most damage in town (and it wasn't much), only one other cannonball managed to make it into town. After dancing down Main Street, it ended up in the garden of Mr. Tolliver's Apothecary, where it helped elevate him to his third "Town's Best Garden" award in a row in 1815.
Captain Humphreys ended up retiring and relocating to Upper Bayheightsville, where he started his own restaurant, Humphreys-in-the-Strand, to "bring abandoned colonists and their deprived taste buds the true flavour of British cuisine." Unfortunately, Humphrey's traditional English food was blander than the grub served at the Peacock Palace, and he was out of business in two years.
Some say Humphreys' ghost still haunts the kitchen of the Peacock Palace, adding salt and urging cooks, in a surly British tone, not to overcook the meat.
_______________________________________
Check back every Monday, Wednesday and Friday during the summer as It's a Shore Thing follows the adventures of the Featherstone family as they run the family bed and breakfast in out-of-the-way North Lower Bayheightsville.
WHYY is your source for fact-based, in-depth journalism and information. As a nonprofit organization, we rely on financial support from readers like you. Please give today.