On a sunny December day in 2015, the once-unthinkable dreams of a proud agricultural town came true.
That's the day ever-expanding Smyrna High School played in its first Division I state football championship game.
Among the Smyrna faithful packing the stands at the University of Delaware that day was Stacy Cook, a 1989 graduate who is now the principal.
"I was sitting just on the edge of our student fan section and so I was up there cheering with them," Cook recalled. It was "just so heartwarming to look up and down the bleachers and to see what we love to call our 'sea of red' there supporting our boys and our coaches."
Those fans witnessed one of the most dramatic climaxes in Delaware scholastic sports history.
Smyrna's opponent, perennial powerhouse Salesianum, had fourth-and-goal from the one-foot line in overtime.
The Smyrna Eagles were on the brink of glory, or last-second defeat.
"It all came down to that stop. I was struggling to watch it but I did watch it," said Tom Sayers, a former Smyrna player-turned-booster who runs a jewelry store in the quaint downtown.
Said Cook: "I can specifically remember just saying over and over again in my head, 'Please let the underdog win. Please let the underdog win.'"
Population boom for once-tiny town
The moment that had thousands of Smyrna fans literally on the edge of their seats had been more than three decades in the making.
In the mid-1990s, the town of Smyrna – about 35 miles south of Wilmington, remained a slumbering midstate crossroads of 5,000 residents. The town that straddles Kent and New Castle counties was not much different than it had been for the better part of two centuries.
"It was a sleepy little town … Very unique. Blue collar. Tough, hard-nosed people here," said Mike Judy, Smyrna's football coach.
Sayers, now 44, said that when he was growing up, "you'd go to the grocery store and it took two or three hours because your parents knew everybody."
But with annexation and development, Smyrna now has 11,400 residents – more than twice as many as 20 years ago. The population of the school district that includes and surrounds the town has ballooned to 36,000.
Walmart has even built a mammoth distribution center in town.
"It's changed and morphed and almost turned into like a rural suburban area," Judy said. "We have this influx of people coming from all over."
Otis Thomas, whose grandson plays on the football team, said the family migrated south to Smyrna for a variety of reasons.
"We decided that moving down here you get more for your money, plus … a good high school, a good education that was available and the general area overall was more attractive to us," Thomas said.
Isaiah Wilson IV, whose son is the team's quarterback this year, recently moved from Wilmington to one of the new developments in Smyrna.
"A lot of people are migrating here because of the new construction," Wilson said. "The whole community is really great. We're really happy to be down here."
His son, Isaiah Wilson V, who was the quarterback of Glasgow High near Newark last year, said he is enjoying Smyrna's "friendly" atmosphere.
"It's like everybody is like one big family," he said.
New schools, amenities, opportunities
The school district now has 5,500 students – 60 percent more than in 2000 — and three new schools. Renovations have nearly doubled Smyrna High's size and the school has 1,500 students — 8th most in Delaware. There's a new library, science lab and gym. The football field has artificial turf.
"I don't know how they keep track of the kids in here anymore," said Russ Stinson, a retired teacher. "It used to be easy when I started [in 1979] but it's a big school."
Cook, who graduated in 1989, said her graduating class "had something like 160 students. I think at the time we probably offered one, possibly two AP courses. And career pathways weren't even something that was in the conversation. We were just talking about getting a diploma."
Today Smyrna High is above the Delaware proficiency average in English and Science though it trails in Math. But there are now 14 Advanced Placement courses and a similar number of career pathways. More graduates go to college.
"They have a wider variety of curriculum at the school and all the AP stuff," said Stinson, who remained in town after retiring and now volunteers on an ambulance crew. "In all areas, not just sports, they are excelling."
The younger Wilson, who is a senior, said Smyrna High is so much "nicer, newer" than Glasgow.
"Teaching is a lot more in-depth. There's also more classes that I can choose from," such as SAT prep and weightlifting.
Senior Sarah Ruckle, a school cheerleader whose family moved to Smyrna from Boothwyn, Pa., said the experience has been wonderful.
"I've had really good teachers the last four years as well. I'm in the allied health pathway and also the early childhood pathway," Ruckle said.
Growth fuels a football powerhouse
In sports, Smyrna has long been a wrestling power. But the population boom became the foundation of a football titan.
"We felt with the bigger numbers we were getting into the school there was athletes out there," said Judy, who teaches health and physical education "We had to get them out of the hallways, off the court and come play with us."
When Judy was promoted from assistant to head coach in 2014, he inherited a 2-8 team. But blessed with two star offensive players – running back Will Knight and quarterback Nolan Henderson – and an improving core of supporting players, Smyrna improved to 5-5 in Judy's first year.
People like Sayers, a former Smyrna linebacker who had been a casual fan since graduating in 1991, began packing the stands for every game.
"Obviously everybody likes a winner," Sayers said. "But it's more the kids. They're excited to play. They're celebrating every little thing each other does."
Stinson, who was on ambulance duty at the team's opening home game Sept. 15, surveyed the Smyrna rooting section and observed: "There's a lot of new folks around but you can see from the crowd that's here tonight everybody is here and supports the team."
One play, with the title on the line
In 2015 Smyrna lost only to Salesianum, in a 76-56 shootout. When they met for the title six weeks later, the town came out in full force. Police and firefighters escorted the team bus to the town limits. Fans rode in a caravan to UD.
"When you got up there you saw the sea of red and the whole visiting stand was full," Sayers said. "There couldn't have been too many people left in town."
Smyrna overcame a 14-point deficit to send the game into overtime.
Smyrna scored a touchdown in overtime, but missed the two-point conversion and led by six points. Salesianum moved the ball to inside the 1-yard line. If they scored a touchdown, most fans expected Salesianum to kick the winning point and escape with a one-point victory — ending the Smyrna bid.
The exhausted teams lined up for the final play.
Coach Judy and the defense figured star running back Colby Reeder would get the call.
One of the defenders shot between a gap in the offensive line "and got Colby before the big athlete could get up to speed," Judy said.
The fans rejoiced, for themselves and the victorious players.
"When he stopped him I mean the place just went nuts," Sayers said. "I was hugging people I'd never met before. My wife still makes fun of me for it."
'The excitement is just as high'
The town celebrated for months.
Bright red Smyrna Eagle clothing hopped off the shelves.
A billboard in town celebrated their triumph.
"Everybody is proud obviously," said Sayers, who sells some football memorabilia in the jewelry store. "I don't know who is making and selling all the T-shirts and sweatshirts and hats but you can't go anywhere without seeing somebody wearing Smyrna football gear."
Last year the sports success continued.
The boys basketball team won its first state championship and the football team followed up with an undefeated season and a second straight title. Now they are going for Delaware's first three-peat in nearly a generation.
"The excitement is just as high," Sayers said. "Hopefully we do it three times in a row but a lot's got to happen. It was tougher for him to fill the schedule."
The Eagles have struggled early against tough competition, losing two of their first three games, to neighboring Middletown and a top team from the Baltimore area.
A playoff berth is still a possibility but win or lose the rise of Smyrna football – and its ascendancy as a town — is now part of Delaware lore.
"Everybody, if they are older, younger, everybody comes and celebrates together," Ruckle said. "It's so cool to experience that."
Judy is delighted to be part of the ride.
"The best part of this is that these kids feel like they are giving something back to the community through their play," Judy said.
"Doing something that they love, it's like [the] best volunteer public service you can do. The kids come out here and grind and go to battle and make a town and a community feel unified."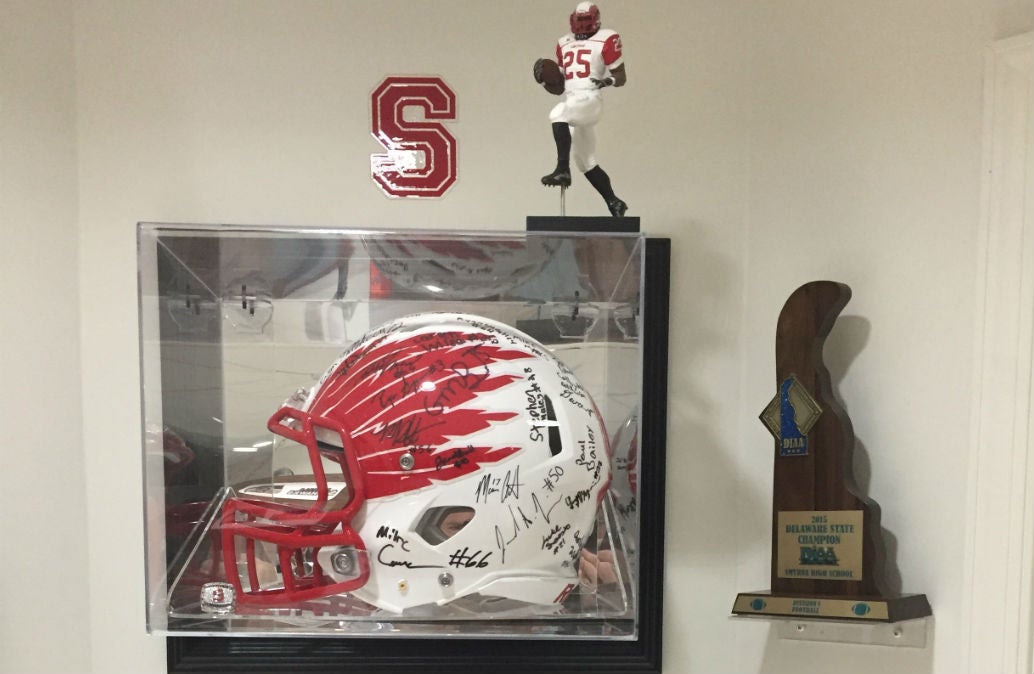 WHYY is your source for fact-based, in-depth journalism and information. As a nonprofit organization, we rely on financial support from readers like you. Please give today.