Review: 'The Sincerity Project' is how you define it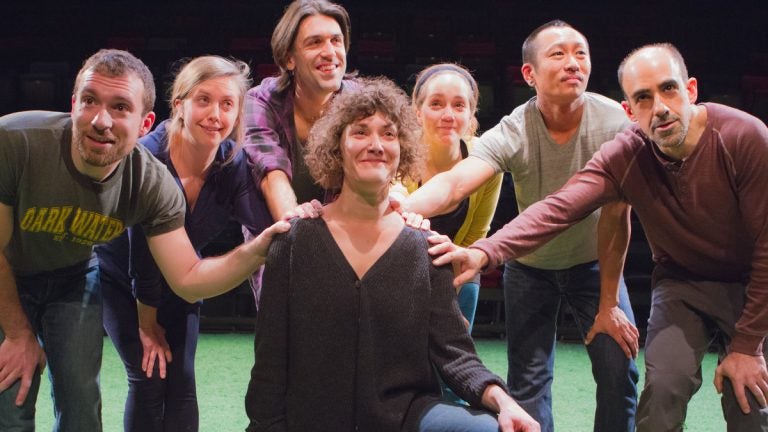 An ambitious undertaking called "The Sincerity Project" might be the most insincere thing going on a stage these days – which provides its conflict. The show purports to be about the real lives of its seven cast members. They riff on their hopes, desires, fears, even the circumstances that led to their losses of virginity. All seven are theater or dance artists, but their careers play no part in what they say. In the end, all you know about them is what you want to believe.
Throughout "The Sincerity Project," one or another tells you that this part is rehearsed, this part has evolved, this part is scripted, this part's absolutely real. Really? I found myself talking about the show's loopy take on sincerity when I met up with my wife after seeing it. And I told her about a particularly poignant moment that was real. "How do you know?" she asked. I couldn't answer the question.
But the question will continue to come up, because "The Sincerity Project" will reappear in various iterations for 24 years. The cast has committed to updating it every two years for the next 24, to reflect what's new or changed about them. That's 13 different shows, spanning a substantial portion of these performers' adult lives.
The oldest of them is Aram Aghazarian, 45. The youngest is Mark McCloughan, 26. In between are Benjamin Camp, 31, who serves more or less as the show's host; his sister Rachel Camp, 27; Melissa Krodman, 35; Jenna Horton, 29, and Makoto Hirano, 37. Two of them, Hirano and Rachel Camp, have been visible in professional local productions here for some time.
Presented by FringeArts, "The Sincerity Project" is produced by a group of theater and dance creators who are trying (and succeeding) to develop new takes on performance. The group is Team Sunshine Performance Corporation, founded by Alex Torra, who directs this show, and by two of its cast members — Hirano and Benjamin Camp.
This past summer Team Sunshine produced a noteworthy take on Shakespeare called "Henry IV: Your Prince and Mine," also directed by Torra. It featured the Bard's "Henry IV" with a large cast, original live music, and 100 Philadelphians who flooded West Philadelphia's Clark Park to fight the battle Shakespeare had envisioned. Not only was the show fine, the buzz it created around community and theater was impressive.
What we get in "The Sincerity Project," presented by FringeArts, is not so much a piece of theater, per se, as a two-hour work of performance art that aims high, is at times self-conscious, and has a mix of entertaining moments and rough spots. The seven actors who compose "The Sincerity Project" created the show, along with Torra. They're adept at keeping you guessing. Are they playing themselves? Are they playing characters? Do they believe these characters represent them? Are you identifying with something real?
Any one of them who comes into a "sincerity circle" on the stage floor has the chops to make everything sound geniune, but something almost always interrupts these declarations: People begin to run around, or press ice into someone's shoulder, or sing with an overpowering voice. The realness fades, consumed by a deliberate theatricality that includes a "Sincerity Project Choir" of eight females and one male that sings sweetly without orchestral accompaniment. (There's a great take on the Joni Mitchell classic, "A Case of You," composed for the show by Daniel Perelstein.)
Theatricality is, of course, what you came for – despite the title that hawks sincerity. If it's documentary or biography you're looking for, "The Sincerity Project" is not the right place to find it. We're in the theater here, in the realm of fiction. Or maybe in a pseudo-religious shrine at times, with statements like "A question we have in our lives is whether we can make a space of purity." These little chestnuts come and go uncracked; much of what the cast tells you never gets beneath the surface. "I'm sending the ping to you guys out there," one of them says in a weighty delivery, "and I'm not getting a ping back." Is she censuring the cast? Us? And exactly what is she expecting?
Still, the cast reveals enough of themselves, or their characters, or a mixture of both, to bring us into their conspiracy. By the time the show was over, I was charmed by their personas – they'd played their roles so that each was stripped down, literally as well as otherwise. I wonder whether they'll be as eager to do that sort of baring 24 years from now. But then, I wonder a lot of things about these seven men and women, a reaction "The Sincerity Project" needs in order to sustain itself.
_"The Sincerity Project," from Team Sunshine Performance Corporation, is presented by FrigeArts through Dec. 13 at its theater, Race Street and Columbus Boulevard. 215-413-1318 or www.fringearts.com.