Review: The many facets of 'John'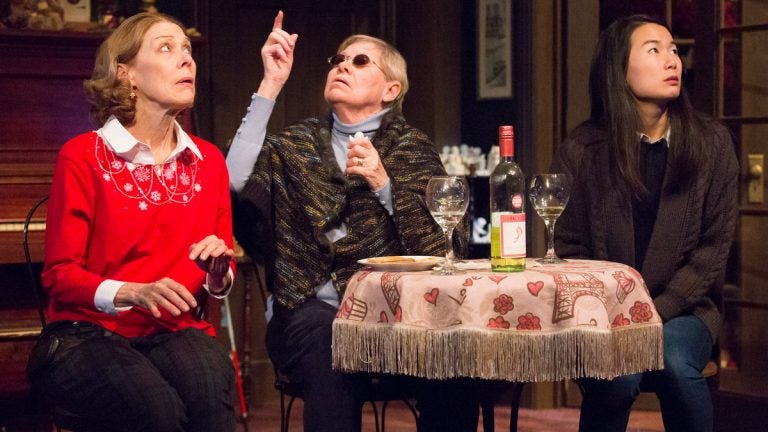 "I'll be dipped," says Mertis, the owner of a strange B&B in Gettysburg. And so will we, many times, as we're charmed and challenged by the hot playwright Annie Baker. Charmed, because the superb Arden Theatre production of her play "John" brings to life her characters – just quirky enough to be off-kilter but still believable – in an organic way that makes them stick to you. Challenged, because you may be shifting your support for the two leading folks, a young couple in conflict and conflicted.
Like much of Baker's work, the plot of "John" doesn't unfold as much as it oozes. (A friend at Wednesday's opening night remarked that Baker might easily have written "Seinfeld.") In the first of three acts, we barely get a hint of what's to come but we have a good idea about the folks who will make it happen.
There's the couple Elias and Jenny, strangely aloof in the third year of a relationship. They're taking a Christmastime break from everything but their own deepening entanglements. They've come to Gettysburg because he's a Civil War freak. The friction between them, subtly apparent within minutes, is the driver of the play.
And there's Mertis, the owner of the inn where Elias and Jenny are staying. The inn's first-floor living room — a feat of scenic design by Tim Mackabee — says volumes about her. American Girl dolls sit on the sides of each step leading to the second-floor. Angels, assorted figurines, candles and a warehouse-full of Christmastime paraphernalia grace shelves and cabinets. A new version of an old-fashioned radio plays organ music and opera. A trite notion of a Paris café occupies one corner. A grandfather clock, an inventive time-changing device in the play, tick-tocks ever-louder in Michael Kiley's sound design. The place is spooky in its carefully constructed cuteness. When the welcoming Mertis offers her guests a plate of Vienna Fingers, you think: but, of course.
Mertis' good friend Genevieve, a blind woman with a former husband who has invaded her mind and, she says, the minds of all those she knows, neatly adds to the suspense. The plots in Baker's plays may be oddly understated, but characters like Genevieve and Mertis make them rich. And I'm not going to comment on the play's title character "John," except to note that he's off-stage and murky yet keenly present.
What a lucky guy Matthew Decker is. He's Arden Theatre's associate artistic director, privileged to stage "John" with the first-rate cast that embodies these four characters. It includes two of the city's grand dames of acting. One is Nancy Boykin, playing the innkeeper with an inscrutable smile. She's the sort of person whose conversation might lead you into a rabbit hole. The other is Carla Belver, who gets a good laugh when her character acknowledges her crazy notions and says they're also true. Belver's shaky hand belies her character's sharp sixth sense. While Boykin's character seems wisely never to judge, Belver's seems wisely to judge in silence.
Silence is a trademark of Annie Baker's playwriting. The excellent Jing Xu and Kevin Meehan, playing the guests in this B&B, use the little snatches of it to deepen the way they build their characters. There are wonderful moments when Xu's character recoils silently to the way her boyfriend reacts to her – her thought process is nakedly visible. And when Meehan's character forces himself to cry the only way he can, by listening to a specific Bob Dylan song, the moment is so delicate you feel you're about to watch him shatter.
In "John," you get all the diiferent emotions of the holiday season. It's frequently funny. There's a generosity of spirit as the characters try to soothe bad feelings or just listen. There's the general stress of December. And there's an intriguing tale lurking in their histories.
"John" runs through Feb. 26 at Arden Theatre, 2d Street just north of Market Street. 215-922-1122 or ardentheatre.org.
WHYY is your source for fact-based, in-depth journalism and information. As a nonprofit organization, we rely on financial support from readers like you. Please give today.