Review: 'Stella and Lou' and something deeper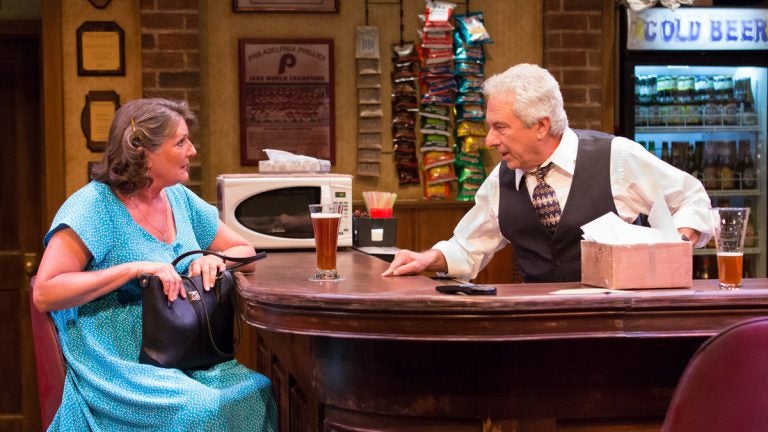 What's up with Stella and Lou? Stella walks into Lou's Philly bar after finishing her hospital shift as a nursing supervisor, and she has plenty on her plate. She's just come from a visit with her granddaughter in Florida, she's won a couple bucks in a bet at the hospital and she's scored tickets to dinner and a show in Atlantic City. And she's a bit on edge.
And Lou — his nerves are on high alert: He's all dressed up, having come from the funeral of one of his regulars where another customer, a guy named Donnie, had given a disjointed eulogy. It's been an all-around lousy day and Donnie is making it worse – railing on the phone with his fiancée about expensive wedding plans, going into general tizzies at the bar.
The three are amusing from time to time as their conversation moves into different directions. But this can't be your everyday bar scene, because it's written by the prolific Philadelphia-based playwright, Bruce Graham, which means it has a sort of ulterior motive. Through all the back-and-forth gab of Graham's "Stella and Lou," there's a buzz – you can't hear it but you know it's there. And eventually it becomes clear: What these people want, or need, is not what they show. It's hidden deep underneath the surface.
"Stella and Lou" had its world premiere two years ago in Chicago, and People's Light is producing its first home-town appearance. It's a gentle little play – a 75-minute bar scene with three characters you could realistically find in a bar, including the one who's running it. (Although the misguided Donnie, played with high-strung outbursts by the smart actor Scott Greer, would have been ejected eventually in most Philly bars.) It has a Philly neighborhood feel in its old-fashioned taproom setting by James F. Pyne Jr. and in the easy way people chatter, partly a product of Graham's dialog and partly Pete Pryor's direction.
And it offers superb performances by two long-time members of the People's Light troupe – Marcia Saunders as Stella (39 years with People's Light) and Tom Teti (41 years, since the stage company's founding). Saunders gives Stella a candor enhanced by her gravely delivery and genuine Philly dialect, right off the streets south of Washington Avenue, or in parts of the Northeast. She's no-nonsense. (Everytime she looks at her heavily tattooed daughter-in-law, she trlls us, "I think hepatitis.") Teti is perfect as the weathered-down, workaday bar owner you once found all around town and still run across – smart about his customers and set in his ways, and also no-nonsense.
Together they build a chemistry that, unlike the potency you sometimes witness between young macho leads and their ingénues, is a little more reasoned and a lot more seasoned. They take Graham's sharply honed words – the dialogue's so natural, it seems to have tumbled from him orally – and give them to full-blown characters they've created. The meld is just right for a play that, like its characters, has more depth than it initially lets on.
__
"Stella and Lou" runs through August 23 at People's Light & Theatre Company, 39 Conestoga Road, Malvern. 610-644-3500 or www.peopleslight.org.