Review: 'Sleeping Beauty,' springing awake
Listen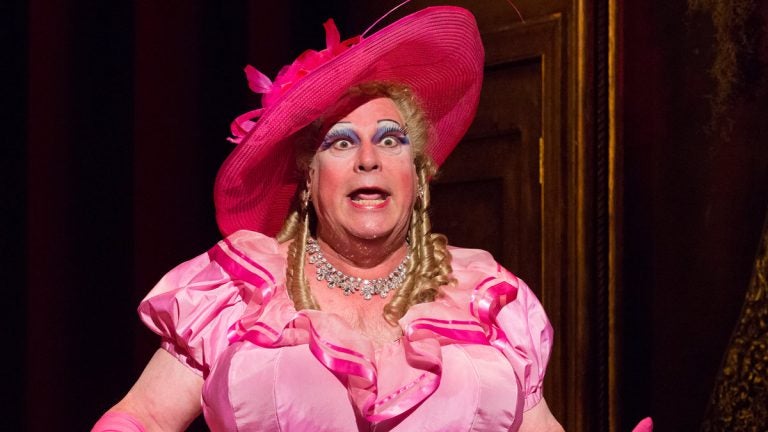 Here's an easy way to spot this season's Grinches, Scrooges and assorted partypoopers: They're the ones not smiling at the People's Light world premiere of "Sleeping Beauty." It's robust and rollicking, the latest panto by the Malvern stage company that's become the nation's primary creator and producer of such specialized tomfoolery.
"Sleeping Beauty" has everything the British form of holiday theater demands: It's not about the holiday, it takes a traditional story and turns it into something extreme, it has music and at least one animal character (four here, counting a drummer who's also a bear), it features a man playing an overwhelming lady, it invites audience response, it has a clear villain and a chase and …whew! … isn't that enough?
Not quite. One more thing — a panto must resolve itself on the side of goodness and right. So in this case, no matter how stretched and pummeled the People's Light "Sleeping Beauty" story may be, she's not going to die before the curtain call.
For my part, I wish the curtain call had come later — this panto is a constant delight. It does what high-level pantos do by pleasing the kids on one level, the adults on another. It offers especially fine songs by Alex Bechtel, a local theater artist who's become a go-to guy for stage composition and musical direction. (Shame on the program notes for not providing a song list. All night long I was humming a tune about exit signs, and I have no idea what it's called.)
"Sleeping Beauty" has punchy direction by Pete Pryor, who's one of its writers, and bubbly choreography by Pryor's partner-in-writing, Samantha Reading. And the cast — many of them well-versed in People's Light panto technique (definition: slyly playing the audience) looks to have as much fun as the people in the seats.
So here we are in Paoli Shoals, a village that was a major producer of LP records until 16 years ago, when one of its singing stars (Kim Carson as a spunky villain) put a curse on Paoli Shoals' princess, the newborn Aurora: If she's stuck by a needle before her 16th birthday, she'll sleep for 100 years. Only a kiss from a handsome prince will awaken her. Her father, the king of Paoli Shoals (a daffily commanding Tom Teti) immediately bans record players from his realm, lest Aurora stick herself with a record needle.
But today she's 16, and a surprise party she knows all about will mark her exit from the curse. Aurora (sweet Ariana Sepúlveda) isn't aware of the curse, or even that she's a princess, but she has a feeling something big's happening — especially when the moon, which she, um, moons over many a night, disappears from the sky and falls straight into Paoli Shoals. This subplot with the ever-smiley moon (the charming Tabitha Allen) and her sidekick, a star (11-year-old Abigail Brown who may, in fact, be one someday) makes for some of the best moments in the show.
I'm not going into detail about the rest of the plot — it's too confounding to describe here. The characters are rounded out by a gamely cast: Susan McKey as a goofy aunt, Hannah Van Sciver playing an ogre and Luke Bradt as her son. Also a crane, mudbug and snail (Emily Kaye Lynn, Brendan Norton and Josh Totora) who play instruments along with Thomas Fosnocht 3d on piano and Kanako Omae Neale on percussion.
But wait — there's another drummer: the terrific Mark Lazar, who's indisputably one of the nation's leading Dames. A Dame is an over-the-top woman, always played by a man, and at People's Light always played by Lazar. Early on, when People's Light decided to book its holiday-show future on pantos, Lazar went to study them in London and returned with an affinity for such characters.
He can say more with a few well-timed flicks of false eyelashes than other actors can with lines. Sashaying on Roman Tatarowicz's cartoon-like set and dressed in Nikki Delhomme's wildly exaggerated full-length get-ups (all Delhomme's costumes are flashy), Lazar takes a stage as if it's his house and everyone else is just a guest. He's also a fine drummer, at least in "Sleeping Beauty," wearing four drums that spread across the enormous front porch that Delhomme's designed in his dress.
After a run of producing a new panto every year, People's Light now debuts a new one every other year and alternates it with a revival of a panto the company's already staged. Given the high production values of the stage company, this is no small effort — a panto is a full-scale musical with an old story so heavily reworked that it's actually brand new, and it begs for designers with big notions. So if you're in the market for holiday cheer with a twist — or just twisted cheer – you'll find it in the unlikely neighborhood of Paoli Shoals… I mean Malvern.
—"Sleeping Beauty," a panto, runs through Jan. 15 at People's Light & Theatre Company, 39 Conestoga Road, Malvern. 610-644-3500 or peopleslight.org.
WHYY is your source for fact-based, in-depth journalism and information. As a nonprofit organization, we rely on financial support from readers like you. Please give today.