Review: 'Red Speedo,' white-hot lies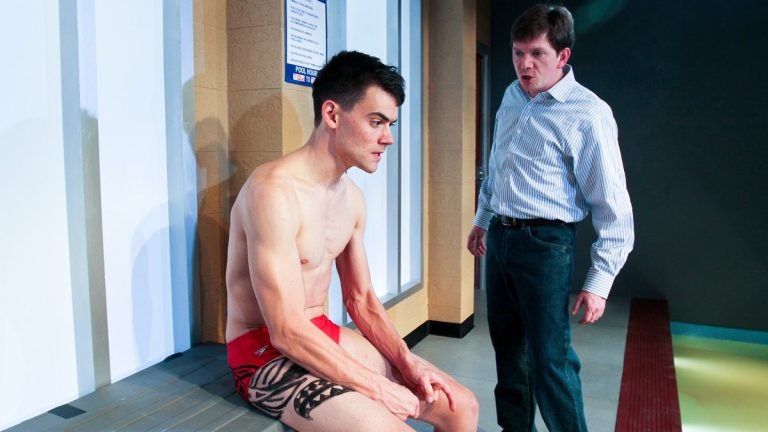 The difference between right and wrong doesn't figure into the ways the characters think in "Red Speedo." But what's right for me? – that's what Lucas Hnath's play, getting a spunky production by Theater Exile, is all about.
The question's accompanied by all its cynical look-alikes: How can I exploit this to my advantage? How can I do this without getting caught? And, if I get caught, how can I lie to explain this away?
All those questions reflect a maiming of ethics that would make for solid theater. And while "Red Speedo" lays them out through four clearly drawn characters whose ethical compasses lack calibration, the play stretches itself to – and maybe beyond – the limit.
Whatever the faults of "Red Speedo," Exile's strong production, staged by producing artistic director Deborah Block, far exceeds the strength of this play about people who use each other without caring about the consequences. Peter uses his swimming-champion brother as the means to shed his lawyer job and become a rich sports agent. The coach uses the champ to boost notoriety for himself and his swim club. The champ is used by his former girlfriend to get back at his double-crossing brother, whose unethical behavior led authorities to revoke her sports-medicine license. And the swimmer himself, what does he use? Well, a load of performance-enhancing drugs have been found in a fridge at his swim club – on the eve of the trial for the U.S. Olympic swim team, no less.
Tall, sinewy Brian Ratcliffe plays the swimmer, clad in a red Speedo and adorned with a snaking tattoo that covers much of the back of his body. If he qualifies for the American team, his brother will get him a rich Speedo endorsement contract. Ratcliffe plays not a dimwit, but a dull light, and carefully builds his character to reflect that. His sleazy, amoral brother, a generous source of support but also a parasite, is portrayed with finesse by Keith Conallen, whose uses his piercing eyes to help create a presence that's at once obnoxious and menacing.
Leonard C. Haas plays the coach – he has a look of thoughtful skepticism that says volumes as keen as anything in the script. The smallest role is Jaylene Clark Owens'; with only a few minutes onstage, she projects the tug-of-war inside her about this swimmer who says he loves her but may really love only her connections. The story plays out on Colin McIlvaine's impressive set, for which Exile has installed a single-lane swimming pool across much of the width.
Now, about the play: It becomes a patience-trying 95 minutes, with lots of arguments that go around and around, prolonging scenes that would pack more punch if they were shorter. Hnath, the playwright, sets up satisfying cross-fires, but he doesn't know how to limit the ammunition; I sat there thinking, OK, I got it. And then I got a lot more.
He also employs a whole lot of real-speak: Only a few words of sentences are said before the sentences drift off, or are dropped, or are interrupted. The cast delivers this very well, but it's one thing to eavesdrop on that sort of everyday chatter at the next table in a Center City restaurant, another to hear it declaimed from a stage, where it comes off as less sensible. Most disappointing, though, is the ending, which Hnath tries to resolve with cheap action (nicely done, though, with J. Alex Cordaro's fight choreography) and not a hint of actual outcome. After all that arguing and lying, betraying and cheating, I felt cheated myself.
_
"Red Speedo," produced by Theatre Exile, runs through Nov. 23 at Studio X, 13th and Reed Streets in South Philadelphia. 215-218-4022 or www.theatreexile.org.