Review: A reimagined 'Catch Me If You Can'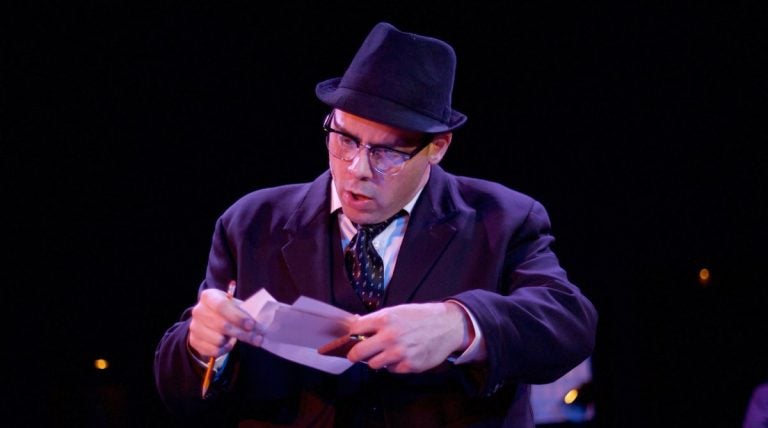 Sometimes, there's no telling what will make it on Broadway or why, and "Catch Me If You Can" is a prime example. It's the musical made from Stephen Spielberg's popular 2002 film about a teen con-boy – he rakes in about $2 million before he's old enough to legally drink – and his cat-and-mouse game with the FBI. He delights in eluding them. They want him, as they tell him, to come in from the cold.
"Catch Me If You Can" has, itself, come in from the cold, in hot, high-energy yet uneven version at Hammonton's Eagle Theatre, the professional stage company in New Jersey's prolific blueberry country. On Broadway, the show didn't make it to 200 performances four years ago, even with a bang-up cast, spunky songs by "hairspray" writers Marc Shaiman and Scott Wittman, and a strong book by four-time Tony winner Terrence McNally. In the parlance of producers, it didn't find an audience. But it sure grabbed me.
I was a fan of "Catch Me If You Can" all over again the other night, when I saw it at the Eagle, where the company's new risers provide an unspoiled view of the show. Visual designer Ian Kimble and Eagle's co-artistic director Ted Wioncek 3d have reconceived the show's context. They take its first musical number, "Live in Living Color" as literal, turning the musical into a TV rendition of the story. Large television screens on either side of the stage display different visuals of the live action unfolding between them. Sometimes the action occurs on the monitors alone. Sometimes a character on TV interacts with one on stage. As our flim-flammer scams his heart out, the TV images show his colorful vivacity. Whenever the FBI comes into the plot, the images are in hard-knuckle black and white.
It works like a charm – and here's a weird result: the images are frequently easier to watch than the live action. The Eagle's "Catch Me If You Can" may be the worst-lit musical I've ever seen on a professional stage. Scenes are harshly illuminated from directly above, and a few times characters on stage appear largely in shadow, but in every case they're brighter and more watchable on the TV screens. I can only guess that because the show is played as a TV-story memory, Wioncek – who also directed – and lighting designer Chris Miller wanted a subdued effect. What they end up with is an irritating one.
For example, a musical number between the plot's primary FBI man and the teenager's liquor-ridden father plays out in about 75-percent shadow. Then, surprise — during the last seconds of the song, the stage lights come up to a level that allows the actors' features to be seen. Did I miss getting the special glasses?
The other unfortunate aspect of the show is its sound, which wavers from crystalline to murky in David Pierron's sound design. This is partly a result of the playing area, which is confining for a musical with a big orchestra – in this case an excellent one, housed under the enclosed stage; the sound seems to come directly up onto the stage and sometimes competes with the singers. The production has a great ensemble of women who, in various settings, are the con artist's fan-girls; their dancing (Dann Dunn's happy choreography) is fine, but I challenge you to make out some of the lyrics they sing.These are the dents in an otherwise shiny wheel. The story's fun from the opening to the finale – and has roots in real life. It's the fictionalized account of Frank Abagnale Jr., the former con artist whose autobiography was the basis for the movie and then, the musical. He was the teenage impersonator of a Pan Am co-pilot, a doctor in Atlanta and a lawyer, all the while forging government documents and passing bad checks.
He got away with it, in large part because he was an irresistible charmer – precisely the quality Adam Hoyak brings to the role. Hoyak, a lithe and boyish actor who's best when he sings in a high tenor range, gives us a real person whose extremes are eventually bringing him down. You can sense his eventual descent as he envelops himself in each new deceit. It's a portrayal that sticks with you.
His pursuer, FBI agent Carl Hanratty, is fully realized by Jeffrey Coon, the versatile Philadelphia actor who's evolved on local stages in just about every genre and is especially welcome at Walnut Street Theatre. Coon, with a clear, strong singing voice that carries him through the role, is an actor with a chameleon quality in looks as well as persona – here, he appears older than he is and far shlumpier – he's a bureaucrat who's thrown away the clock everyone else is punching, obsessed with his prey just as much as his prey is obsessed by lies. In his FBI trench-coat (fine costumes by Lorraine Anderson), Coon is everyman's agent from the middle years of the last century.
There are other standouts – Lindsay Mauck in a minor role as the mom of the con-man's gal, and Jenna Pastuszek as that woman – she performs a great rendition of the show's torch song and most memorable number, "Fly, Fly Away," a heartfelt directive to her guy as he's being hunted down for real. After its short Broadway run, I feared that "Catch Me If You Can" had flown and crashed, just another Broadway loss on a financial spreadsheet full of them. But even with this production's downsides, Eagle has it riding high.
"Catch Me If You Can" runs through Feb. 21 at Eagle Theatre, 208 Vine St., Hammonton, N.J. 609-704-5012 or www.theeagletheatre.com.