Review: 'A Life (or two) in the Theatre'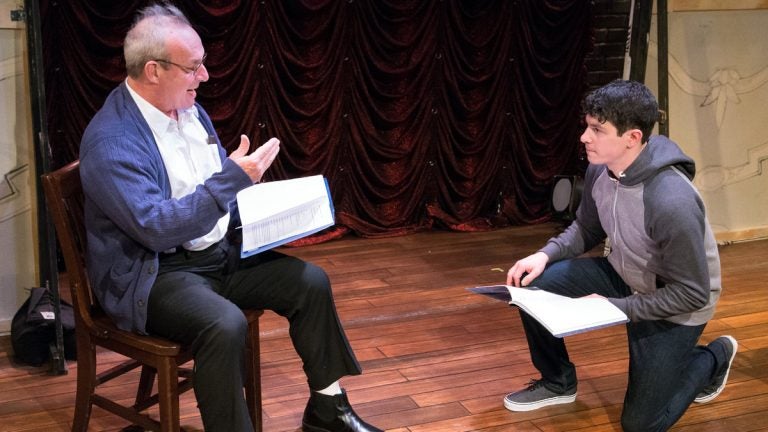 Are the best times in the theater when things go terribly wrong? Not in my experience, but the best times in David Mamet's 1977 play, "A Life in the Theatre," come when his two characters are in front of an unseen audience and the unexpected happens. One bumps into another on a stranded boat, or can't figure out whether he's missed his cue to go on stage, or begins speaking lines from another scene while operating on a patient.
These little pieces pump blood into "A Life in the Theatre," a short play that Walnut Street Theatre is giving an entertaining ride in its third-floor Independence Studio series. This early Mamet work is a thin affair – about a third of its 75 minutes of short blackouts seems like pointless filler and adds nothing to the whole of the play.
In any case, there's not much of a play here – more like an extended skit, a character study of two men. One's an older actor with years of stage experience. The other is the younger whippersnapper with whom he shares a stage and dressing room in many productions.
There's little tension in "A Life in the Theatre." The older pro is pompous, patronizing and emotionally vulnerable; the younger actor is protective of himself and generally willing to ignore his own annoyance with his colleague, or at least to suppress it. And the stage mishaps it features are, after a while, all the same joke. I know the play works for some people as a metaphor for any situation in which wisdom and experience – and age – is challenged by new ideas and ways of thinking – and youth. That's more than I can find in, or take away from, "A Life in the Theater."
It first appeared on Broadway only a few seasons back in a production that felt austere. I forgot I'd even seen it until the first few lines at the Walnut hit me with déjà-vu. But it took only another couple minutes to see that the Walnut's production is far more light-hearted than the Broadway version – a good decision, because a serious treatment of "A Life in the Theatre" spotlights its cracks. Walnut regular Bill Van Horn directs it and also plays the older actor with bluster and a strong hint of swish as he gradually goes to seed. Davy Raphaely infuses the much younger man with a genuine sense of respect and with a live-and-let-live attitude.
Together on Glen Sears' backstage set, they play out their scenes in the dressing room, or backstage learning lines, or in a constant change of costumes and makeup, and they plumb the entertainment value in Mamet's play. I wish they had meatier stuff to work with so that by the end, we could care more about them.
"A Life in the Theatre" runs through Feb. 1 on the third floor of the Walnut Street Theatre, Walnut between Eighth and Ninth Streets. 215-574-3550 or www.walnutstreettheatre.org.