Republican Hugin spending millions to compete in New Jersey Senate race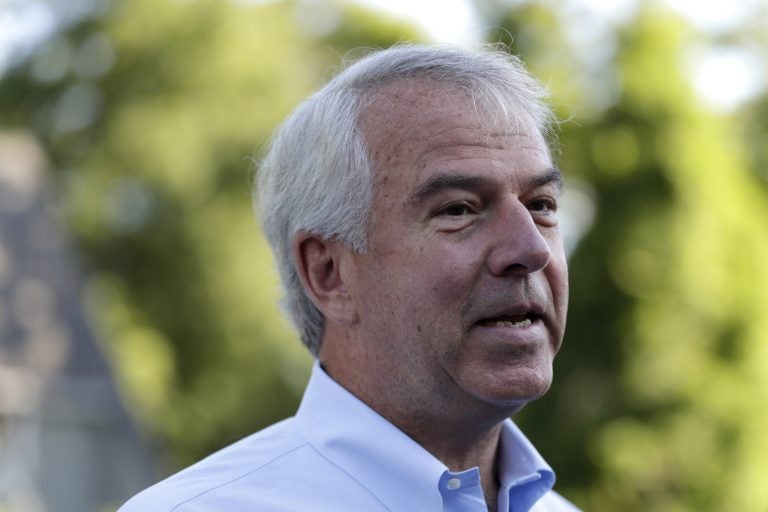 Republican U.S. Senate candidate Bob Hugin is pouring his own money into this year's race to unseat Democrat Bob Menendez and has more cash on hand, though the incumbent raised more money in the second quarter.
The latest Federal Election Commission records show that Hugin, a former pharmaceutical executive and first-time candidate, has loaned his campaign $15.5 million and has $8.1 million in his campaign coffer. In the second quarter he raised roughly $868,000. Menendez, who is seeking a third term, raised about $1.3 million through his campaign committee and has $6.4 million on hand.
The race is at the top of the ballot this year in New Jersey, has already led to the creation of super political action committees taking aim at both candidates and could play a pivotal role in who controls the tightly divided but Republican-led Senate. The GOP has 51 seats to the Democrats' 49.
Hugin's multimillion-dollar cash infusion isn't a surprise. Republicans had expected him all along to dip into the fortune he made while he was at Celgene, which he left as top executive this year to pursue the Senate seat. But it is putting pressure on Democrats in a state where they have about 911,000 more registered voters and benefit from President Donald Trump's low approval rating locally.
"It certainly helps Bob Menendez that he is running in a state like New Jersey where the president is not popular and where there are many more registered Democrats than Republicans in a year like 2018 where Democrats are expected to do very well," said Ben Dworkin, director of the Rowan Institute for Public Policy and Citizenship.
Hugin is spending money on ads to introduce himself to the electorate and has TV air time booked in the nearby New York and Philadelphia broadcast markets through the Nov. 6 election, according to Federal Communications Commission records.
"Our campaign has and will continue to educate voters on the tale of the two Bobs from Union City," Hugin spokeswoman Megan Piwowar said. "We are confident that New Jersey voters will elect Bob Hugin, a former Marine and successful business leader."
Menendez's campaign responds that Hugin is trying to buy the office.
The contest is already fiercely negative.
Hugin assails Menendez as "corrupt" over federal corruption charges alleging he took favors like luxury vacations from his friend in exchange for help with a Medicare billing dispute. A jury failed to convict Menendez, and the charges were dropped, though the Senate Ethics Committee rebuked him.
Menendez attacks Hugin at nearly every turn as a greedy CEO. Celgene settled for $280 million last year over allegations that it promoted cancer drugs that were not approved by the Food and Drug Administration. Celgene did not admit liability.
Super PACs also are now getting into the race. Patients for Affordable Drug Action has raised more than $3 million and has been running ads attacking Hugin over the high cost of drugs. The group has spent about $1.5 million on TV ads in New Jersey, founder David Mitchell said.
Mitchell has incurable cancer and founded the super PAC after seeing drug prices spike. He also was the founder of the communications firm GMMB, which has been a top vendor to Democrats over the years. But he said the PAC is bipartisan and is supporting Republican Rep. David McKinley, of West Virginia.
Integrity NJ, a super PAC headed by Phil Cox, who led a super PAC for former Gov. Chris Christie's Republican presidential campaign, has raised more than $2 million. The group indicated it would be attacking Menendez throughout the campaign.
WHYY is your source for fact-based, in-depth journalism and information. As a nonprofit organization, we rely on financial support from readers like you. Please give today.