Q&A: Mayfair native serves up cheesesteaks in Ireland
Beth McCullagh (nee Cook) is living out many people's dream of living in Ireland — the country a large portion of the Northeast's population calls home. But McCullagh is living out a very particular version of that dream. And it involves cheesesteaks.
The 32-year-old Mayfair native moved to Ireland 11 years ago, and now owns the cheesesteak shop Philly's Phinest.
We interviewd McCullagh (via e-mail, since she's based in Ireland) about her life in Philly and overseas, the Irish reaction to her sandwiches and what she thinks is the best steak in Philly.
NEast Philly: Why Ireland? Beth McCullagh: I moved to Ireland on a one-way ticket just because I wanted to get out of Philly and see a bit of the world, and I had friends here. I live in Omagh, Co. Tyrone in a section called Gallows Hill.
NP: What inspired you to open a cheesesteak shop? BM: I got sick of eating pizza and Chinese take-aways, and wanted something different. We opened the 28th of September 2009, so we're only a new business. NP: What's the typical reaction Philadelphians have when they hear about your business? BM: We've had quite a few Philadelphians and some New Yorkers, and they've all been pleasantly surprised. It took a lot of perfecting to get the cheesesteak close to the real thing. My rolls and steak come from 20 miles north of Omagh in Strabane.
NP: And how do native Irish residents feel about the business? BM: The Irish reaction has been good, especially since a lot of Irish have been to Philly or someone in their family has.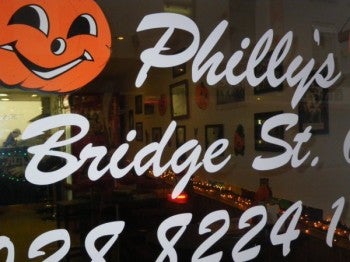 NP: What's the most popular item on the menu? BM: We've got three pretty popular sandwiches: the Bubba Burger, which is a double bacon cheeseburger with fried onions and A1; the Real Rich, which is a pepperoni cheesesteak; and the Angela's Hangover Bagel with cream cheese, tomato, red onion, salt, pepper and garlic. They're all named after best friends in Philly.
NP: How much does a cheesesteak cost in Ireland? BM: A six-inch steak costs $4.30 or $4.60 wit.
NP: Do you plan to open additional locations? BM: Additional locations are a distant dream at the moment, because right now I run the business alone with a little help from my friends. But I will admit my dream location is the L.A. Farmers Market. After all these rainy year, I'm due a bit of sunshine!
NP: What's your favorite Philly cheesesteak? BM: I'm so boring when it comes to my favorite steak, because really I just like a plain steak with a bit of Gulden's. And when I'm back in Philly, my loyalty stands with Chinks — best steaks in town! NP: Would you ever consider moving back to the Northeast or starting a business here? BM: I don't have any plans of opening a cheesesteak shop in Philly — maybe a pub, though. Philly already has great cheesesteaks. I enjoy bringing a proper steak sandwich to places that are missing out.
Our work shirts are also from Philly. I get them done at Celtic Shirts in Port Richmond. I get back to the area every so often with my daughter, Siobhan, and she even has a steak named after her (it's a steak with onions and peppers).