Providing PFAS-free water to customers in Warminster, Horsham comes at a price
Water authorities in Warminster and Horsham have found ways to provide untainted supplies to their customers, but doing so has cost millions of dollars.
Two years ago, Well 10 in Warminster was little more than a construction site.
Like the other 17 wells the township had used to provide its residents with drinking water, Well 10 had been taken offline due to the presence of PFAS, a toxic class of chemicals once used in firefighting foam at the nearby Naval Air Warfare Center.
The chemicals seeped into groundwater and, because they do not break down in the environment, contaminated drinking water supplies. PFAS have since been linked to health problems, ranging from high cholesterol to certain cancers.
Under the direction of Joseph Nolan, an engineer who has consulted for the Warminster Municipal Authority for about 35 years, the township constructed a new building attached to the original well house and installed two large stainless-steel filtration tanks, each 14 feet high and 7 feet in diameter.
The first tank would remove PFAS using granular activated charcoal, also known as GAC; the second would provide a second step of filtration using an ion-exchange resin.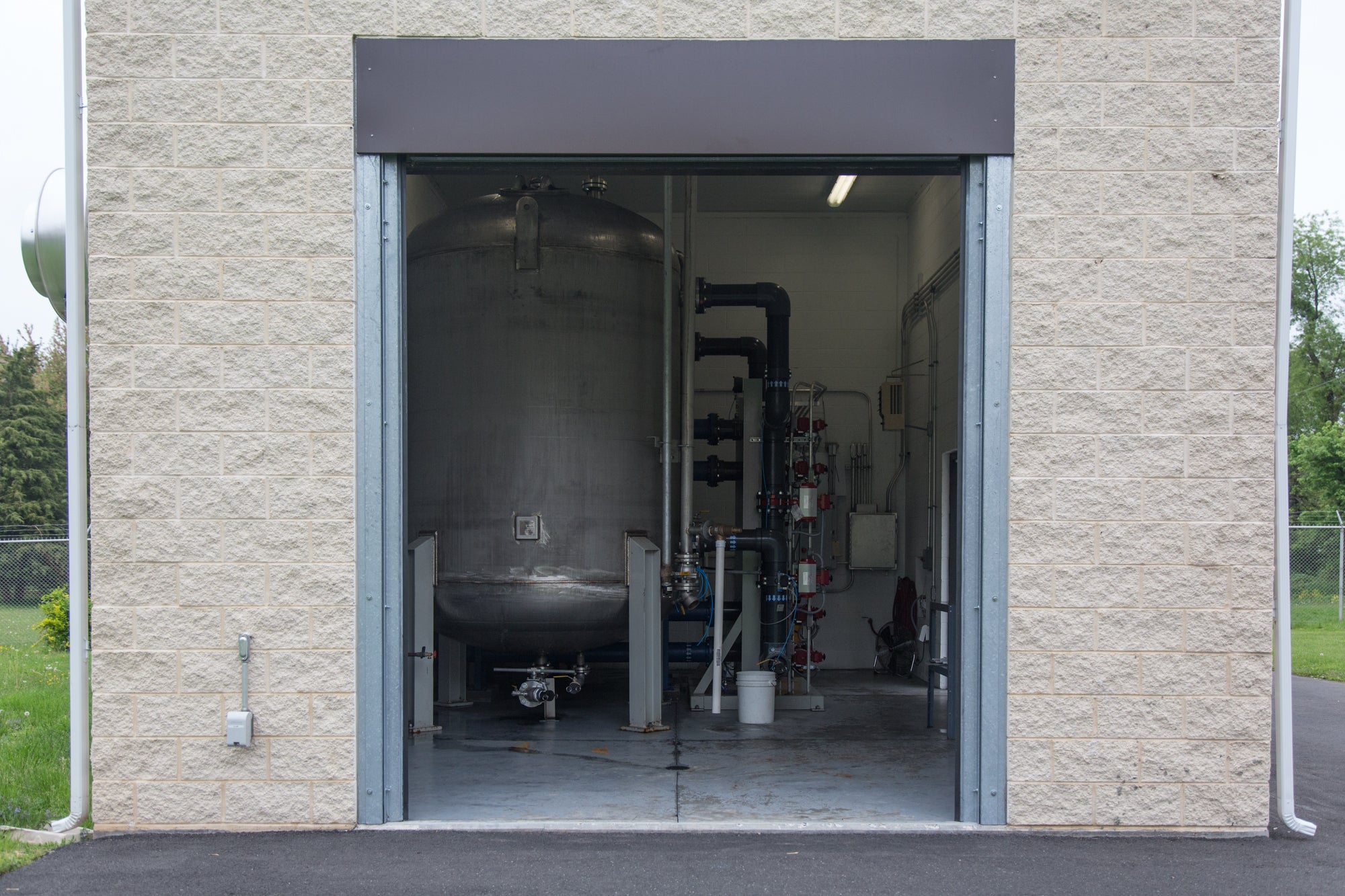 Now complete, the new Well 10 is able to take incoming water with PFAS levels of 250 parts per trillion — well above the EPA health advisory of 70 ppt — and pump out drinking water that effectively has no PFAS at all.
The cost to build that new system? $700,000.
Add to that the four other wells the township has upgraded, each at a cost of about $500,000, and the tab so far for upgrading the township's wells has been nearly $3 million.
The Navy has picked up the $2.3 million tab for four of those upgrades and maintenance because the PFAS levels were above the EPA health advisory. But the Navy won't chip in to upgrade the other wells, which contain detectable levels of PFAS below 70 ppt.
Given that Warminster has a goal of providing PFAS-free water to all of its 40,000 customers, upgrading the entire system would cost the township about $12 million.
"We know the technology," said Nolan, the engineer. "We know how to treat it. It's just a matter of getting the funding to put this type of a system on all of the other wells."
It's unclear where that funding should or will come from. Residents are already reeling from increased water rates. When the township decided to take its wells offline in 2016, it began purchasing water from the North Wales Water Authority, whose water had no detectable levels of PFAS.
The agreement allows Warminster to purchase about 3 million gallons a day from North Wales until June 2026. So far, that has cost the water authority an extra $2.5 million per year.
North Wales is still the primary source of Warminster's water, with the wells making up the difference in consumer demand. When one of the treated wells is taken offline to change out the GAC filter — something that is required about once a month — the township needs more water from North Wales, which comes at a cost.
Who pays?
For customers, that has meant higher water bills. In early 2016, customers were paying $2.89 per 1,000 gallons of water. By October 2016, when the township went onto North Wales water, that went up to $4.65 per 1,000 gallons.
"We do have ratepayers out there who were paying for what turned out to be contaminated water," said Township Manager Gregg Schuster. "Now they're paying more to get uncontaminated water, and they're not happy about it, and I can't say I blame them."
U.S. Rep. Brian Fitzpatrick, who represents affected communities in Bucks County, toured Well 10 this week and said the cost of providing safe drinking water shouldn't be borne by residents.
"I think the manufacturers of the chemicals, who profiteered to the tens of billions of dollars, ultimately have to bear the financial responsibility for this," said Fitzpatrick, a Republican who co-chairs the congressional PFAS Task Force.
Fitzpatrick toured the well with Democratic U.S. Rep. Dan Kildee, his PFAS Task Force co-chair, whose district in Michigan has also faced substantial PFAS contamination.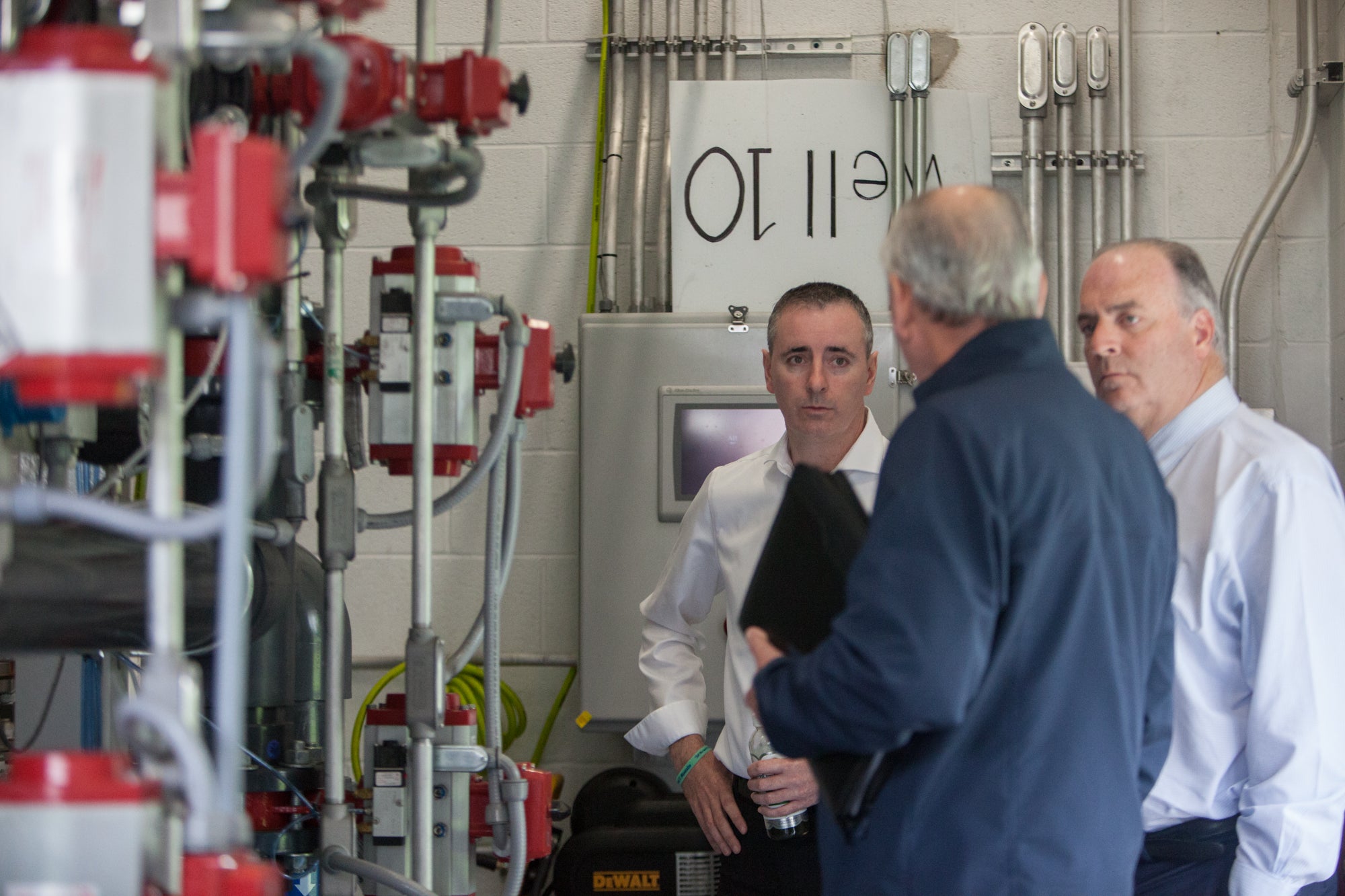 "We're, unfortunately, at the front end of something that's going to be around for a while, and it's going to be a really big and really expensive issue," Kildee said.
Horsham Township, whose water was contaminated because of the nearby Horsham Air Guard Station and former Naval Air Station in Willow Grove, has also taken steps to rid its drinking water of PFAS.
Eight of its 14 wells are offline. The Navy has committed to spending $18 million to add treatment systems to five wells and to extending water mains to nearly 100 private wells in the area. The township is also installing its own treatment system on five other wells, one of which came back online in late February.
Horsham is paying for the upgrades with the help of a $10 million PENNVEST grant. But even with that level of financial assistance, the township still pays more than $1 million annually to provide PFAS-free water. Like Warminster, Horsham gets a sizable volume of water from North Wales and pays 2.5 times what it would for water from the township's own wells.
Those costs are passed on to customers. Beginning in September 2016, Horsham added a PFAS surcharge of about $23 per quarter — a 39% increase — to customer bills to reflect the high cost of ridding the drinking water of PFAS. The water authority has since reduced the surcharge, but bills are still 32% to 33% higher than before Horsham implemented its treatment plan. And once the new treatment systems are completed, the increased costs of maintaining those systems will be passed on to customers as well.
For many communities across the country, an undetectable level of PFAS might not be economical or achievable. The military has paid for much of the water remediation in Warminster and Horsham because it was the source of the contamination. But given the omnipresence of the chemicals, in everything from nonstick cookware to textiles, other communities with detectable levels of PFAS in their water from unknown sources would be stuck with bills they might not be able to pay.
"We're fortunate in that there has been identified a responsible party," said Tina O'Rourke, business manager at the Horsham Water and Sewer Authority, "and thus far the military has accepted that responsibility."
But as the problem spreads across the region and the country, she said, a standard of "non detect" would effectively become an unfunded mandate for many water suppliers.
That's why Fitzpatrick said, ultimately the federal government needs to issue an enforceable standard for PFAS in drinking water, so that communities know what level of PFAS is safe to drink.
"We need to determine that," Fitzpatrick said, "and then pay whatever it costs to get to that level because we're talking about public health here and public safety. There should be no price tag on that."
WHYY is your source for fact-based, in-depth journalism and information. As a nonprofit organization, we rely on financial support from readers like you. Please give today.