Provence says amenities would attract a new market; gaming board questions parking provisions, transit projections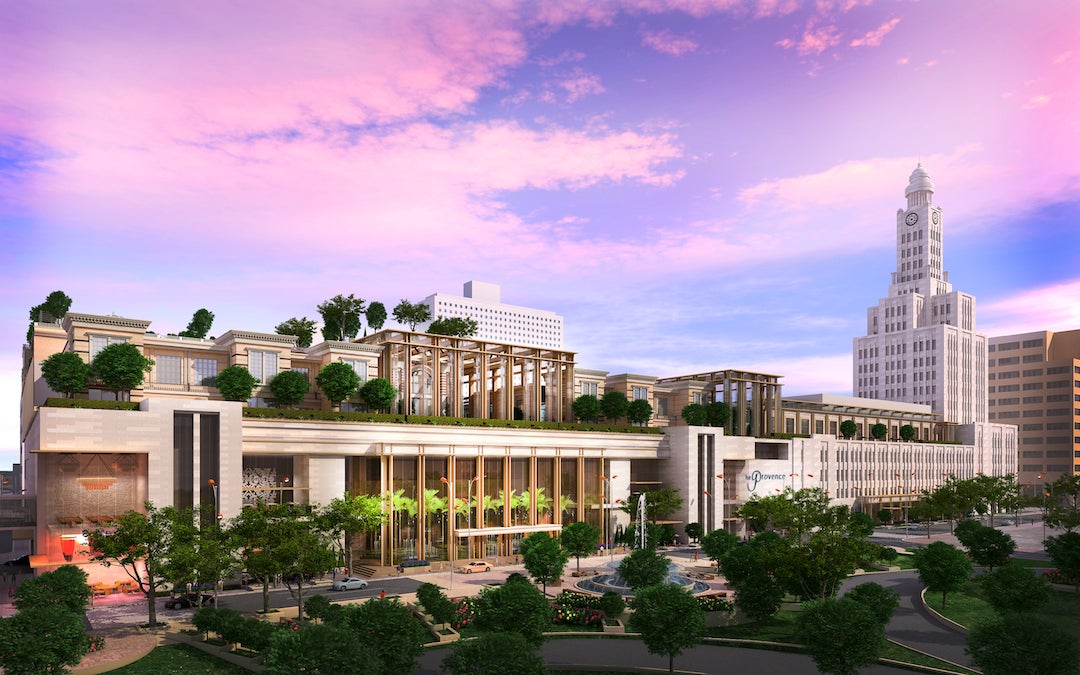 Day One, Round Two had The Provence team's proposal for Broad and Callowhill streets before the Pennsylvania Gaming Control Board.
The team, called Tower Entertainment, is led by local developer Bart Blatstein of Tower Investments. The casino and entertainment complex would be operated by Isle of Capri Casinos, which operates 16 casinos in seven states, including Nemacolin in Pennsylvania. They are kicking things off with a video presentation prominently featuring Blatstein. "For me, it's much more than a casino," he says in the video, touting the jazz club, swim club, fitness club and botanical gardens. "It will be a great shot in the arm to North Broad street."
Provence is proposed as a $700 million entertainment and hotel complex anchored by a casino. It's Broad Street face would be a 126-suite hotel in what was the former Inquirer building. In addition to 150 table games and 3,300 slot machines, the complex would feature 75 restaurants, shops and bars. It includes a roof-top village with a swim club and entertainment and music venues. Blatstein says the complex would transform Callowhill into a walkable destination, and would be able to best attract both convention center visitors and people who work in Center City.
Architect Paul Steelman said the goal was not to just create a casino for locals to gamble in, but a tourist attraction. Other goals were to maximize revenue, and also blend the architecture into the existing "urban architecture."
Steelman said the proposal has "features and attractions to delight and surprise every visitor." Natural lighting will stream in from huge windows. "Young people live in daylight," he said.
The casino itself would best any other proposed here, and also anywhere else. It would have "incredible food offerings….each with a spectacular view of the city," he said. It would include flexible theater space for world-class acts and cultural events. It would include an "unbelievable candy store" and nightclubs on the roof.
Scott Fisher of Leisure Dynamics research said conservatively, The Provence would make $106 million more in annual revenue than any other project. It would bring in $219 million in "non-canibalized" new gaming revenue – revenue from new customers, not ones who would have gone to another existing casino – which Fisher said exceeds by $103 million that of any other applicant.
Fisher said this finding is "consistent" with that of the City of Philadelphia and its consultant, AKRF. If this analysis is too conservative, a more liberal analysis methodology, like the one used by the Market8 team, won't change the fact that The Provence would make more.
Steve Mullin, president of Econsult, former city director of commerce and resident of Spring Garden, said The Provence "Would be one of the most important economic revitalization projects I've seen in 25 years." He said the site is surrounded by empty garages and vacant lots, and is ripe for redevelopment. The Provence would "generate a new sense of place in a key location."
Mullin said this project would greatly exceed the other proposals in non-gaming revenue, and also in the ability to stimulate non-gaming related businesses in the neighborhood.
Blatstein told the board the financing is secure, with plenty of breathing room. He said he has committments from Credit Suisse for up yo $475 million, Summit for $85 million, Providence for $75 million, Highbridge for $600 million and Isle of Capri for $25 million, plus his own personal resources. Blatstein said he provided a detailed accounting of those to the board.
The PGCB didn't like the phasing aspect of the morning's applicant, Hollywood. Blatstein said he'd build everything at once, and it would take 18 months from the start of construction to open.
Commissioner Annemarie Kaiser asked Blatstein to provide more detail about his prospective customers. He told her they'd be people who don't go to the nearby casinos now. "The project's nickname is The Clubhouse. It's a place people like me will like to hangout," Blatstein said. No one he knows goes to casinos around here now, he said, because "the amenities just aren't there."
The idea, he said, is the more there is for people to do, the more money they will spend. Hence, the comedy club, jazz club, 66,000 square feet of retail, concert hall and other amenities.
Like Hollywood, The Provence doesn't see internet gaming as the competition, he said.
Commissioner John McNally III asked Isle of Capri CEO Virginia McDowell to address why the projections for Nemacolin, which Isle of Capri operates, haven't met earlier estimates, and how that might reflect on projections for this project.
McDowell asked the commission to bear in mind that Nemacolin was less than a year old and "in its infancy," and has a different type of license with different challenges than this one. Still she said, it is getting "high approval ratings" from customers. "All the pieces are in place for this to be a successful property," she said. "We're cautiously optimistic," she said, even though it is "not ramping up as quickly as we hoped."
Several commissioners questioned the team's projections on parking and their confidence that many customers would take public transit or walk. Blatstein recently agreed to build an additional parking garage as part of a community agreement.
"I don't share your optimisim that you have enough parking," Commissioner Greg Fajt said. Fajt said that the Penn National team, which would build Hollywood, testified earlier that day that the standard in the industry is one parking place for each gaming position, and about one per every two employees. "When I do the math, you have 3,100 gaming spots and 3,000 employees, you would need about 4,500 parking spots. You are projecting about 2,400."
Blatstein said he owns a piece of property near one of the garages, and if it is needed, he could build an additional garge with 1,000 spaces. He also testified that the casino would provide shuttles and encourage other forms of travel to the develoment. The team said that 30 percent of visitors would come via public transit. Blatstein also noted the presence of thousands more parking spots within a short walk which will not be needed by city workers during the Provence's peak hours in the evening.
Commissioner Greg Fajt said during the Hollywood hearing he was concerned about market saturation and the next licensee needed to offer more than just gaming. He didn't ask The Provence team about non-gaming provisions. But he again wanted to know what percentage of revenue would come from new customers and what percentage from cannibalizing existing casino's customers. Fisher said it would be about 50-50, with 23 percent of the canibalized half coming from SugarHouse.
McNally asked about something he read – that if Blatstein gets the license, it would sell Robert W. Bogel, president of Cheney University, a .5 percent stake for $10. Blatstein confirmed. "He's a wonderful guy and a good friend. I thought he would be the greatest asset in dealing with our goals for diversity."
Later, the commission asked staff if there were any concerns about that sale. Chief Enforcement Counsel Cyrus Pitre said there wasn't, but he'd say Bogel got a very good deal.
PennDOT's Francis Hanney, who oversaw the review of The Provence's traffic plan, said Tower Investments had agreed to make improvements in signage and signalization, and to widen some streets and provide turning lanes, should it get the license. He said that so long as Tower followed through, PennDOT feels the traffic can be handled.
Fajt asked Hanney if he was comfortable with Tower's estimate that 30 percent of visitors would come via mass transit. Hanney said Tower's team used an unusual methodology to reach that conclusion, but once it was explained, PennDOT understood the logic. He also said that even if that number isn't correct, the traffic improvements Tower had committed to could also handle the amount of vehicular traffic that would be predicted using more typical methods.
After the presentation and board and staff QnA, an intervener comprised of three entities took the floor. They are Rodeph Shalom Synagogue; the Mathematics, Civics and Sciences Charter School and the Friends Select School. Board Chairman William Ryan said the board granted the petition only in regards to issues of traffic and parking, and testimony about anything else won't be allowed.
The intervening party, through their attorney Larry Spector and a series of witnesses, argued that traffic and parking are already challenging and would become worse with the addition of the casino. They showed videos filmed from within a car following some of the proposed access routes to demonstrate to the board areas where the flow of traffic is currently congested. And they said that several of the lots Blatstein's team said would be available for Provence parking are actually going to be used by their owners for other things. One example: A lot owned by the Church of Jesus Christ of Latter Day Saints is going to be developed with church-related amenities, he said. He showed a slide of a letter provided to the board from the church.
The party's traffic engineer, Frank Tovani, who owns his own firm, suggested board members get out their smart phones and check the traffic at 6 pm in the area to get an idea of current conditions. Unless the capacity of the interstates are expanded, he said, the surface road improvements Tower promised the state, including widening lanes, wouldn't be sufficient.
An attorney for Tower objected to much of the testimony. Ryan said he understood, but was allowing the testimony. He said what was presented about traffic conditions was already known by the board and the applicant and "is not hurting you."
Read what Blatstein told PlanPhilly about the project here. See The Provence website here. See the video for this all and the suitability hearings at the PGCB website, here.
WHYY is your source for fact-based, in-depth journalism and information. As a nonprofit organization, we rely on financial support from readers like you. Please give today.