Pop-up programming in Chinatown enlivens a plaza for community
A plaza over an expressway isn't the most intuitive or desirable place to spend time, and it can be easy to miss. This proved true for Ann Lee, who had never walked past the plaza at 10th and Vine streets, even though she has long attended church in Chinatown just a block away. However, on Thursday evenings this summer, colorful adult- and kid-sized Adirondack chairs, signage in English and Chinese, and green AstroTurf create an oasis above the highway, transforming the plaza and putting it on the map in Lee's mind.
"This is an opportunity to get more involved in community affairs," she said. "I really like the diversity and engagement. I think people need a space like this."
That sentiment is basically what inspired Sarah Yeung. She organizes the 10th Street Thursdays pop-up, which is funded by the John S. and James L. Knight Foundation's Emerging Cities Champions grant. Yeung, herself a second-generation immigrant, didn't think her grandmother would feel welcome or comfortable in the plaza. Leveraging the wide appeal of games, she wanted to make the plaza feel more welcoming for the community, one that is particularly vulnerable, as many in it may have limited English proficiency and are low-income. Offering games such as Chinese checkers, Chinese chess, and mahjong have helped draw a crowd of older folks.
"Mahjong is a tradition very much entrenched in Chinese culture," Yeung said. "I think that draws an inter-generational variety of users and appeals to Chinese immigrant community and across a wide range of racial backgrounds interested in learning about that culture."
People of every age lounge and play games like oversized Jenga, Connect Four, Twister, and corn hole. While the drone of the highway is loud, it's relegated to the background: There's a speaker blasting music and a drum kit waiting to be played. There are lively conversations and games played in silence. Yeung said the atmosphere reminds her of a "big community living room."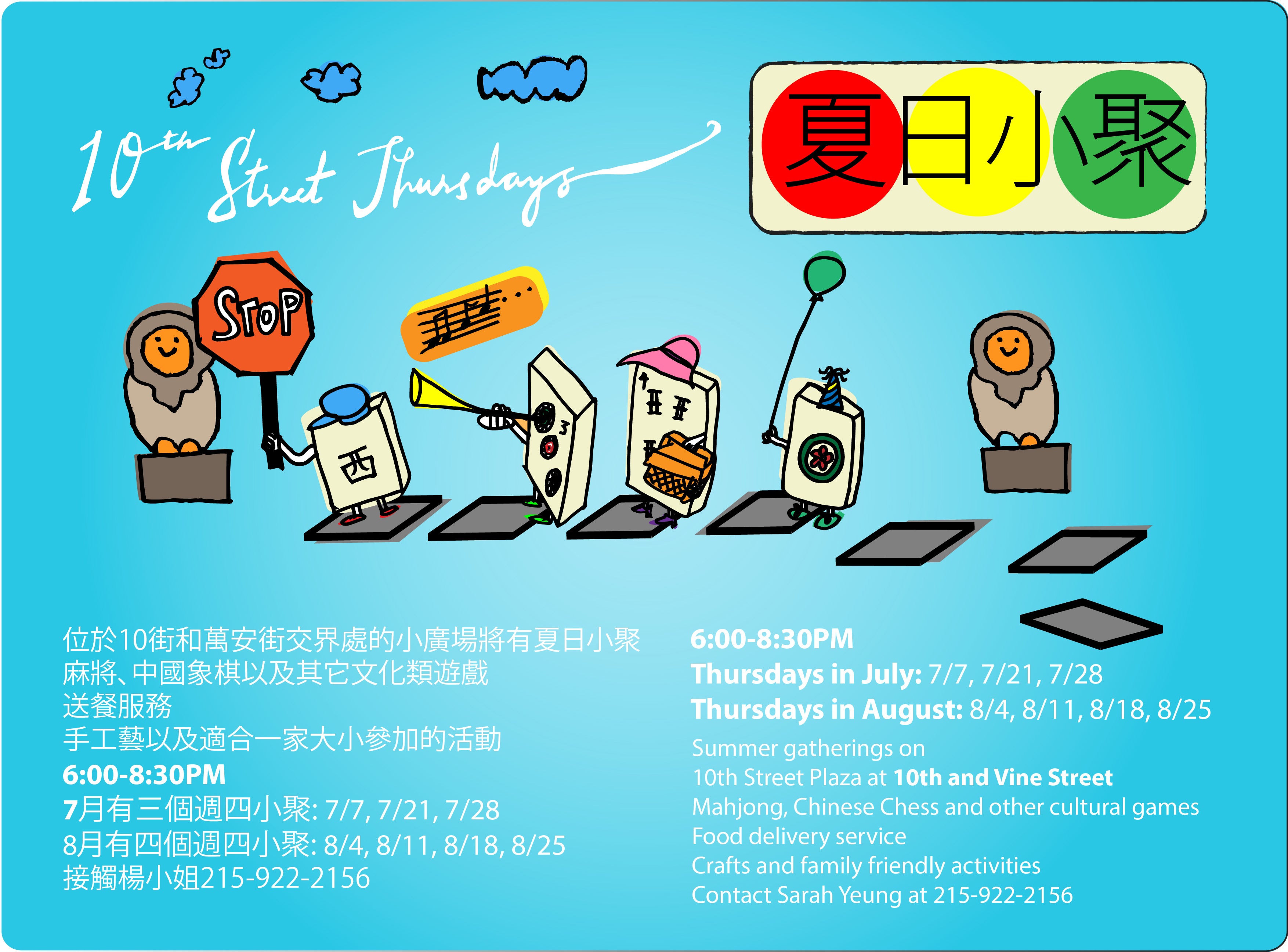 Cheng Zha lives in the neighborhood and has made it to every 10th Street Thursday so far. He's a fan of the games, but has also been able to see all the different programming that has been rotating each week: a guitar-playing circle, a dance performance by the Chinese American Women's Sisterhood Society, and face-painting for the children.
Margaret Chin brings her two granddaughters, ages 5 and 2, to the plaza for the 10th Street Thursdays. She gestures towards the girls blowing bubbles: "This is their favorite. It's a lot better being out here than in the apartment," she said. "This is one of the nice things we have in our community. We can actually sit out here, read a book, play mahjong, chess, whatever. It's in the middle of a highway, but still. It's not like we have a park in the community."
It's true that—besides a small parklet on 10th and Race installed in 2015—this plaza is the only public space in Chinatown. In 2010, the Philadelphia Chinatown Development Corporation (at which Yeung is the Director of Planning) renovated the plaza. Its location between the Chinatown and Callowhill neighborhoods showed potential to be a thriving public space, but the plaza hasn't been attracting much concentrated use.
"Public space itself isn't necessarily the solution to a lot of our urban issues," Yeung said. "We want public spaces to be democratic spaces, we project values onto those spaces, we assume community-building will naturally happen and they will attract diverse users, but that's not a given."
There are several deterrents to actively hanging out at the plaza, including minimal shade and few areas to sit—many of which are often occupied by people sleeping on the benches. There are lights strung up on the pergolas, but they don't get turned on at night. By providing amenities like additional seating, tents for shade, and floodlights to illuminate the plaza when the sun goes down, Yeung allows people to relax at the plaza more comfortably and for longer durations of time—that's significant because Chinatown's identity is more than just the businesses and individual residents in it. There needs to be public space where residents come together as a community and for passersby to have the chance to interact. The 10th Street Thursdays, according to Gerry Wang, "feels very Asian" and she appreciates the mix of neighbors and those who just pass through.
The 10th Street Thursdays pop-up is a form of creative placemaking that animates the plaza and aims to create meaningful opportunities for neighbors take ownership of and benefit from the space. The Thursday evening events will continue through August. But Yeung hopes that the pop-ups will set an example for what is possible for this space and others in Philadelphia with a limited budget, a fleet of invested volunteers from the community, and culturally-appropriate programming. "This is important as the city looks to public space and recreational opportunities as ways to equalize our neighborhoods," she said.
(Samantha Maldonado)

(sam)

(Samantha Maldonado)

(Sarah Yeung, Philadelphia Chinatown Development Corporation)

(Sarah Yeung, Philadelphia Chinatown Development Corporation)

(Sarah Yeung, Philadelphia Chinatown Development Corporation)

(Sarah Yeung, Philadelphia Chinatown Development Corporation)

(Sarah Yeung, Philadelphia Chinatown Development Corporation)

(Sarah Yeung, Philadelphia Chinatown Development Corporation)
WHYY is your source for fact-based, in-depth journalism and information. As a nonprofit organization, we rely on financial support from readers like you. Please give today.