Police pursuit leads to shooting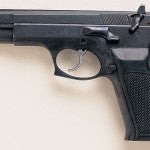 Officers of the 2nd District were reportedly forced to open fire on a robbery suspect in Oxford Circle early this morning.
After robbing a 7-Eleven, the suspect fled in a truck, which police followed. He then crashed the vehicle on the 6000-block of Oxford Avenue and continued fleeing on foot. Investigators are still examining what led an officer to open fire on the 1000-block of Benner Street.
The suspect was taken to Einstein Medical Center with unknown injuries, and his weapon was recovered from this truck.