Platitudes fly at Better Mobility Mayoral Forum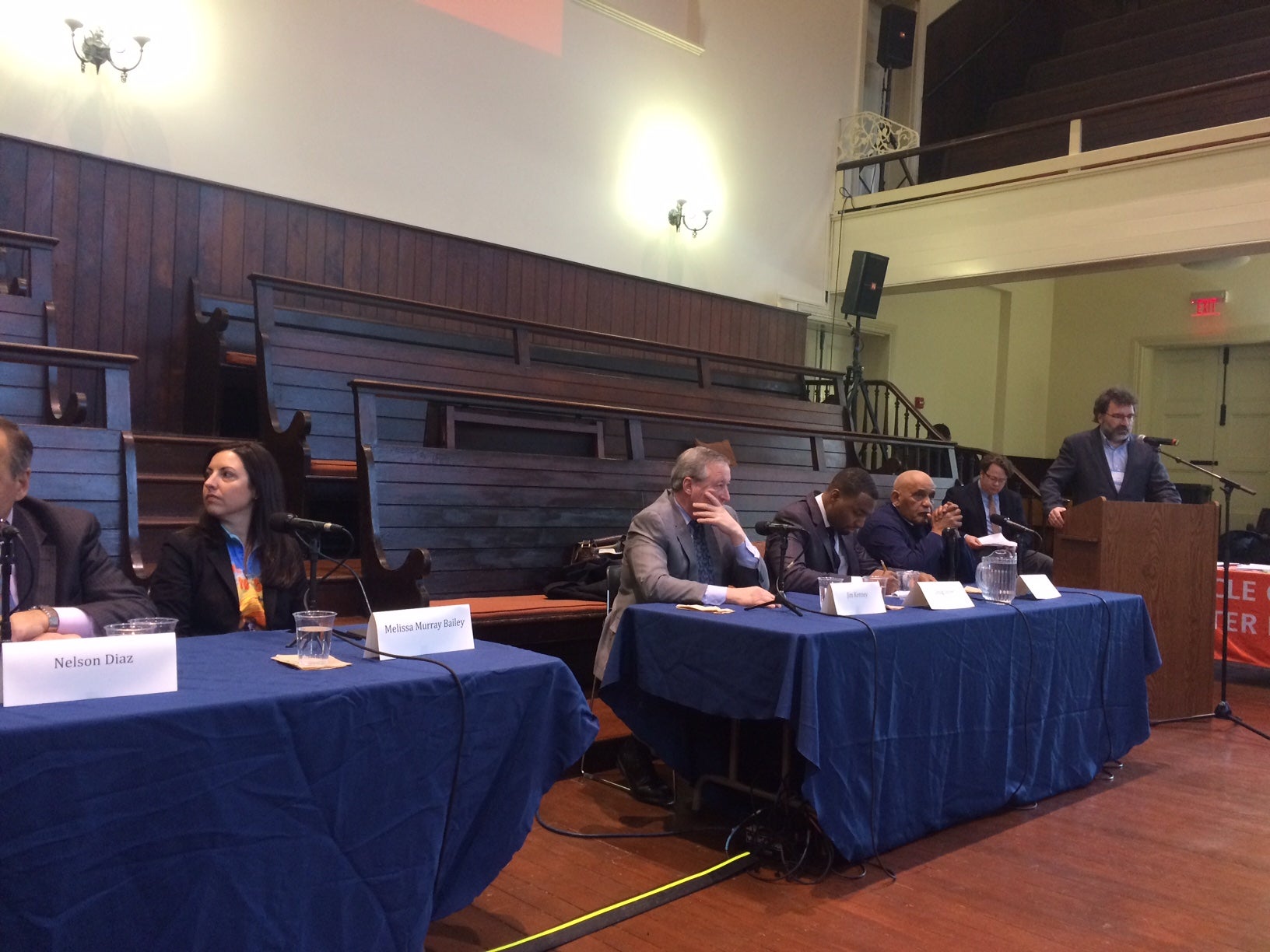 Like vegetables and tuna, candidate statements are better when they aren't canned. But at last night's Better Mobility Mayoral Forum, hosted by the Bicycle Coalition of Greater Philadelphia, almost all the responses were downright Del Monte. The forum's participants – Tony William's decision to skip and send a representative in his stead proscribes describing the field present as "candidates" – obviously read through the Better Mobility Platform and prepared answers on everything from bike lanes to Vision Zero well in advance.
As Doug Oliver said at one point, "You gave us the answers."
But despite the cheat sheet, some of the canned answers still sounded tin-eared, and none of the participants scored a perfect score on the wonky mobility agenda test
When the forum's moderator, Philadelphia Magazine editor Patrick Kerkstra, deviated ever so slightly from the script and asked a question about bus traffic prioritization, the only response came from the crickets. The Better Mobility Philadelphia platform contains a lot but it doesn't talk about Bus Rapid Transit (BRT), dedicated bus lanes or signal prioritization. Only after an awkward pause, and some coaxing from the moderator, did Jim Kenney venture to answer the question, providing a fairly on-point answer. Kenney said that, as mayor, he'd encourage SEPTA to work with the police and fire departments to install the traffic light equipment for signal prioritization.
The inability of the forum participants to answer some of these questions clearly frustrated the audience, as evidenced by the profanity lacing some of the tweets sent out at the #bettermobility2015 hashtag.
But there was one question that everyone aced: Do you support Vision Zero? Every candidate expressed at least some degree of support for the policy suite aimed at reducing pedestrian deaths.
A question regarding City Council's decision in 2012 to effectively take away the the Mayor's ability to create new bike lanes unilaterally revealed some deeper divisions among the candidates and differing visions on how a Mayor should, and even can, govern.
Kenney blamed poor relations between Mayor Nutter and City Council for Council's move. "I understand the frustration of the council people, not just on this issue but almost every issue they faced with the [Nutter] administration" said Kenney. "When you see council trying to take more and more power away form the Mayor's office, it's because there is of a lack of communication and cooperation between the Mayor's Office and Council."
Lynne Abraham pounced on Kenney's answer. Even though almost all of the participants spoke in between Kenney's answer and Abraham's, there was no mistaking who she was speaking to.
"It's a pretty lame excuse to say that just because the Mayor may not communicate to Council's liking, you take away the power to implement bike lanes," said Abraham.
"I think it really just enhances the notion that the city is divided into ten boroughs – or fiefdoms – and you have to please the local councilperson to get bike lanes or curb cut or anything else done.
"This is the notion of Council trying to usurp too much power unto itself."
When it came time to respond to Kerkstra's next question (about protected bike lanes on JFK Boulevard), Kenney spent the vast majority of the thirty seconds allotted responding to Abraham's attack rather than Kerkstra's question, saying that "the Mayor is not an enlightened monarch; we live in a democracy."
Speaking of protected bike lanes, that was a difficult question for two of the candidates. Both Abraham's and Oliver's answers suggested that neither really understood what a protected bike lane is.
The Mobility Forum was one of the first campaign events where Republican candidate Melissa Murray Bailey was invited to participate alongside her Democratic counterparts. Bailey started and ended the forum by addressing the GOP elephant in the room: yes, she is a Republican candidate, no she isn't crazy. In between, Bailey called herself a businesswoman and a mother, but not a politician, yet sounded more polished than some of the professional politicians beside her.
On the question of bike lanes, Bailey lamented the levels of bureaucracy in the city and said that city council shouldn't interfere in areas where the administration might have technical expertise. "We need to trust the experts," she said.
Bailey wasn't the evening's only surprisingly polished-sounding participant. Williams couldn't make the forum due to a scheduling conflict, but he sent his Policy Director, Omar Woodard, to speak for him. And speak he did. The man put on a master class in excellent sounding non-answers to the debate's questions, demonstrating an obvious understanding of the issues being discussed without actually taking a concrete stance on nearly any issue. Baryshnikov could have learned a thing or two about pirouetting by watching Woodard artfully dance around Kerkstra's questions.
One notable exception was when Kerkstra asked the field whether they would make increasing the street repaving budget a priority. While the candidates all gave varying answers of "not really, and here's my stump speech" to platitudes about holding city paving contractors responsible, Woodward noted Williams proposal to increase vehicle registration fees by $5 to create a new, continual revenue stream for the Streets Department. Williams has pointed to the city's plentiful potholes as evidence for the need for new funding.
Kenney, as seems to be his wont, provided a wonky answer, suggesting that Philly could kill two birds with one stone by recycling tires to make rubberized asphalt concrete.
Kenney received big applause for his throaty diatribe against parking on the City Hall apron. Kenney introduced legislation to ban the practice, which John Street had prohibited during his administration but Mayor Nutter has allowed. Oliver quipped that he would ban parking on the apron, too, "except for the Pope," which drew laughs from the crowd. The rest of the participants all pledged to end the practice.
But all were one-upped by Milton Street, who said he'd take away city cars for politicians. "Why do they need cars? That don't make sense!" said Street.
"Ride a bike."
(Jim Saksa/PlanPhilly)

(Jim Saksa/PlanPhilly)

(Jim Saksa/PlanPhilly)
WHYY is your source for fact-based, in-depth journalism and information. As a nonprofit organization, we rely on financial support from readers like you. Please give today.