Planning Commission approves changes to Marina View plan of development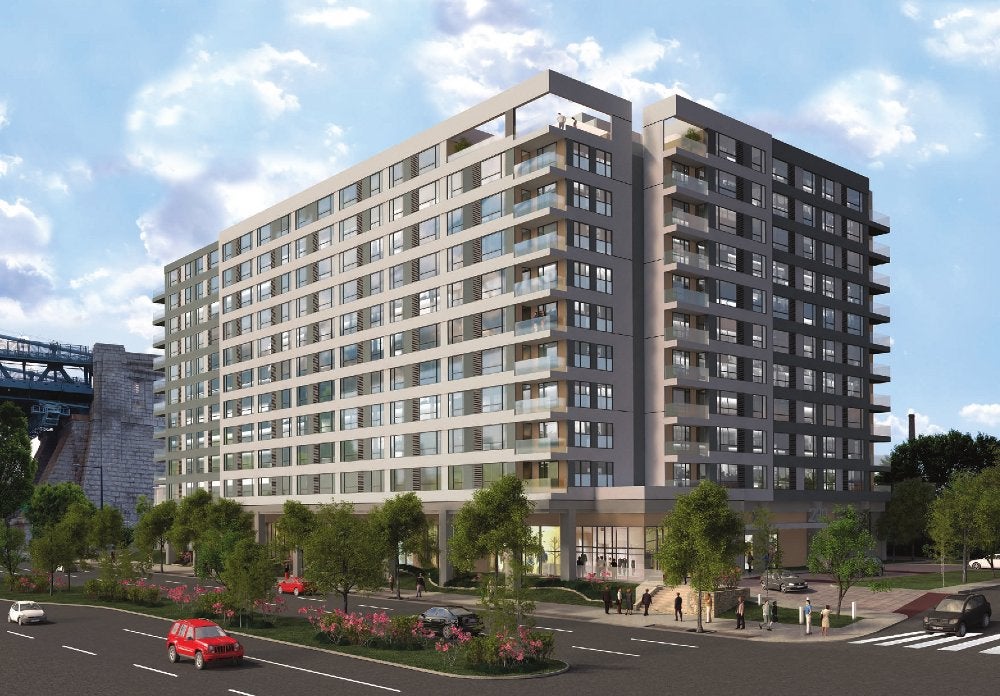 Developer Ensemble Real Estate has amended its original plan for Marina View Towers – a residential project at 230 N. Columbus Avenue, near the Benjamin Franklin Bridge – by adding more units, increasing the ground-floor retail space and slightly reducing the amount of parking.
The Philadelphia City Planning Commission approved the original plan of development in June, and Tuesday gave the nod to the amended version, following staff's recommendation.
There have also been some small massing and color changes to the facade of the building, but the footprint remains the same, as does the height of 130 feet at the tallest point.
Additional market research showed greater demand for studio units, said architect Eric M. Rahe of BLT Architects. The total number of units has jumped from from 180 to 206.
The owner also has upped the size of the residents' shared space, adding a lounge area.
Accommodating these changes required using some of the space that had original been slated for parking, so the number of spaces has decreased slightly, from 180 to 178.
The residents lounge now occupies the northe east corner of the building, and so the ground floor retail space was relocated to the southeast end. It was also expanded from 1,200 to 1,700 square feet.
These changes, plus some glass-fronted display windows, means the entire Columbus Boulevard side of the building is now visually active and has transparent glass, Rahe said.
Joe Schiavo, a board member of both Old City Civic Association and the Central Delaware Advocacy Group, praised the changes, saying that Ensemble "took to heart" concerns from residents and the planning commission.
Reach the reporter at kgates@planphilly.com