Plan to install replicas of early Water Works sculptures approved by Art Commission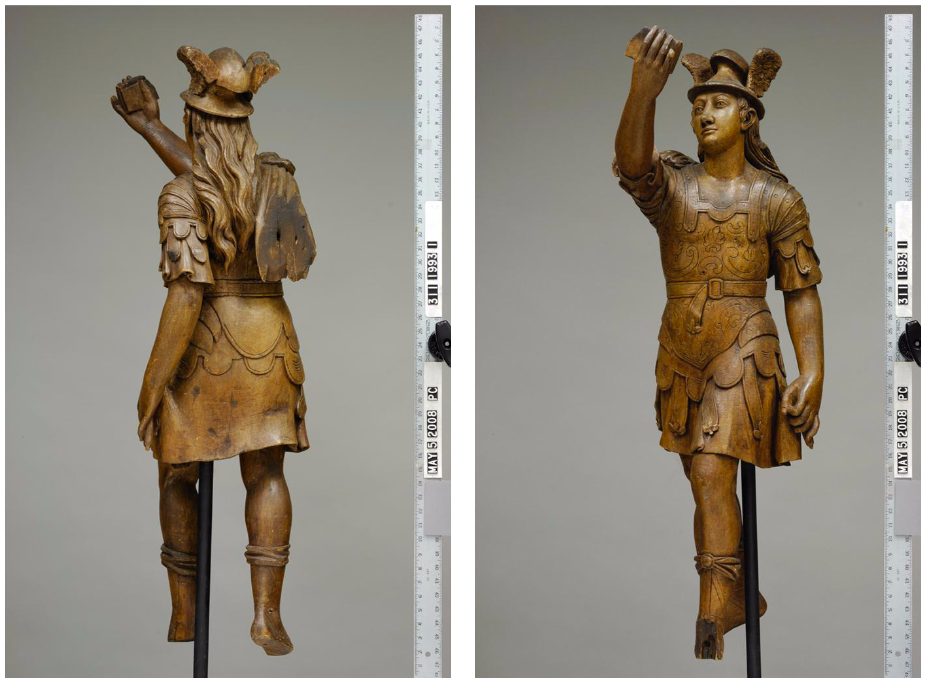 A visitor to the Philadelphia Water Works today observes a different landscape than visitors did in the early 19th century. Although the gritty working waterfront is gone forever, a new preservation effort will restore one aspect of a bygone era.
A plan to replicate and install two sculptures by early American artist William Rush at the Fairmount Water Works has secured funding and was approved by the Philadelphia Art Commission last week.
The sculptures, titled "Mercury" and "Water Nymph and Bittern", were originally carved out of cedar and commissioned to adorn the then-newly opened Water Works. After the pieces were removed from the Water Works, they were retained by The Philadelphia Museum of Art. The Museum is now working with Philadelphia Parks and Recreation to reproduce them through a casting process.
The replica of "Mercury" will perch atop the Mercury Pavilion roof and "Water Nymph and Bittern" will return to the center of the Marble Fountain, as the early designers of the Water Works landscape intended. "Mercury" will be cast in a resin, to withstand the elements and rest lightly on the gazebo structure. "Water Nymph and Bittern" will be reproduced in bronze, to accommodate the gallons of chlorinated water that will be pumped over it as part of the fountain.
Dodge Thompson, a curator at the National Gallery of Art in Washington D.C. and William Rush scholar, propelled the project forward through his interest in returning the missing sculptures to their original locations.
Thompson worked closely with Theresa Stuhlman, preservation & development administrator at Parks & Recreation. Stuhlman said that Thompson and his brother, architect Mark Thompson, were instrumental in securing a grant for $232,000 from the Dietrich Foundation that enabled the replication and reinstallation.
Stuhlman told PlanPhilly in an email that Dodge Thompson's scholarship during his work at the Philadelphia Museum of Art in the 1970's helped re-engage the public with Rush's artwork.
"[His] research resulted in an exhibition on Rush at the Pennsylvania Academy [of the Fine Arts] in 1982," Stuhlman wrote, "and he contributed to the catalogue a discussion and historical analysis of all Rush's public commissions in Philadelphia."
Restoring the original art of the Fairmount Water Works is a small part of the ongoing restoration effort, which has totaled 30 years and $28 million of effort so far.
The works of William Rush have longtime historic associations with Philadelphia's green spaces. Mark Twain and Charles Dickens were among the Philadelphia visitors who admired Rush's artworks after they was originally installed. If all goes according to plan, Philadelphians will again have an opportunity to view these works by the end of 2017.
The Allegory of the Schuylkill River or Water Nymph and Bittern, 1809 (original, painted Spanish cedar); 1872 (posthumous full-length bronze cast).  Collection of the Fairmount Park Commission / Philadelphia Parks & Recreation, located at the Philadelphia Museum of Art. (Philadelphia Museum of Art)

(Library of Congress)

(Philadelphia Museum of Art)

Location plan for Rush sculptures