Pittsburgh transit authority is trying to make it easier to ride the bus
Listen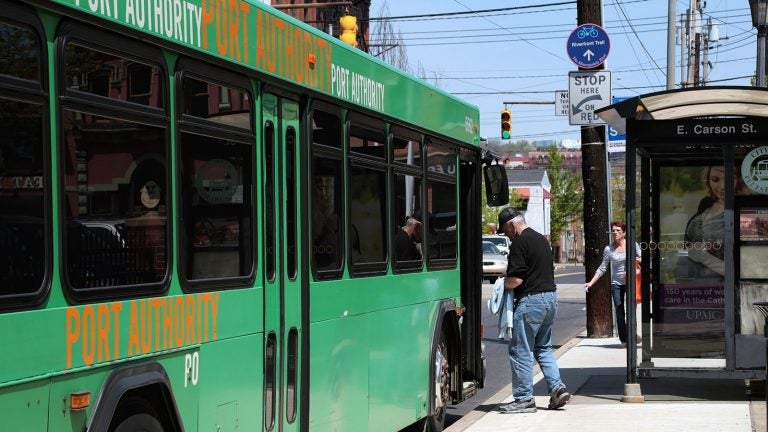 The regional transit authority is overhauling its transit mapping system.
Have you ever tried to take a city bus without planning ahead? We're talking no Google maps, no bus tracker apps, no folded paper timetables. Just you, walking around a neighborhood, trying to catch the bus somewhere.
Probably not. Because in most places, that's not easy to do.
In many Pennsylvania cities, the bus stops are pretty basic: just a route number and maybe a destination. No map or timetable.
But in Pittsburgh, that's about to change. The regional transit authority has hired a company called CHK America to overhaul its transit mapping system. CHK has designed transit maps for a lot of cities, including London, Nashville, Santa Barbara, and Washington, D.C.
In Pittsburgh, a big part of the job will be simply putting maps at the system's approximately 7,000 bus stops.
Each bus stop will have a route map, says Heather Pharo, a spokesperson for the Port Authority of Allegheny County.
Preliminary draft of Port Authority at-stop panel
Many of the stops will also have maps of the neighborhood and the entire transit system.
Preliminary draft of Pittsburgh neighborhood map
"The idea is to help people confidently navigate the system," Pharo said. "People who maybe don't have access to a smart phone or any of those other tools that can help people get on the spot information."
Thirty-six percent of adults in the U.S. don't have smart phones, according to Pew Research Center data from October 2014. Thirteen percent don't use the Internet.
Pharo says the Port Authority is also hoping to make the bus more appealing to tourists and to residents who want to get somewhere outside their neighborhood.
Map-driven serendipity
But having these maps in a public space doesn't just help people get from Point A to Point B; it sparks new ideas, says Jim Saksa, a reporter at the WHYY project Plan Philly. Saksa recently wrote about Pittsburgh's new maps. He got the idea because he used to live in London, which also works with CHK America.
One day after class he was walking around with a handful of friends, trying to figure out where to go for dinner, and they spotted one of the maps.
London bus map
"We noticed by looking at the map that we could go on a bus directly to Brick Lane, which is pretty famous for having a lot of curry houses," Saksa said. "I don't think we would have realized that was an option without the map."
A model for other cities?
This all sounds great. But other cities might not want to duplicate what Pittsburgh and London are doing.
SEPTA, the transit authority for the Philadelphia region, is focusing its efforts on getting accurate information to riders in the "most cost-effective manner," said spokesperson Manny Smith. That means digitally, he said.
With that in mind, SEPTA posts its bus maps online and its customer service phone number on bus stop signs. Riders can also get bus arrival times via text message or on the web.
For people who don't have or use technology, the authority gives out paper maps at terminals and onboard. Customers can even come to central locations to get help with their trip in person.
But no, SEPTA doesn't have maps at most of its approximately 14,000 bus stops. And the authority is not about to start adding them, says Charles Webb, chief officer for service planning.
"Maintaining an individual bus map at each stop would be very, very difficult," Webb said. "We change routes and schedules very frequently."
Besides, Webb thinks that if you want to take the bus, you should do some research. "That's something I think would be a natural thing to assume you would do," he said. "I know I do it when I visit another city. I just don't walk up to a bus stop and assume a bus is going to be there, whether there's a map there or not."
He says it's no different than if you were taking a trip in your car.
That's the kind of attitude that'll alienate potential riders, says Rick Wood, the CEO of CHK America, the company that's designing the bus maps in Pittsburgh.
"You're telling them 'don't bother trying to ride our system unless you plan it ahead of time,'" Wood said. "That's not good. What we want to do is allow people to ride your system on a whim, and have them have information they need, anywhere they are."
Wood also says SEPTA wouldn't necessarily have to update its bus stop panels that often. Schedules changes, which are much more frequent than route alterations, wouldn't require a new map.
The maps
Pittsburgh's transit overhaul is about more than putting bus maps at its stops. The maps themselves are unique, because they're less detailed geographically than many bus maps. As shown below, they look more like subway maps.
Preliminary draft of Port Authority system map
CHK's Wood says that's because too much geography confuses people.
Compare that to SEPTA's downtown transit map. There's a lot going on.
SEPTA downtown transit map
SEPTA's Webb says including geography makes it easier for people to orient themselves.
There's a fine line between too abstract and too geographical, says Virginia Gehshan, principal at Cloud Gehshan Associates, an environmental graphic design firm in Philadelphia. "You need to make a map simple enough so that people can understand it, but you also need to have enough detail in there that they can see the context," Gehshan said.
In other words, don't strip away all the geographical features people need to get oriented.
Gehshan says SEPTA's downtown transit map is way too detailed. "They're showing even the tiniest little streets in Center City," she said. "As a walking map, it probably is pretty successful. But as a transit map…you lose the ability to understand the larger picture."
The map designers should also have included start and end points for the bus routes, she said.
Gehshan prefers the route maps SEPTA posts online and provides at terminals.
SEPTA route map
Pittsburgh is paying $900,000 for the first phase of its mapping project, starting this year. That includes map designs, and roll-outs at a few bus stops and light rail stations. Within the next three years, the city is planning to post maps at every bus stop. It's also considering digital signs and kiosks at some stops.
Do you think you should be able to ride the bus without planning ahead? What do you think of the designs for Pittsburgh's new maps? Let us know in the comments section below, on Twitter @Pacrossroads, or on Facebook.
WHYY is your source for fact-based, in-depth journalism and information. As a nonprofit organization, we rely on financial support from readers like you. Please give today.