Piers 64-70 to become waterfront park, tough love for Germantown United CDC, Rittenhouse Hotel sold, Eagles go greener, Assumption court date postponed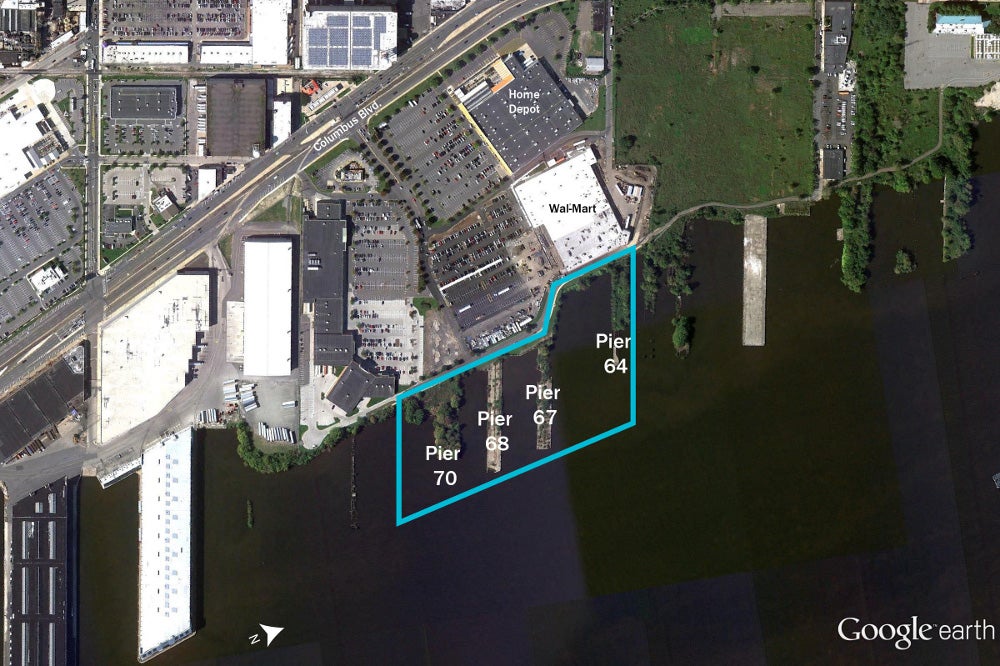 The Delaware River Waterfront Corporation acquired acres of private land around Piers 64-70 for parkland, wetlands restoration, and waterfront trail extension. PlanPhilly's Kellie Patrick Gates reports that the acquisition was made possible through a $1.25 million state grant and matching charitable donation by the property's owner, Delaware Associates. The Master Plan for the Central Delaware, which should (we hope) be approved by the Planning Commission on Tuesday, envisioned this property behind the big-box stores as parkland tied to the waterfront trail.
Germantown United CDC hosted a conversation with community development experts to help inform the new CDC's work reinvigorating Germantown's commercial corridors and engaging community members in the effort. It was an evening of tough love and straight talk, reports Amy Z. Quinn for PlanPhilly/NewsWorks.
Hersha Hospitality closed a deal to buy the Rittenhouse Hotel for $42 million, reports the Inquirer. "Philadelphia is poised to become one of the country's top five travel destinations over the next four years," said Neil Shah who controls the Hersha company with his brother Jay.
The Eagles are working with NRG to create a huge solar array at the Linc, reports GreenSpace. NRG, a solar company out of Princeton, will design, install, and manage a solar array with more than 11,000 solar panels along with 14 helix-shaped small wind turbines. The renewables are anticipated to generate six times the power used at all Eagles home games over the course of a year.
Oral arguments in the Church of the Assumption demolition case were postponed until April 26. PlanPhilly's Anthony Campisi reports that the Callowhill Neighborhood Association asked for more time to review L&I review board documents.
The Buzz is Eyes on the Street's morning news digest. Have a tip? Send it along.