Philly Zoo to welcome baby gorilla this summer
Remember that song "Circle of Life?" It's like the Philadelphia Zoo's new soundtrack.
Barely a week after America's oldest zoo announced the death of a beloved lion, Zenda, they revealed today that gorilla Kira is expecting her first baby.
Kira, a 17-year-old western lowland gorilla, is due to give birth early this summer. Zookeepers confirmed her pregnancy through an over-the-counter home pregnancy test, the same kind humans use. Although the baby will be Kira's first, it's the third offspring for Motuba, the 32-year-old gorilla who fathered the baby. His daughter Amani was born at the zoo last August.
Primary gorilla keeper Kristen Farley-Rambo said Kira "loves babies. She's shown a lot of interest in baby Amani. And she was a great older sister to her younger siblings. We think she's well-prepared to be a first-time mother."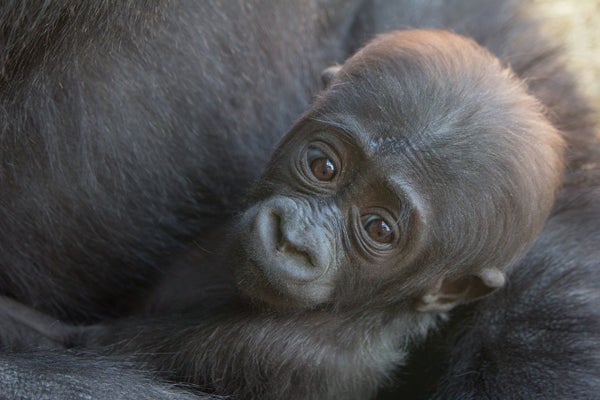 Honi's baby Amani was born at the zoo in August (Photo courtesy of Philadelphia Zoo)
In-house keepers and veterinarians will monitor Kira's health throughout her pregnancy, but the zoo also will call in some outside experts: Specialists from the Children's Hospital of Philadelphia, Thomas Jefferson University, Penn Medicine and the University of Pennsylvania Veterinary School will consult with zoo staff to prepare for a successful birth, said Dr. Keith Hinshaw, director of animal health.
Kira, Motuba and Amani are three of the zoo's six western lowland gorillas. The others are 22-year-old Honi (Amani's mother), 17-year-old Louis, and 14-year-old Kuchimba.
The zoo works with the Association of Zoos & Aquarium's Species Survival Plan Program to manage species' population, zoo spokeswoman Dana Lombardo said. The program aims to ensure the sustainability of a healthy, genetically diverse, and demographically varied zoo population, Lombardo said. Matches mostly are made based on genetics, although factors like social structure and personality also are considered for animals like great apes, she added.
The International Union for Conservation of Nature has listed western lowland gorillas as critically endangered in the wild due to habitat loss, illegal hunting and disease. Other long-term threats to gorilla survival include climate change and the expansion of palm oil plantations in forests in African countries.
WHYY is your source for fact-based, in-depth journalism and information. As a nonprofit organization, we rely on financial support from readers like you. Please give today.