Philly diocese turns Catholic high school management over to foundation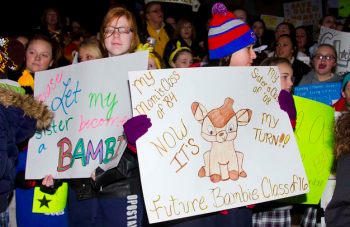 Closing schools, selling properties — the Philadelphia Archdiocese's economic woes have been well documented. Now, in a nationwide first, archdiocese leaders hope to rejuvenate the city's catholic education system by handing the keys over to a group with a better business pedigree.
When St. Hubert's student Danielle Talbot was told in January that her high school was closing, she couldn't help herself.
"I cried…a lot," she said.
When the archdiocese reversed its decision the next month, she was overjoyed, but she also knew the schools were still in financial trouble. So, like many of her fellow students, she hoped to boost enrollment by pitching the benefits of Catholic education to others.
"This is possibly the greatest school on the planet, and there's so many reasons why we love it – from the students to the teachers to all the activities," the "Bambie Ambassador" would say to potential recruits.
Yesterday, students like Danielle found out that–from now on–they'll be getting some big help in making this pitch.
Read the rest of this story from our partners at NewsWorks.