Perzel, Boyle give statements on Perzel's guilty pleas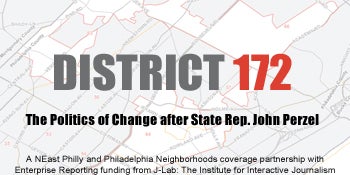 This is part of ongoing coverage in "District 172: The Politics of Change after State Rep. John Perzel," a collaborative effort with Philadelphia Neighborhoodsfunded by J-Lab.
John Perzel, former Pennsylvania House Speaker and 172nd Legislative District rep, pleaded guilty today as expected to eight of 82 counts of corruption, conspiracy, theft and conflict of interest.
Both Perzel and Rep. Kevin Boyle, who defeated Perzel in last fall's election, have released statements about the plea:
"I have decided today that my fight has come to an end," Perzel said in court. "The truth is that as the legislative leader of my caucus, I oversaw the spending of millions of dollars in taxpayer funds, and I bear the responsibility for the improprieties that occurred in the spending of those dollars."
"Today is a sad day for Northeast Philadelphia. John Perzel, a leader who represented our community for over three decades entered a guilty plea to eight counts of public corruption," Boyle said of the plea. "Over the years, Perzel had become a respected Republican leader with a powerful reach both at home in Philadelphia and throughout Pennsylvania. In the process, Perzel became an inspiration to many. Unfortunately, the plight of Perzel mirrors the experience of many previously powerful Pennsylvania elected officials. This should serve as a stern reminder to elected officials that laws should not be broken in pursuit of power."
Three of Perzel's former staffers pleaded guilty earlier this month, and another — Perzel's nephew — also admitted guilty in court today.