PCPC OKs overlay height controls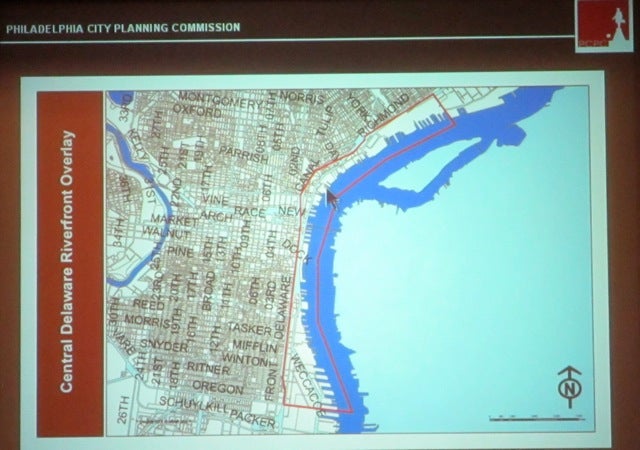 Feb. 16
By Thomas J. Walsh
For PlanPhilly
Tuesday's February meeting of the Philadelphia City Planning Commission was dominated by discussion of neighborhood plans throughout the city. They included multi-year efforts by two large neighborhood organizations, new redevelopment plans and the approval of new guidelines for all manner of neighborhood plans going forward.
But perhaps the largest issue was heard in the third hour of the meeting and dealt with a change to language of an existing, interim plan – an amendment to provisions of the Central Delaware Riverfront Overlay District. Introduced by First District Councilman Frank DiCicco on January 28, the bill would remove any height restrictions from the properties covered by overlay district.
Marty Gregorski of the Planning Commission staff said the large area of concern spanned from Allegheny Avenue south to Oregon Avenue, and all land from Interstate 95 to the Delaware River.
"This may be an issue where we have dueling overlays," Gregorski said, referring to an existing overlay covering the Old City Residential Area Special District (roughly Market Street, north to Spring Garden Street, along Delaware Avenue). The bill would remove the Old City district's 65-foot height limit for certain non-residential properties where it encroaches upon the newer Riverfront Overlay.
Steve Weixler, chairman of the Central Delaware Advocacy Group, a coalition of more than 20 riverfront stakeholders and civic organizations, weighed in during the public comment period, opposing any changes to height controls "inherent in underlying zoning of the Central Delaware Riverfront Overlay District."
Deferring to the riverfront's master plan, "there should be a graphic demonstration, an analysis of all parcels on which height restrictions are lifted, obviated or eliminated" to ensure transparency and fairness in public policy, Weixler said.
Weixler requested a meeting to discuss the language of the bill, which he said was confusing and called into question the effects it would have on the planned riverfront trail that is the "cornerstone" of the overlay district.
"As chair of CDAG," he said, "I wouldn't mind talking to Councilman DiCicco about an ordinance that would remedy some defect in the Old City overlay, but I do question the necessity for an ordinance that eliminates all height restrictions in the entire overlay area without an examination of which parcels are affected and why."
As it happened, DiCicco's former policy chief, Brian Abernathy, was seated to Weixler's immediate left. Abernathy was in his second day on the job as Deputy Managing Director, sitting as an alternate Planning Commissioner on behalf of his boss Camille Cates Barnett.
"I'm in an awkward position," said Abernathy, who said he had to recuse himself from the vote because he was so involved in the legislation. Nonetheless, he said DiCicco would more than likely be amenable to a meeting if necessary. But, "the intent of this legislation was not to disrupt the underlying zoning classification," Abernathy added. "We did re-draft an amendment to address that issue."
Underlying height restrictions (for R10 and C2 designations) "will not be impacted" by the bill, Abernathy said, nor will it change any obligations that waterfront developers will have to accommodating a riverfront trail. "This is merely an effort to clarify language."
"There was a miscommunication between the councilman's office and CDAG," and DiCicco apologized for it, Aberbathy said.
Gregorski reminded the Commissioners that the riverfront overlay district is meant as "stop-gap" zoning, in place only until the master plan is in place, and that any new projects must now go through a newly minted "plan of development" process with the Commission.
"While many of [the] larger parcels in this district use floor-area ratio (FAR) to determine their massing and have no height controls, there are numerous properties which are controlled by height only," the Commission staff wrote before the meeting. "This bill will also remove any height restrictions based on other overlay districts, of which there are few properties that fall under these other overlays."
The elimination of the 65-foot height restriction could clear a roadblock for the developers of the proposed Philadelphia World Trade Center, Planning Commission staffers said Friday.
After a half hour or so of discussion, the amendment was passed with no dissent. The bill is scheduled to be introduced at the Feb. 23 City Council Rules Committee hearing.
Neighborhood plans
Earlier in the day, senior planner Richard Redding presented a motion to adopt official community planning guidelines to improve coordination between city policies and community-based plans. In the past, neighborhood groups and community development corporations that created long-range plans that were not officially recognized by the City of Philadelphia were dealt with on a case-by-case basis. Going forward, groups must team with Planning Commission staffers on an advisory committee level in order to have their plans officially recognized by the city.
Redding said the adoption of such guidelines, based on recommendations from the American Planning Association, are also meant to ensure that efforts are made to include community residents in the planning process, and that "open, public meetings must be held at least twice during the process" with advertising via newspapers, the Internet, and fliers encouraged. Any plan's sponsor must meet with affected stakeholders – property owners, local businesses, etc.
Recognition by the Planning Commission would mean the agency supports the goals of the plan, but would not mean blanket agreement on every detail, "especially where funding resources are limited," the commission stated.
Community plans already existing or recently completed will be considered for acceptance upon request. In general, plans that are more than five years old will not be eligible for acceptance under the new guidelines.
After some discussion, the guidelines were adopted unanimously by the Commission.
Logan Square, Center City plans
That teed up the next agenda item: acceptance of the detailed plans drawn up over the past couple of years by the Logan Square Neighborhood Association and the Center City Residents Association.
The Planning Commission's Laura Spina said that formal recognition of the LSNA and CCRA plans mean that their "policies are in line with what the neighborhood wants and allows us to incorporate them into our own," and that members of the Planning Commission were very involved in the creation of the two plans.
The LSNA alone had an advisory committee of almost 200 people, Spina said.
"What it gave us was much a better self-identification of what the neighborhood is," said LSNA President Sam Little.
After individual votes for each plan, both were accepted by the Commission unanimously.

Nicetown redevelopment
Commission staffer Jennifer Barr presented a mixed-use redevelopment plan requested by the Redevelopment Authority for the Nicetown area near the Wayne Junction transit stop. The plan would "support ongoing plans and the new federal Neighborhood Stabilization Program II funds that may require urban renewal acquisitions in this area."
The idea is to "stabilize the existing rowhouse fabric and develop in-fill housing which retains the neighborhood character." The RDA will soon solicit developers for new apartments on a parcel of Germantown Avenue adjacent to Wayne Junction owned by the city. This is in line with the "Germantown and Nicetown Transit-Oriented Development Plan" (TOD), which may include historic tax credits for developers, all in relation to a new $28 million capital improvement plan being undertaken by SEPTA for the transit hub.
The new construction and adaptive reuse would require a zoning change from general industrial to mixed-use commercial.
As park of an effort to "enliven vacant areas with active parks" in Nicetown, a new Franklin's Paine Skatepark, modeled on that organization's successful Pops Skate Space in Kensington, is being proposed for a 2.5-acre parcel partially beneath I-95.
Barr said the redevelopment plan is "more about getting people on the trains there than getting them to get off" as a destination. That is, it's more about getting people to live there in Nicetown and around the Wayne Junction stop, where the last redevelopment plan was authored in 1965. The plan was unanimously approved by the Commissioners.
Temple expansion
Next up was an amendment to the "institutional development district master plan for Temple University," which really amounted to an expansion request for the existing Pearson and McGonigle Halls on the northwest corner of North Broad Street and Montgomery Avenue.
Built in 1969, the buildings are home to swimming pools, gymnasiums, locker rooms, labs, classrooms and offices. The Planning Commission's Marty Gregorski explained that Temple wants to build a new grand entrance with an atrium (with retail and café space) on the front facing Broad, and then construct an additional floor over Pearson Hall. It would be another 140,000 square feet for basketball courts and other sports facilities, with some classroom and office space. The new total square footage would be about 250,000.
New support beams would be needed, taking away part of the sidewalk in spots, and that would need approval by a forthcoming Streets Department ordinance.
Commissioners Nancy Rogo Trainer and Nilda Ruiz expressed concerns about the design of the building's relatively blank edifice along 15th Street and Montgomery Avenue, and urged a more welcoming and friendlier embrace of the neighborhood. But all of the Commissioners eventually voted to approve it at this stage of development.
Philadelphia 2035 update
Alan Urek, the Planning Commission's director of strategic planning and policy, updated the Commissioners on the "Philadelphia 2035" integrated planning and zoning process that was begun in January, on the heels of the publication of "Imagine Philadelphia: Laying the Foundation."

Urek said that a proposal has been submitted to the William Penn Foundation seeking funding for a "Citizens Planning Institute" as part of the long-range plan, which is being coordinated on a regional basis with the Delaware Valley Regional Planning Commission's "Connections" plan.
The staff-driven project will eventually yield 19 district plans, Urek said, a "much more strategic, perhaps shorter timeframe effort." Land use plans for each of the districts would be included, with each taking several years to complete at a rate or four or five districts per year.
It is the Commission's "hope and intention" to have a citywide 25-year plan published by this time next year.
Special meeting
There will be an extra meeting of the Planning Commission held Tuesday, March 2 at 1 p.m. to discuss the recommended capital budget for the years 2011 through 2016.
Contact the reporter at thomaswalsh1@gmail.com.