Parks & Recreation airs out open lands protection ordinance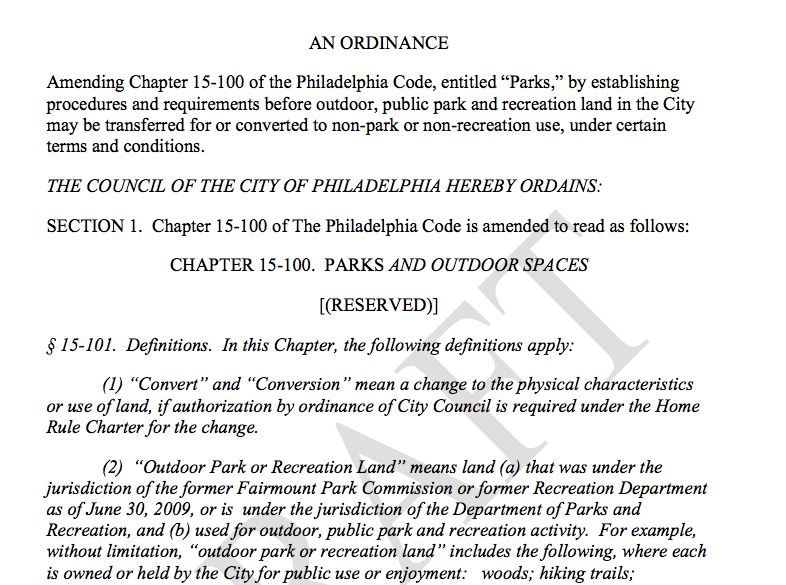 In a brisk public hearing last night at the Central Branch of the Free Library, 10 parks and recreation commissioners listened to brief comments from a handful of parks activists, concerned about a new proposed ordinance governing the disposition of parks and rec land.
While most of the commissioners remained silent, and those who spoke seemed noncommittal, seven audience members took to the microphone. Colin Dawson voiced concerns that the ordinance did not leave enough room for community input. Commissioner Debra Wolf Goldstein, chair of the Land Use committee, said that commissioners would look at a way to insert that provision into the passage dealing with alternative use analysis.
Robert Vance, president of the Friends of the Wissahickon, offered that the Commission should extend its stated timeline to review such alternative use analyses beyond 75 days, to ensure that nothing slips by. He also asked that environment impacts — such as stormwater, natural habitat, biodiversity, and noise and light intrusions — be considered.
Mary Tracy, executive director of SCRUB, asked that a definition for "de minimis" be provided. The word pops up in a section detailing exemptions to when a proposed conversion or transfer of open space must be reviewed by the Commission and City Council. The particular exemption refers to "modifications or corrections of roadways, curb lines, sidewalks, paths and similar adjustments that result only in a de minimus (sic) increase in impervious coverage on park or recreation land."
Tracy also requested that there be a requirement for approval by a "super-majority" of Council members, including those at-large, of any transfer or conversion. Wolf Goldstein assured her that such a provision is already part of Council's Rules. Finally, Tracy requested that the 16 or so parcels that have been gifted to the public never be eligible for transfer or conversion.
Chair Nancy Goldenberg received each comment by assuring speakers that their suggestions were "good points," and would be taken under consideration, as would the many, many emailed suggestions the Commission has so far received.
Judy White next took the microphone, identifying herself as "an average taxpayer." She spoke, as she has before, about the Parkway land now being consumed by the under-construction Barnes Foundation museum. She concluded by saying that we shouldn't even be considering "this crappy ordinance."
Paul Rossi, of Girard Estate Neighbors, asked that commissioners consider whether a trade of, say, one ten acre plot for ten one acre plots, was technically allowed as the ordinance now reads. "It's a place for a wedge to be driven in," he said.
Another speaker asked that the Commission observe the axiom that "haste makes waste" and that they remember the institutional knowledge of neighbors who use the park every day. "Don't think that you all know so much," she gently suggested.
Stephanie Kindt, SCRUB's staff attorney, asked whether the ordinance would be re-released once any changes were made. Goldenberg said the next step would to meet with the Commission's legal staff, make the appropriate changes, and then post the updated ordinance on its web site.
Tracy offered a final thought, assuring everyone in attendance that "we don't think any of the parkland in Philadelphia should be turned into non-recreational use." To that end, she suggested that a preamble that addresses the value of our parkland be inserted into the ordinance.
The Commission plans to vote on the ordinance at its next meeting on November 17, and then introduce it into Council on the very next day, according to Goldenberg. The hope is for the ordinance to be passed by the end of the year, she said.
Contact the reporter at jgreco@planphilly.com