Padua students stage mass sit-out for ousted principal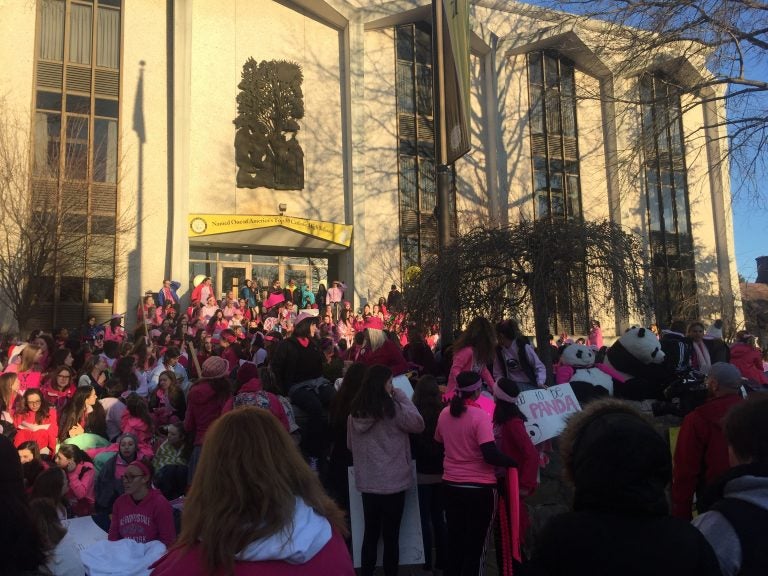 Hundreds of pink-clad students of Padua Academy, a prominent Catholic high school for girls in Wilmington, gathered outside the school Monday morning to protest the sudden ouster of their principal.
The protesting 9th through 12th graders camped outside the front doors all school day, with many saying they would not return to class until Cindy Mann was reinstated as principal.
But Tuesday morning the kids were back inside, their demonstration over, though Mann was still out as school leader.
Mann, who has led Padua since 2009, was dismissed Friday, reportedly because its financially struggling parish affiliate, St. Anthony of Padua Catholic Church, wanted more money from the school and she resisted, according to a source familiar with the situation. The Padua principal reports directly to the church pastor.
Tuition at Padua is $13,800 this year. The parish, which doesn't charge rent to the school at Ninth and Broom streets, instituted a schedule for Padua to start contributing financially to the parish, according to a recent letter to parishioners from the Rev. Nicholas Waseline.
Last year the so-called "assessment" for the school was $40,000, or $60 per student, the pastor wrote in a letter sent out Sunday as protests raged on social media. This year it's $90,000 and by 2021-22 it will increase to $240,000 — $400 per student," he wrote.
Waseline could not be reached Monday. "He's not taking any calls," a receptionist who answered the p hone at the parish rectory told WHYY.
Waseline's attempt to explain the financial situation and school contribution to the parish didn't prevent today's outpouring of support for Mann, however. Mann is known for wearing pink shoes, and parents and students posted their disapproval of her dismissal using the hashtag #pinkshoepower.
Students at Wilmington's @Padua_Academy stage massive sit-out over Friday's sudden firing of school principal. Video via @WHYY's @CrisBarrish @WHYYNews #netDE #eduDE #pinkshoepower pic.twitter.com/IVV1Iq4lun

— Mark Eichmann (@MarkEichmann) March 19, 2018
The demonstration included the vast majority of the school's 660 students and more than 100 parents, who gave out coffee and donuts while police and school officials watched. The school has about 660 students.
Several parents also carried signs Monday, with many reading, "Reinstate Mrs. Mann."
Amy Milligan, who attended the school along with her sisters, said her daughter is a freshman. She believes the families deserves answers and echoed others who want Mann to stay.
Several students said they they protested outside the school in Little Italy to get answers about a principal they adored. Their hope is to have Mann reinstated.
Students, many of whom brought blankets, camped outside all day, leaving about 2:30 p.m. when classes end. A few students who were outside about 3 p.m. waiting for their ride home said it hadn't been decided whether the walk-out would continue Tuesday in support of Mann.
"She is an absolute angel," said Sara Mayberry, a senior who credits Mann for helping her get into American University. Mayberry held a sign that said, "Only Mann We Need" with the #pinkshoepower hashtag. Like other students, Mayberry said she is "hoping to see some justice. … I think philanthropy is great but I believe Padua needs to flourish as much as St. Anthony's. And she is trying to find a happy medium."
Katie Szczerba carried a sign that said, "We are one. We are strong. We are Padua." She said students are going to protest "until we find out an answer or she is reinstated."
Asked when they would return to class, Szczerba said: "Today we are not and we are going to take each day, day by day."
As the students held morning prayers and said the Pledge of Allegiance outside, school officials and teachers stood atop the steps above them. Among them was Pete Steiner, president of the board of trustees, who was not informed of the decision ahead of time.
Two teachers said they admired the students for sticking together and having their voices heard. "This doesn't surprise us. They are a sisterhood," said one teacher who wouldn't give her name.
Padua senior Katie Szczerba protests the sudden ouster of principal Cindy Mann. pic.twitter.com/jeHqzTTq36

— Cris Barrish (@CrisBarrish) March 19, 2018
Acting Principal Mary McClory, who had been vice principal, was in the doorway but did not come outside. She would not comment to a WHYY reporter, saying she had to attend to her job.
"There are kids in the building, that's what I am checking," she said before going back inside.
Waseline informed the "Padua Academy Community" of Mann's termination Friday in a four-paragraph letter that did not discuss reasons.
"I will provide regular updates on the selection process for the future school leadership when available," Waseline wrote.
Steiner followed up Saturday with a letter to Padua families.
"We still have not been provided any explanation on this decision," Steiner wrote. "The Padua Board of Trustees is very distressed by this abrupt decision and is in the process of consulting with Diocesan officials and the Oblates regarding the decision by the leadership of St. Anthony of Padua Parish. Let us be clear, we strongly endorse Mrs. Mann's record as Head of School and recommend that she be reinstated."
The letter called for prayer and asked families to look to Christ.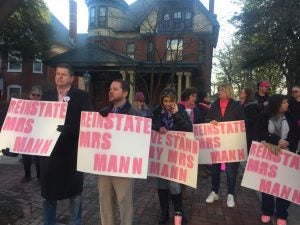 Waseline told parishioners about the need for a greater contribution in a February "Pastoral Plan Update."
The letter said the goal is to "ensure long-term financial welfare of the parish."
The pastor noted that 97 percent of Padua students are not St. Anthony's parishioners but is "professionally managed, financially viable and maintains an admissions waiting list."
But he noted that "the financial corollary of the fact that only 3% of Padua's students are parishioners is that virtually no financial support from a majority of student families flows to the parish in terms of offertory contributions."
To correct this inequity, the parish decided a "Stewardship Assessment" of Padua revenue will be established to restore the offertory income no longer available to the parish and reconcile the value of the Padua campus within the parish portfolio of assets."
Waseline's letter added that "a very thoughtful, and at times not easy, modus of consideration has been made to determine a level of support that would not in any way impede the Academy's mission and operations or encumber the great achievements and improvements made over the past seven years."
The parish also is in the final stages of selling a 5.5-acre property near Hockessin that's part of St. Anthony in the Hills, to raise more money for the parish, the pastor wrote.The parish is also in talks with a potential buyer to buy the remaining 132 acres of St. Anthony's in the Hills. That land has often been used for youth camps and sports.