Pa. income growth lagging, data show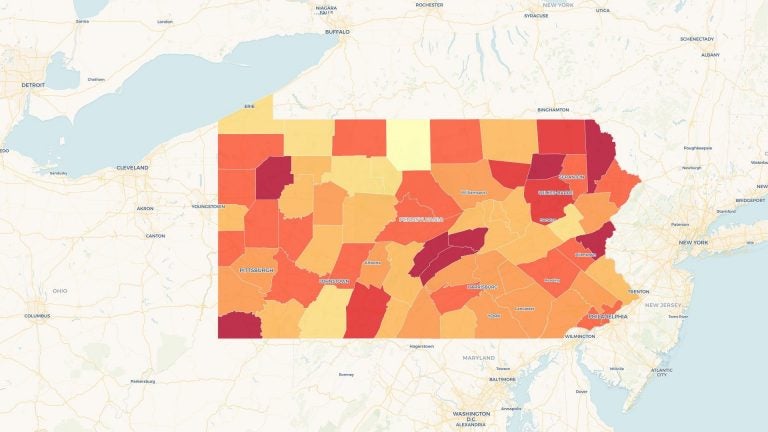 This article originally appeared on PA Post.
—
Pennsylvanians are lagging behind the rest of the country when it comes to income growth, according to one metric from the U.S. Census Bureau.
Median household incomes in the United States last year were up 15 percent since 2012, according to our analysis of the Census numbers.
But Pennsylvania's MHI increased just 6 percent, the analysis showed. Only Mifflin and Venango counties' income growth (16 percent) met or exceeded the national rate. And in nearly three quarters of counties, including those, MHI remains lower than in the state overall and nationwide (still more fall under the national number when cost-of-living is taken into account).
We took a closer look at Pennsylvania's numbers after the Census released updated county-level income, poverty and other statistics recently. The map below shows how median household incomes increased since 2012.

Pennsylvania, however, is in the middle of the pack (No. 22) of states when ranked according to MHI growth during this time, points out Jonathan Johnson, a senior researcher at the Center for Rural Pennsylvania. That suggests people are faring worse in many other states (such as Nevada, where households are earning less) and that wealthier jurisdictions ahead of Pa. (Oregon, Colorado and Washington D.C., for example) might skew the median national rate, Johnson says.
So, Pennsylvania isn't doing amazingly well when it comes to income growth, and the aging rural population is a factor, analysts say. But how bad it actually appears depends on which metrics you consider. Johnson and others note that it's best to consider multiple to get a fuller picture.
One data point to help explain the lag, dramatic or not, is the state's relative lack of gains in dividends and other income that swelled in response to the stock market's boom in recent years, Johnson found in a separate analysis of data from the Bureau of Economic Analysis.
Mark Price, labor economist at the Keystone Research Center, says the bottom 20 percent of earners have seen faster wage growth in states that have raised the minimum wage above the federal rate. Pennsylvania's still at $7.25/hour, which might contribute to the lag, Price says.
That said, the increase in Pennsylvania households in upper- and middle-income brackets is about on par with the national rate, Johnson found.
Within the commonwealth, Wyoming and Wayne counties were near the top of the list, with MHI growing 13 percent for each. In Wyoming, the trend's likely due to the drilling boom in the Marcellus Shale, says Alex Chew, senior researcher at the Institute for Public Policy at Kings College (although 34 counties are technically considered Shale counties, Wyoming has more wells than most). Although that's tapered off, it certainly would have driven incomes higher during 2013-17 than during 2008-12, Chew says.
The same seems to be true in Greene County (up 14 percent), which has a lot of wells and is next to two others (Washington and Fayette) where drilling activity is relatively high.
Potter County is also considered part of that group, but doesn't have many wells. Incomes there dropped most dramatically (6 percent), according to our analysis.
Potter's aging population, which means an increasing number of households shifting to fixed incomes, might be the answer. Potter had among the highest percentages of residents over the age of 65 and dependency ratios (children and 65+ versus working-age residents) in 2012, and moved up a couple slots in both categories in 2017, according to this report from the Penn State University Data Center.
Wayne and Greene also are among the minority of counties that have recovered jobs lost during the recession, along with Mifflin (13 percent), according to this analysis from Moody's Investor's Service.
Potter has not. Nor has Venango, where median household income nonetheless grew despite that and a shrinking, aging population.
It's important to remember, though, that these rural counties' median household incomes still, even after relatively strong growth, remain below the state ($56,951) and national ($57,652) medians.
Chew notes that Pennsylvanians' total incomes rose slightly more than the national norm when one-year Census estimates are considered — but five-year estimates are more accurate and more appropriate when looking at jurisdictions with smaller populations (relevant in the commonwealth given its relatively high number of municipalities and rural geographic makeup).