Pa. House Republicans grapple with harassment, point a finger at Dems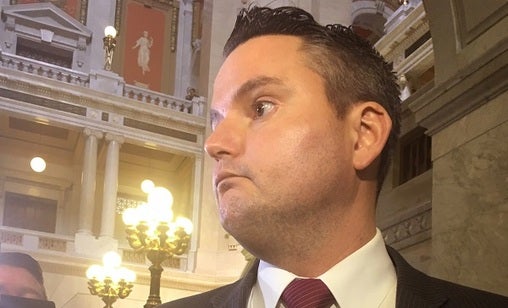 State House Republicans are increasing Representative Nick Miccarelli's punishment after deciding his actions constitute retaliation against two women who accused him of physical and sexual abuse — fellow GOP representative Tarah Toohil and another woman who has remained anonymous.
However, they're not moving to expel Miccarelli.
And meanwhile, in a memo detailing the latest sanctions, House GOP leaders included a pointed message to the Democrats in the chamber
It noted, they've reached out to Leader Frank Dermody to see "if he would like to propose similar action for members of his caucus who have been charged with criminal activity."
In part, that refers to Berks County Representative Tom Caltagirone, for whom the caucus paid almost a quarter million dollars in 2015 to settle a harassment suit.
Caucus Spokesman Bill Patton maintained the issues aren't the same.
"The Caltagirone matter was resolved several years ago with a settlement that was agreed to by all parties," he said.
He said a criminal situation involving Philadelphia Representative Vanessa Brown is also not relevant. Charges that she filed a fake financial disclosure are currently moving through the legal process.
Miccarelli's case has received national attention — and has forced House GOP leaders to consider when it's appropriate to expel members.
House GOP Spokesman Steve Miskin said criminal charges aren't necessarily a prerequisite. But asked what is, he paused.
"Um … that's a good question," he said. "It is something members take very seriously. Members take due process very seriously."
He added, impeachment from the House is rare.
The last instance was in 1975. And before that, 1876.
"If [Miccarelli] were an employee, he would be gone," Miskin said. "But it's obviously a very different situation — we're a legislative body, and his employers are 65,000 people in Delaware County."
The Dauphin County District Attorney is currently conducting a criminal investigation into the claims regarding Miccarelli.
The new sanctions against him include stripping him of his committee assignments and moving his desk on the House floor.
House leaders said the moves are in response to evidence Miccarelli retaliated against his two accusers via social media, and by sharing "sexually-explicit emails and images."
Retaliation is against House policy.
After House leaders found the initial abuse accusations credible, they downgraded Miccarelli's security clearances and called for him to resign.
He has refused to, and has maintained his innocence — though he has said he won't seek reelection.
WHYY is your source for fact-based, in-depth journalism and information. As a nonprofit organization, we rely on financial support from readers like you. Please give today.