November 3-4: Bike and Walk Bartram's Mile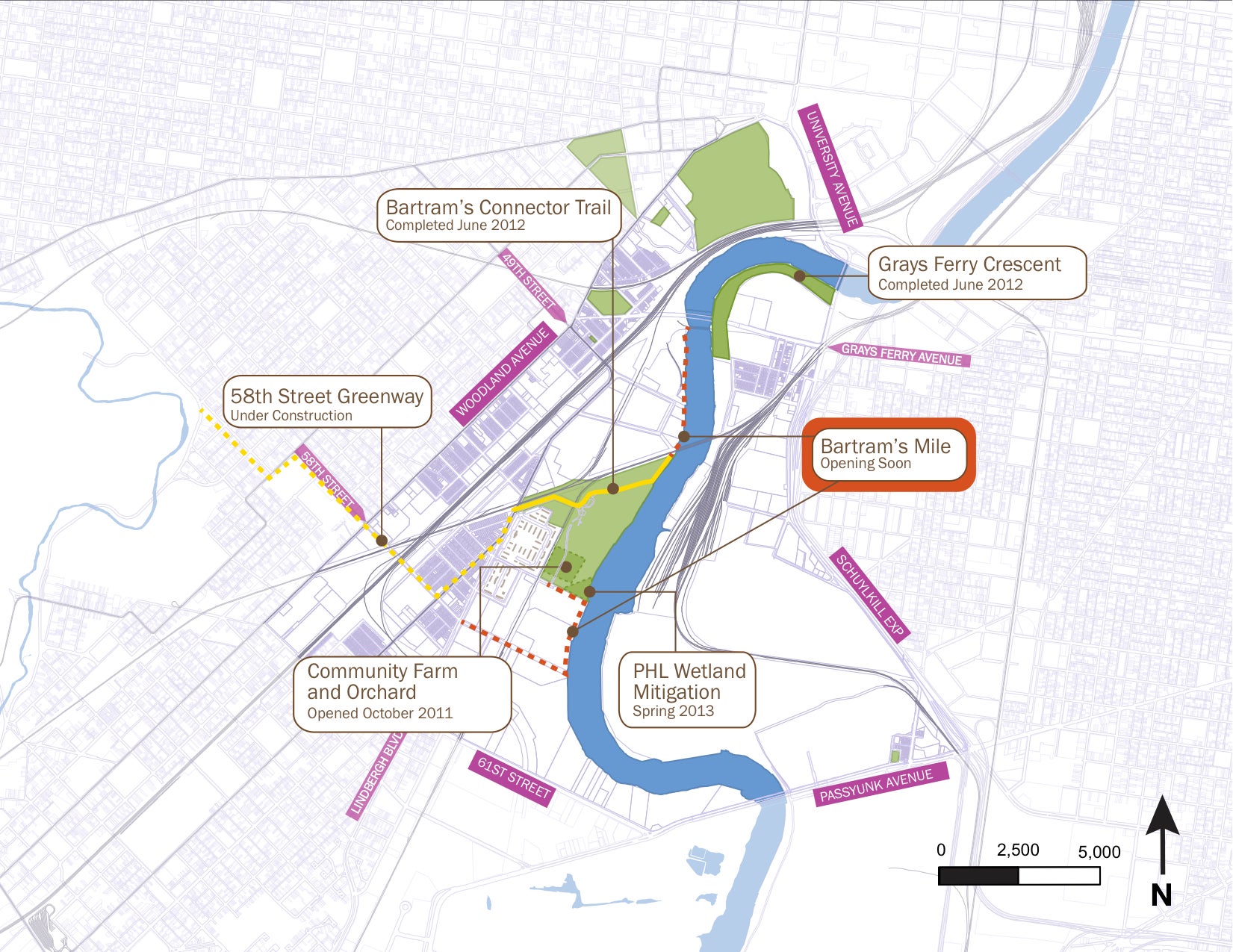 As I mentioned last week, Philadelphia Parks and Recreation is working on plans for "Bartram's Mile," a new recreational trail segment along the western bank of the Schuylkill River connecting Bartram's Garden with Gray's Ferry Avenue and the 58th Street Greenway. And this weekend there are two neat opportunities to explore the route of the forthcoming trail alongside trail advocates and project partners (Parks and Rec, Schuylkill River Development Corporation, John Bartram Association, PennPraxis*).
If you are anything like me (read: plannerd), you'll leap at the chance to traverse two typically closed sites – the National Heat and Power site and Gypsum/Transmontaigne site – both owned by the Philadelphia Industrial Development Corporation on these tours.
Saturday, November 3, 1:30-4pm Meet at Bartram's Farm. [Added Bonus: It's the Community Farm and Food Resource Center Harvest Festival at Bartram's from 1-4pm.]
The guided bicycle tour, organized with the Bicycle Coalition of Greater Philadelphia, will explore the trail route (including a portion on foot), as well as future connections to the Gray's Ferry Crescent at the north and a portion of 58th Street Greenway to the south. (As an added bonus, this tour will be taking place at the same time as the Community Farm and Food Resource Center's Harvest Festival at Bartram's Garden (1-4pm). Be sure to check that out too.)
Sunday, November 4, 2-4pm. Meet at Bartram's Garden Trail Head. This walking tour will explore the route of the trail, and will feature remarks from Mark Focht (Parks and Recreation), Maitreyi Roy (Bartram's Garden), and Jose Almiñana (Andropogon Associates). (rescheduled from 10/28)
Here is a closer look at the route of the future Bartram's Mile trail:
You can also offer input on the plans for Bartram's Mile at two events coming up next week:
Please RSVP via email: praxis@design.upenn.edu or by calling 215-573-8720.
Or, if you can't make it out to one of these four events, you can add your thoughts via survey.
———
*PlanPhilly is an independent news gathering entity affiliated with PennPraxis.