Northwood unanimously votes in favor of Excel Academy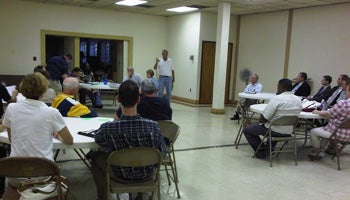 Northwood residents voted unanimously last night to back up a decision made by the Northwood Civic Association to allow a new school on the property of Friends Hospital.
Civic Association President Barry Howell led the meeting, at the end of which, the 20 residents in attendance supported the association's backing of Camelot School's new Excel Academy. Already built but waiting for finishing touches, the facilities are located on the south side of the Friends Hospital property in the old crisis center of the Webster building.
Todd Bock, senior vice president for education services at Camelot, a private company that oversees several other schools in Philadelphia in addition to Excel, addressed residents' concerns about the schools. Many feared the school could bring more unruly teenagers through the neighborhood.
"This is not Shallcross," Bock reassured attendees, who fear having their own version of the Parkwood-based remedial discipline school, which hosts students who've been expelled from other schools for things like weapon possession. (Members of the Parkwood Civic Association contacted Howel praising the Excel Academy, which Bock stressed is not the same as Shallcross).
Bock, Howell and the rest of the Northwood Civic board told those at the meeting that Excel Academy is not an alternative school, and is not a "last-resort" school for low-income students, but rather a school for students who plan to attend college or a trade school, or enroll in the military after graduation.
There is already an Excel Academy at 6600 Bustleton Ave., which has served students from Fels, Frankford, Washington, Lincoln and Northeast high schools for the past five years. But, Bock said, there are 350 students from those schools on the wait list for Excel. The second location in Northwood will accommodate those students, as well as others in the future who pass the application and interview process required to gain acceptance. Bock explained to the residents how Excel will work as school and with the neighborhood.
Excel Academy is tailored to fit the needs of students in Northeast high schools who are a few credits behind, usually because large class sizes and chaotic learning environments distract them, Bock said. Though Camelot partners with and receives funding from the School District of Philadelphia, Excel teachers are privately contracted, and almost all are from the Northeast.
Students can participate in sports and extracurricular activities at their neighborhood high schools while attending Excel, though they'll be putting in more hours inside the classroom. A typical day at Excel runs from 7:30 a.m. until 3:30 p.m., giving students more time behind their desks and the chance to earn 10 credits a year – four more than they would in a year at any other school district high school. About 95 percent of students graduate, typically within two and half years, Bock said.
Northwood Zoning news updated at last night's meeting
-934 Foulkrod St. — Shut down 24-hour daycare center
-1142 Kenwyn St. — Ordered the property to be cleaned up.
-1010 Dyre St. — Approved zoning for $140,000-$150,000 worth of renovations related to a resident's medical needs.
As for the school's involvement with Northwood and other surrounding neighborhoods, Bock tried to put residents at ease. The campus, he said, can only be accessed via the Friends Hospital driveways on Roosevelt Boulevard. He demonstrated this with a map, which he passed around to the meeting attendees. The school district mandated that Excel Academy be in the Northeast, since it exclusively serves students from public high schools in the region of the city. And since students have to request, apply and be interviewed to be placed in Excel, no one at Camelot anticipates problems.
"I don't expect there will be issues," Bock told residents. "But if there is, I will be there."
One solution Bock has found useful in addressing issues at the current Excel location is something called Bustleton Beautification. Students who need to be disciplined for infractions like tardiness are sent out to Bustleton Avenue to pick up trash. Last year, 1,200 bags of trash were collected along the small stretch of the avenue near the school, he said. Bock plans to institute similar policies at the new location.
Still, residents expressed concerns about the possible influx of teenagers roaming the neighborhood before and after school. Though Camelot's negotiations with SEPTA regarding a charter bus of sorts are on-going, the current plan involves dismissing students in groups of 25 and having staff members ride chartered buses to supervise transportation.
"If we see a student get off the bus in Northwood, and we know they're not supposed to be there," Bock said, "we're going to say something to the student."
Bock assured the board members and residents that with the exception of the students who actually live in Northwood — expected to be roughly 20 percent of the school's population — there would be no Excel students in the loitering neighborhood. And to be extra sure of that, the school does not allow students to drive to campus.
"If you do things the right way like we've been doing, you'll probably get your desired result," Bock told NEast Philly. "We're excited to be part of the neighborhood."
And it seems Northwood Civic members and other residents agree. There were no oppositions to Camelot's plans to move ahead. Though Excel Academy has been built, until final touches like some electrical and landscaping work are complete, students will put in half days at the Bustleton Avenue location. Bock hopes the new facilities will be ready by the end of this month.
Howell, the Northwood civic president, was pleased with the meeting's results, which he said he takes as a sign of improvement. He closed the meeting by saying, "We're not making the same mistakes with Northwood as we did in the past."