Northwood Civic: The Bridge gets support; Volunteers of America needs scrutiny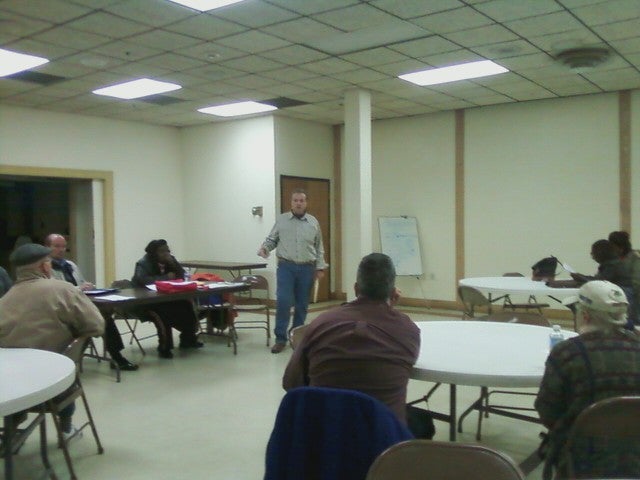 Two nonprofits trying to take root in Northwood are getting two different reactions from that neighborhood's civic association, and the difference has everything to do with a decades-old deed restriction, says its president.
Plans to develop a new facility along Adams Avenue for the Bridge, a residential treatment program for adolescent boys aged 14-18 and a subsidiary of Center City-based Public Health Management Corporation, now has the support of the Northwood Civic Association, following a voice vote at Tuesday night's meeting. Roughly 30 people in attendance agreed with the civic association board's plans to support the initiative, countered by a lone voice dissenter.
Other residents had raised concerns in preceding conversation, though much was answered by Civic President Barry Howell and state Rep. Tony Payton's Chief of Staff Jorge Santana. The civic board can now write a letter of support to the city's Zoning Board, which would have to approve a zoning variance for the facility to be built.
That support, which closed the meeting near 8:30 p.m. at St. James, was balanced by voices of opposition for another proposal.
For two years, Northwood Civic Association President Barry Howell and a cohort of his members have organized and mobilized against national rehabilitative nonprofit Volunteers of America operating a facility at 4871 Roosevelt Blvd. near Allengrove Street. Tuesday night, Howell pledged an invigorated effort to undo VOA's use of the property, which currently houses three "disabled elderly residents," who, Howell said in January, were 'snuck in' by the nonprofit.
"This is about a corporation opening up in a deed restricted area. It's not about the individuals. This opens the floodgates up for other corporations," said Howell, who referenced criticism from some on his VOA stance, including Howell's predecessor Joe Menkevich. Unlike the VOA facility, the proposed Bridge site is not in the 'Burk Deed Restriction' area, which limits properties in a swath of Northwood to remain single-family residences. Exceptions do exist, most notably including Pat's Cafe, as the Frankford Gazette pointed out in 2009.
The widespread, national VOA gets federal and state funding, Howell said, so political support is particularly important.
Councilman Darrell Clarke and state Rep. John Taylor also oppose this VOA location, as do Councilwoman Maria Quinones Sanchez and state Rep. Tony Payton, whose districts are nearby, Howell added. But simply having funding cut isn't a viable option because the organization is so far flung and has so many different facilities receiving funding across the country, Howell said. In two years, Howell added, he and representatives have only successfully had one meeting, in January 2010.
Howell pledged new vigor in opposing this facility, from encouraging more political pressure to trying to broker a deal with VOA: bring in a family to reside in the home or sell the property off.
Where this VOA facility "is ignoring the deed restrictions and what the neighborhood wants," Payton chief of staff Santana says, "the Bridge is going to replace blight with a well-respected organization."
As presented at the February Northwood meeting, the Bridge facility is being forced to relocate from its current Fox Chase location because its landlord, the Medical Mission Sisters, is repurposing that building. The Mission supplied a letter of support for the Bridge program.
"The Bridge is going to lock in for a 20-30 year lease, and I think that's one of the best things that could happen," said Howell, noting an 8-acre parcel of land in Philadelphia is a hot commodity that could result in the construction of something far more damaging to neighborhood appeal. "This land is going to be developed whether we like it or not, so do we want a program that has 40 years of service or some fly-by-night operation?"
While Howell said recently the civic association of adjacent Juniata unanimously supported the Bridge, support has been less enthusiastic at nearby Frankford, where that civic association last month seemed more wary of the construction of another recovery-related facility in a neighborhood plagued with them, said Frankford Civic Association President Brian Wisniewski. At their April 7 meeting, the Frankford Civic is voting on whether they, too, should support the project. The Frankford Civic has maintained that the facility is technically in its borders, a point Howell seems to recognize.
"I don't care about Juniata or Frankford. I represent Northwood, and I say this is a good fit for this piece of property," Howell said, adding that his role is to look out for the neighborhood and 'its nearby environs.' "But if Frankford votes this down, this project could be dead in the water."
WHYY is your source for fact-based, in-depth journalism and information. As a nonprofit organization, we rely on financial support from readers like you. Please give today.